Analyses
Patients as Partners, Quality Improvement
Exploring Post-Discharge Spaces Designed to Eliminate Gaps in Care
A number of health systems are exploring the post-discharge clinic model for transitioning care, Robertson says, although she adds that debate continues on the effectiveness of various models. "Some say our post-discharge care model works really well. Others say our model didn't accomplish what they thought they were going to accomplish. I think the jury is going to be out on whether these models are going to be effective until there's some more systematic controlled study of them that's really standardizing some of the types of variables," she says. Variables include the type of team managing post-discharge care.
Creating easier access to medications 
Medication is one of the biggest challenges in combating 30-day readmissions—whether from miscommunication, misunderstanding of prescriptions, or difficulty in filling those prescriptions. Whatever the cause, more health systems are creating space for retail pharmacies as a way of ensuring medication regimens are followed.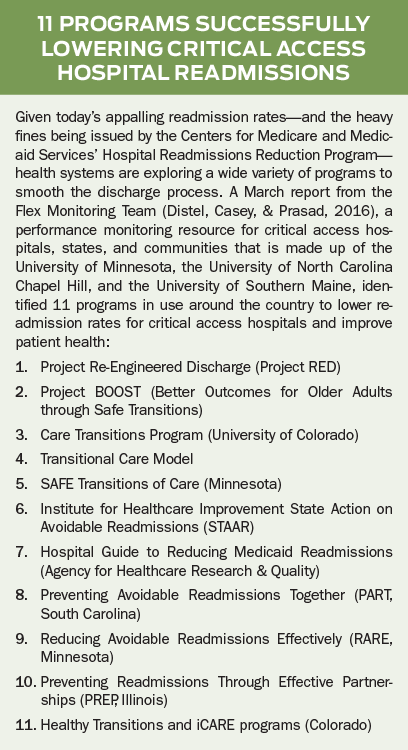 "Nothing is more inconvenient to a patient and the perplexed caregiver or family when you need to pick up medication for the discharged patient from the pharmacy on the way home or during the day," points out Norman Tomaka, a clinical consultant pharmacist and spokesperson for the American Pharmacists Association. "Let's face it, in that first 24 hours, a patient is less stable and needs monitoring. Usually that same caregiver is needed to do that monitoring, so sometimes it's difficult to leave the house after getting the patient home and stable."
For rural patients, medication access becomes even more challenging. A recently released study by researchers at Oregon State University and Oregon Health & Science University found readmissions were, on average, higher in rural areas (15.3% vs. 14.7%) where it is more difficult to reach an open pharmacy ("Lack of pharmacy access," 2016).
Given the strong connection tying medication access and education with readmission rates, on-site pharmacies and/or pharmacists remain a growing trend. "The location of outpatient pharmacies within a health system or hospital building or clinic has grown steadily as the recognition of the threat transition of care poses to patient safety and medication compliance upon discharge," Tomaka says. "Too often there is a lack of outpatient management of the patient's medicines or quick, timely access to the discharge medication therapy … so we have noticed industrywide that having pharmacy outpatient providers available and working with the health system or integrated with the health system—whether it's owned by the health system or contracted by the health system—can be very helpful for transitions of care."
Tomaka adds that bedside delivery was the first area where hospitals realized the benefit of having outpatient pharmacy services, and a number of facilities continue to expand those programs.
For example, Crouse Hospital in Syracuse, New York, recently implemented a bedside delivery program for discharge medications, MedEx from Patient Portal Technologies, in conjunction with Rite Aid pharmacy. "In less than a year we saw a 15-percent reduction in readmissions in the study group," commented Barbara Drapola, director of care coordination services at Crouse Hospital, in a news release on the program. "Those that received delivery have found this to be an incredibly convenient and beneficial service, based on patient satisfaction surveys."
MedEx aims to bring community pharmacists into the coordinated care team both before and after patient discharge. The program includes an initial bedside prescription delivery, personal counseling on medication use, and follow-up reminders and virtual support. This streamlined process is designed to proactively address patient medication concerns.
"Our program was designed specifically to improve patient outcomes and to strengthen medication compliance, in turn lowering overall healthcare costs," explains Brian Kelly, CEO of Patient Portal Technologies. "It has since proven to be an extremely effective model."