Analyses
Patients as Partners, Quality Improvement
Exploring Post-Discharge Spaces Designed to Eliminate Gaps in Care
Megan Headley
At the end of a hospital stay, many patients find themselves overwhelmed by their experience as well as the often lengthy care directions they've been given. Others might find themselves pushed into another care place, one that may not have the resources or focus to holistically address their problems. Too often patients find themselves released from the hospital, only to wind up back in that hospital bed within the 30-day readmission window—a metric closely watched by the Centers for Medicare & Medicaid Services (CMS) and hospitals everywhere.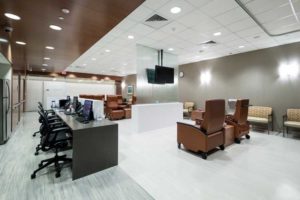 Streamlining the discharge process has become a significant focus for hospitals since the Affordable Care Act (ACA) and CMS' Hospital Readmissions Reduction Program (HRRP) have come into play. Yet readmission numbers remain dramatically high. Although a recent study from the U.S. Department of Health and Human Services found that the ACA has caused readmissions to fall sharply for conditions targeted by the HRRP (Zuckerman, 2016), that's still just a drop in the bucket. In fiscal year 2016, only 799 hospitals were able to avoid HRRP penalties—a mere 23% of the more than 3,400 hospitals participating in the program (Rice, 2015).
Care transitions—from hospital to home, from acute care to long-term care, and so on—have been identified as a heavy influence on readmission rates. While numerous programs advise on clinical policies that can reduce the readmission rate for certain at-risk populations (see sidebar, "11 Programs Successfully Lowering Critical Access Hospital Readmissions"), more health systems are looking at creating spaces that let discharged patients easily access the information and resources they need while still at the hospital or near their clinical team.
Creating an informative place to wait 
Among the most common problems causing patients to return to the hospital include misunderstanding, or miscommunication, about medication prescriptions and a lack of follow-up with a primary care physician. As a result, and considering the quicker discharges some patients experience today, it's more crucial than ever that patients be armed—but not overwhelmed—with the information and resources necessary to manage their health. Many health systems are turning to dedicated discharge coaches or technology to educate patients on medications, risks, and other information. Others are finding that design can help.