Resources
Environment and Facilities
This Content is Brought to you in Partnership with:

Rubber Flooring Supports Reimbursement Drivers of Affordable Care Act
Sponsored by Nora Systems, Inc.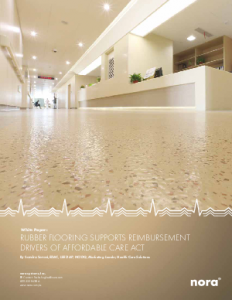 Drivers of the Affordable Care Act (ACA) focus on patient-centered care, patient satisfaction and the ability to improve quality and reduce the cost of care in the healing environment. Integral to the ACA, Pay-for-Performance or Value-based Purchasing is a 1:1048576 model that rewards health systems on the basis of quality and efficiency.  The fundamental drivers for reimbursement include patient experience, clinical outcomes, operational efficiency, clinical process of care and safety.