Resources
COVID-19, Patient Safety, Workplace Safety
This Content is Brought to you in Partnership with:

Meeting Patient Safety Challenges of Today and Tomorrow
Speaking during the PSQH Patient Safety NOW virtual event in March 2021, a panel of patient safety experts discussed some of the major issues facing patient safety and quality professionals.
These included the impact of COVID-19 on patients and staff, clinician burnout and cognitive overload, the growing use of telehealth, workplace violence, social justice issues, and what patient safety will look like in a post-pandemic world.
Download now to learn more!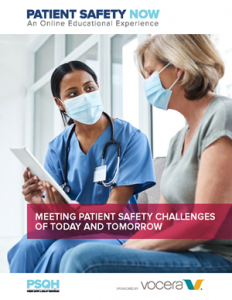 Sponsored by: