Resources
Patient Safety, Quality Improvement
This Content is Brought to you in Partnership with:

Custom Research Brief: Reducing patient misidentification errors through the use of biometrics
Patient misidentification, which can lead to medical errors, patient harm, and sentinel events, has been a growing concern over the past few years, and prompted The Joint Commission to issue National Patient Safety Goal (NPSG.01.01.01) requiring hospitals to use two patient identifiers before administering care.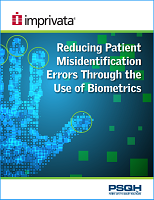 According to a survey released in partnership by Patient Safety & Quality Healthcare and Imprivata, nearly 99% of respondents believe patient misidentification leads to medical errors or patient harm, and 65% say they've witnessed an error, such as a medication or blood transfusion mistake, that resulted from such misidentification. Almost 70% of respondents say a patient is misidentified in their facility between one and five times a week. Finally, over 90% of respondents believe medical errors could be reduced if patients were biometrically linked to their medical record.
What steps can facilities take to reduce patient misidentification errors? Download our whitepaper to find out.