PSQH: The Podcast Episode 68 – Using Genetic Data to Prevent Adverse Drug Reactions
On episode 68 of PSQH: The Podcast, Dr. Houda Hachad, Vice President of Clinical Operations at AccessDx Laboratory, talks about using genetic data to prevent adverse drug reactions.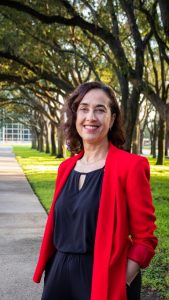 Houda Hachad, PharmD, M. Res., is a widely recognized leader in the field of pharmacogenomics and has spearheaded multiple efforts translating scientific requirements into practical technology-based solutions. Houda serves on the Clinical Pharmacogenetics Implementation Consortium (CPIC) Scientific Advisory Board and is an active member of the Pharmacogene Variation Consortium (PharmVar). She is also involved with several pharmacogenomics working groups and committees aimed at standardizing pharmacogenomic testing modalities and at facilitating their adoption by the clinical community.
Listen to the episode below: