News
Patient Safety, Workplace Safety
TX Hospitals Shutter as Harvey Batters Houston

Hurricane Harvey unleashes catastrophic flooding, forcing some healthcare providers to shut down and evacuate patients.
As flood waters continue to rise to unprecedented levels, hospitals and health systems in the Houston area are being forced to reduce or halt operations.
In cases where  patients must be evacuated, the process may take days.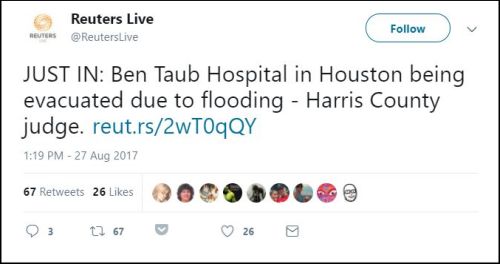 Ben Taub Hospital, the Harris County safety net hospital, on lockdown because of surrounding water, Sunday morning submitted a formal request to the Catastrophic Medical Operations Center, according to the Houston Chronicle.
Many services were suspended and facilities closed beginning Saturday, including all Texas Children's Pediatrics practices and Texas Children's urgent Care locations.
The US Department of Health and Human Services reports that it has deployed 53,00 pounds of medical equipment and supplies, 500 personnel, and has contracted for evacuation services from three hospitals in Victoria, TX.
WaPo: A woman in labor showed up at a Texas hospital as the hurricane neared. She named her baby Harvey.
Follow live Twitter reports on how hospitals are managing through Hurricane Harvey.