News
PSQH Innovation Awards, Quality Improvement
Share Your Innovative Quality Improvement Ideas
Patient Safety & Quality Healthcare is seeking to spotlight the best healthcare quality improvement case studies. By imparting their in-the-trenches experiences and lessons learned, the chosen case studies will shed light on an issue, practice, or principle that affects stakeholders across the modern medical staff landscape.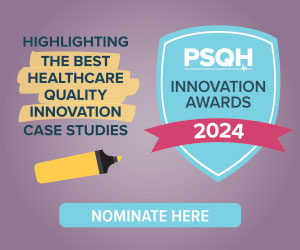 Whether you're a seasoned educator in search of a broader platform to share your expertise or a yet-to-present professional with big ideas, read on for the ultimate opportunity.
Embrace the Spotlight
The 2024 PSQH Contest Committee will select a winning case study to feature in an upcoming issue along with several honorable mentions.
If your case study is selected, you'll not only get the opportunity to bolster your professional portfolio, highlight your organization's top-notch processes, and lead an important industry conversation, you'll also provide your peers with inspiration and the impetus to improve their own processes. You can click here to submit a nomination.
Winner will receive:
Press coverage on PSQH website and eNewsletter
Press release distribution
Social mentions
Physical award to display at your facility
Mention during Patient Safety Awareness Week
Callout at Patient Safety NOW Online Summit
Application Requirements & Criteria
The 2024 PSQH Contest Committee, in conjunction with the PSQH administrative team, will select one case study to highlight on the PSQH website and in the eNewsletter.
The winning proposal will showcase a creative solution that the presenter(s) have helped implement at their organization. This change can have occurred at any time if it reflects current industry standards and continues to benefit the organization.
The winning presentation will elegantly address the following subjects:
A specific (and widely relatable) challenge or objective that sparked a meaningful change in a key patient safety or quality improvement process
The steps that the involved parties took to conceive, develop, and implement their solution, including any hurdles they overcame along the way
The takeaways for the broader professional community
Potential case study subjects include the following. Original ideas are also welcome:
Patient safety improvement
Quality improvement
Medication safety
Infection control
Reduction/elimination of "never events"
Improving readmission rates
Patient satisfaction
Innovative approaches to addressing tricky regulations and accreditation standards
Key Considerations
Use the following questions to guide your responses on the 2024 PSQH Innovation Awards Competition Application and, by extension, help the 2024 PSQH Contest Committee understand why your case study merits selection:
What specific challenge or objective inspired action?
What was the proposed solution, and what was the rationale for its implementation?
Who was involved in development and execution, and what role did each participant play?
What were the key steps in implementation?
What were the important effects of the solution?
Did the involved parties encounter any challenges in developing or implementing the solution? If so, how did they address those obstacles?
Has the nature and/or impact of the solution evolved over time? For example, have involved parties reworked their initial vision or approach? Has the number of participants increased?
What can the broader professional community take away from your experience? In other words, why should readers care about your journey?
Do you have supporting materials that demonstrate your workflow changes and successes?
While ancillary materials aren't a required application component, they tremendously improve the Contest Committee's ability to understand the merit of your proposed case study.
Application Submission & Review
To access the case study application, click here, or paste the following URL into your internet browser's address bar: https://www.surveymonkey.com/r/CQCZCW8. We recommend that you paste your responses into the application fields from a Word document.
The deadline to submit nominations is 1/15/2024.