News
COVID-19, Cybersecurity, Patient Safety, Workplace Safety
PSQH Quick Poll: Taking the Pulse of Patient Safety
By Jay Kumar
As part of PSQH's celebration of Patient Safety Awareness Week, we decided to reach out to our readers with a few questions to find out the state of patient safety efforts in 2023. Part of PSQH's Patient Safety Awareness Week activities, this PSQH Quick Poll is presented in partnership with GOJO – the makers of Purell, Nuance, Origami Risk, and the Intersocietal Accreditation Commission.
The Quick Poll had a total of 105 respondents.
Biggest patient safety concern
We asked respondents about their biggest patient safety concern and 41.9% said clinician burnout/worker retention was the most concerning issue. This was followed by staff shortages (33.3%), infection control and prevention (11.4%), improving healthcare equity (3.8%), opioid crisis/drug diversion (1%), and emerging infectious diseases (1%). Other responses provided were: workplace violence, lack of staff engagement, falls and tubing misconnections/dislodgment, peripheral IV infiltration and extravasation, automated solutions leading to failure to evaluate patients as individuals, lack of staff engagement, and patient safety education.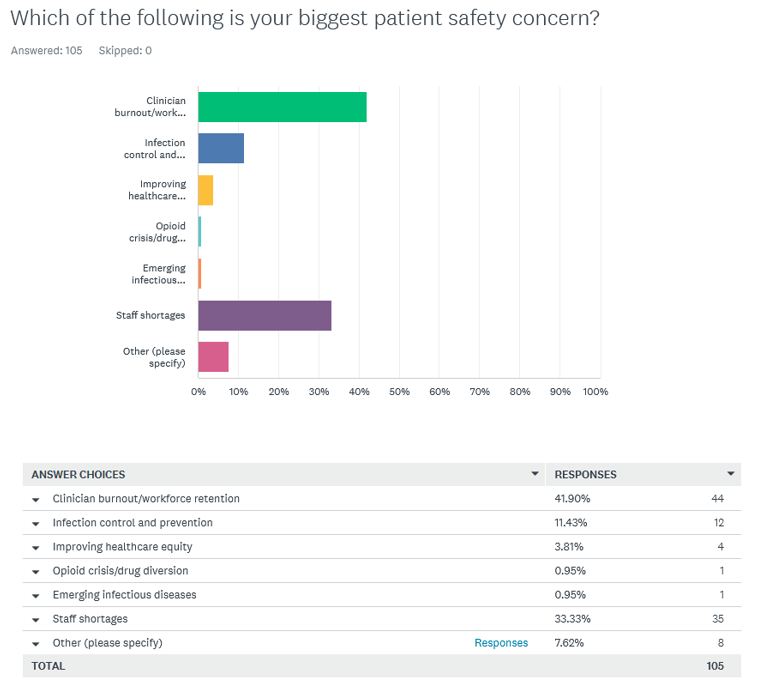 The ongoing impact of COVID-19
Asked how much COVID-19 and its variants were affecting their organization, respondents had mixed answers. Nearly half (49%) said they were still dealing with COVID-19 but they have it under control, 38.5% said COVID and other viruses like RSV and influenza is still a major concern, 6.7% said it's not a concern anymore, and 5.8% said it's still a huge burden.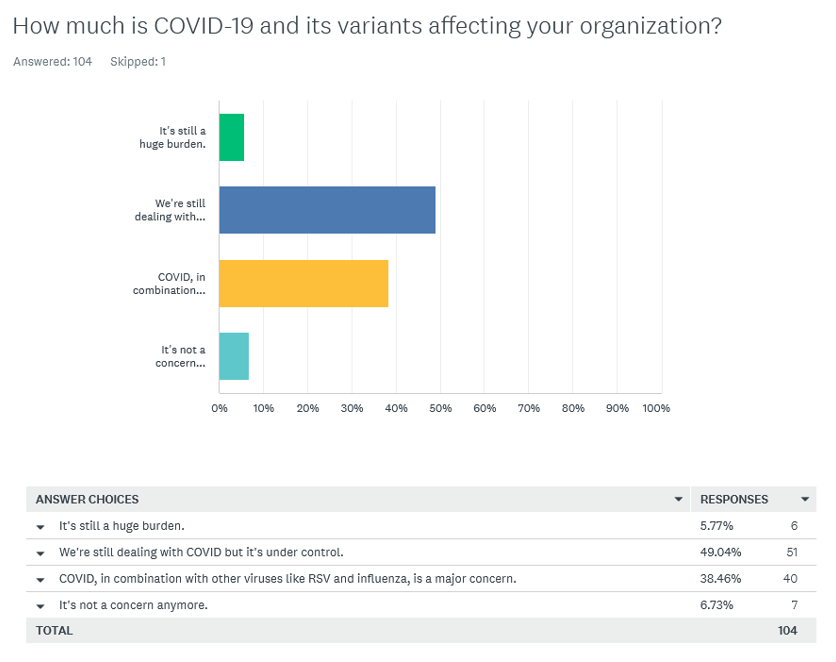 Cybersecurity and ransomware
Asked how prepared their organizations are to deal with cybersecurity and ransomware threats, the results were mixed. About 36.9% of respondents said they were very prepared, 55.3% said they were somewhat prepared, and 7.8% said they are not prepared.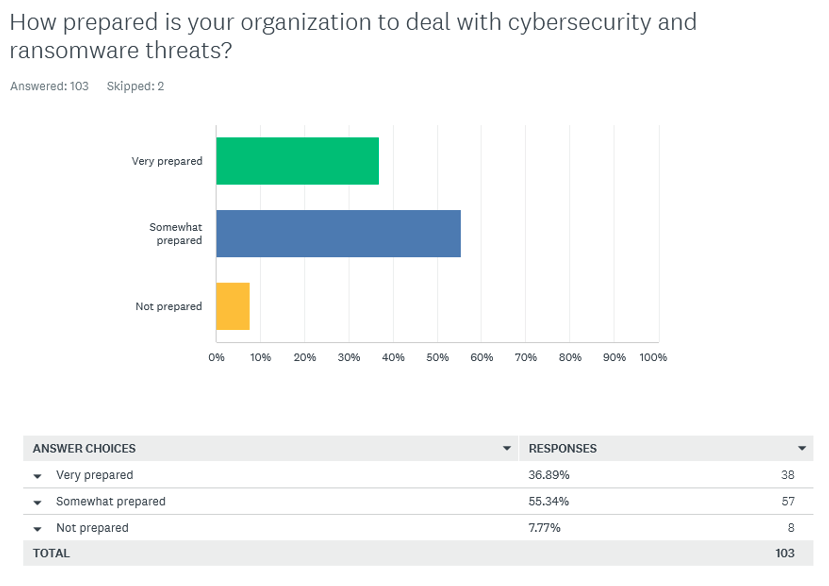 Workplace violence
Dealing with workplace violence, both from the public and co-workers, continues to be a headline-grabbing problem for healthcare organizations. Most respondents said they have it under control: 23.5% said their organization was very effective in dealing with workplace violence (compared to 40.5% last year) and 60.6% said they were somewhat effective (versus 49.6% last year), while 16.4% said they're not effective (up from 10% in 2022).