News
Caregiver Burnout, Nursing, Workplace Safety
PSQH Quick Poll 2023: Taking the Pulse of Nursing's Impact on Patient Safety
By Jay Kumar
As part of National Nurses Week, PSQH reached out to our readers with a few questions about how nursing impacts patient safety and healthcare quality. The Quick Poll had a total of 211 respondents. The PSQH Quick Poll is presented in partnership with Drexel University.
Strengthening Nursing's Role in Quality and Patient Safety
Asked about how their organizations can help strengthen nursing's role in quality and patient safety efforts, 72.7% of respondents said more education and training is needed. In addition, 68.9% said mentoring from leadership was necessary, while 39.7% called for increased emotional support and 32.1% said more leadership opportunities for nurses would be helpful. Other write-in responses included: "Increase nursing staffing, better nurse-to-patient ratios"; "Empower nurses and listen to their point-of-care concerns. Also, what negative aspects are nurses dealing with that cause distractions in patient care and safety"; "Short-term internships in healthcare leadership"; "Unit meetings to review what is working and what needs strengthening": "Involvement in causal analysis and training"; "Visibly making patient safety a priority, doing staff wellness checks"; "Stronger, more engaged leaders who are paying attention to what is happening and responding appropriately to model behaviors"; "Sharing of learnings from events. Nonpunitive culture is a must for a culture of safety and high reliability"; "The encouragement of using patient safety reports as well as the development of a patient safety committee to also include individuals who were first-hand included in errors."

Preparedness for Another Viral Outbreak
Asked about their organization's preparedness for another viral outbreak such as COVID-19, 47.4% of respondents said they were very prepared while another 48.8% said they were somewhat prepared. Only 3.8% said they were not prepared.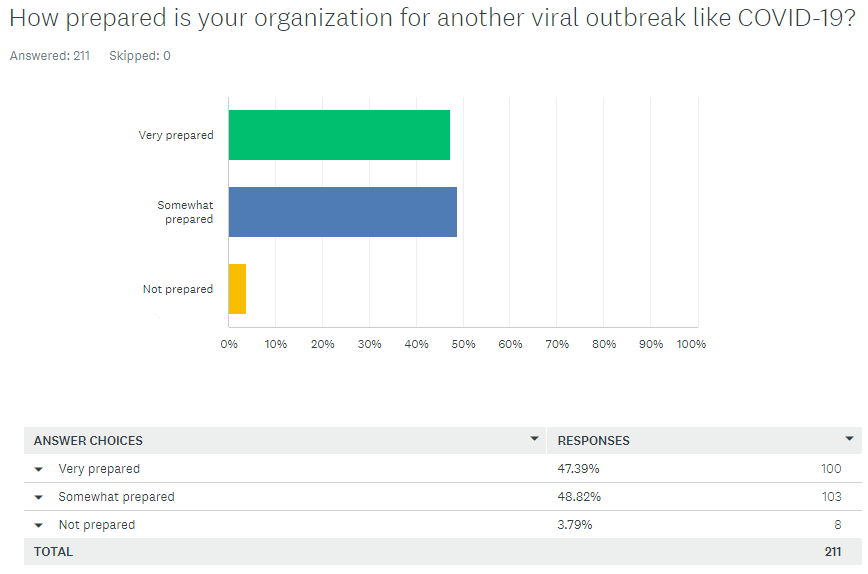 Workplace Violence
A major issue in all workplaces, but especially healthcare, is workplace violence. Asked about their level of concern regarding workplace violence, 49.3% said they were very concerned, 38.4% were somewhat concerned, and 12.3% were not concerned.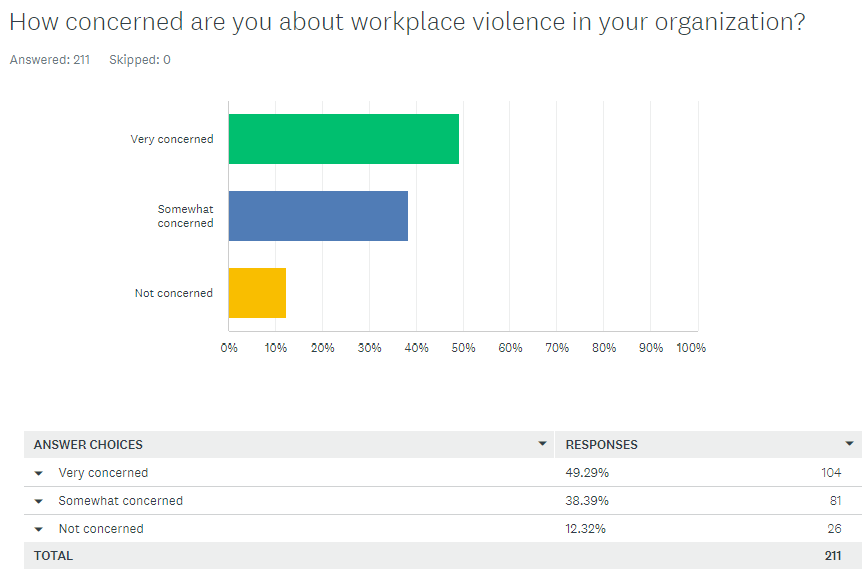 Issues That Need More Focus
Respondents were asked which issues their organization needed to focus on more. Of the choices provided, 93.3% chose staff retention, 54.8% said care transitions between settings, 25.2% said diagnostic errors, and 18.1% said opioids and drug diversion. Other write-in responses included: "OR surgical capacity for COVID backlog," "Medication errors," "Staff recruitment," "Suicide screening," "Education and training," "Staff attitude; kindness between staff," "Culture and professional behavior," "Staff-to-staff bullying, lack of staff engagement and empathy," "Accessing patients, communication via SBAR and escalating through rapid response," "Physician errors," "Accountability of leaders and staff to enforce policies and procedures," "Infection control concerns," "Safe staffing and decreasing inpatient boarding," "Patient falls, pressure ulcers," "Adequate specialized providers scheduled daily, including weekends and holidays."
Potential Consequences for Medical Errors
Respondents were asked about their level of concern that making a medical error could lead to harsh (possibly criminal) consequences for the caregiver. About 35.7% of respondents said they were very concerned, 44.3% were somewhat concerned, and 20% were not concerned.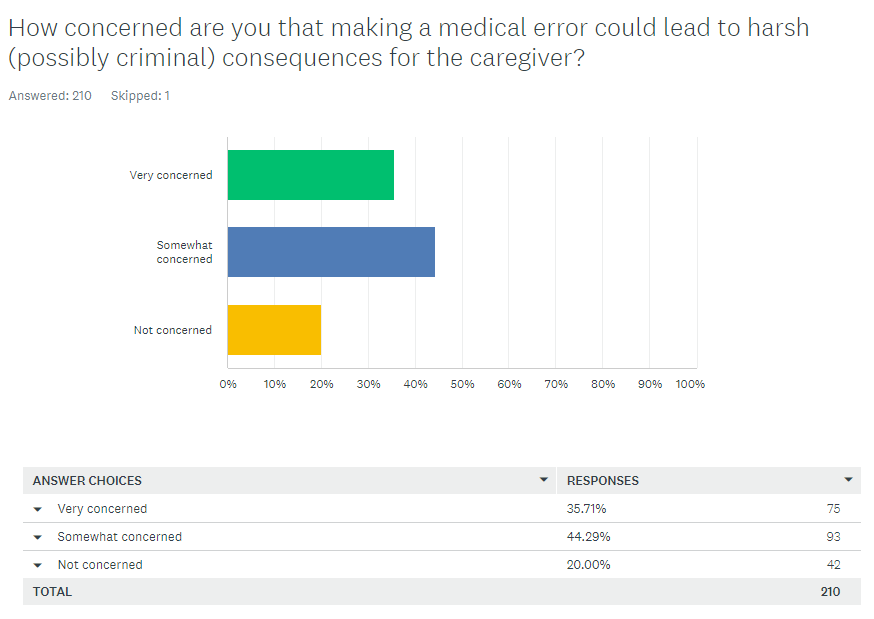 Sponsored by: