News
COVID-19, Medication Safety, Nursing, Workplace Safety
PSQH Quick Poll 2022: Taking the Pulse of Nursing's Impact on Patient Safety
By Jay Kumar
As part of National Nurses Week, PSQH reached out to our readers with a few questions about how nursing impacts patient safety and healthcare quality.
The Quick Poll had a total of 212 respondents.
Strengthening Nursing's Role in Quality and Patient Safety
Asked about how their organizations can help strengthen nursing's role in quality and patient safety efforts, 71.7% of respondents said more education and training is needed. In addition, 64.2% said mentoring from leadership was necessary, while 42% called for increased emotional support and 39.2% said more leadership opportunities for nurses would be helpful. Other write-in responses included: "Roll out voluntary discussion with brunches: 'Come learn and we'll feed you.'"; "Include nurses as a team member of importance"; "More transparency on plans and goals"; "Give us a chemical-free environment to work in. COPD is killing us"; "Better wages"; "Involvement in teams and projects, relationship with quality team"; "Joy at work"; "Improved structural support services"; "Continue creation of a culture of psychological safety"; "Increased staffing."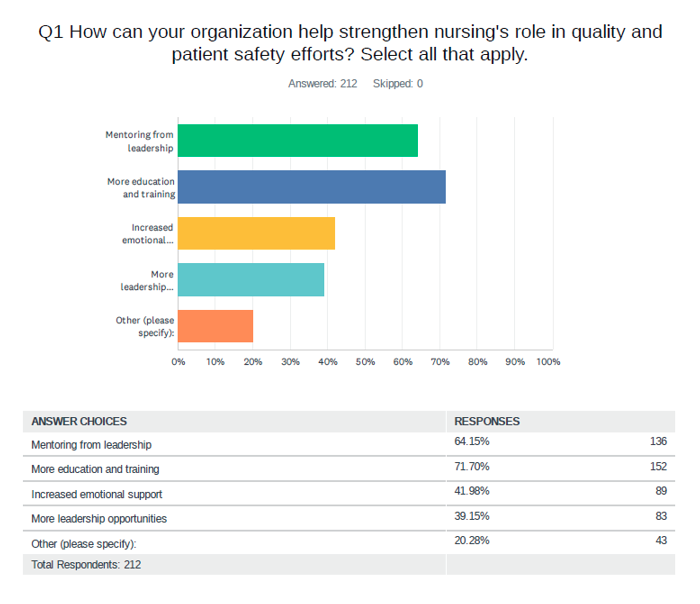 Post-COVID focus
COVID-19 has been a major focus for healthcare organizations for more than two years now, but when asked about what other issues need to be emphasized moving forward, 89.2% of respondents felt staff retention was the biggest concern. Other issues that deserve focus include care transitions between settings (53.3%), diagnostic errors (22.2%), and dealing with the opioid crisis (16.5%). Respondents also filled in specific issues including "Increasing understanding of managing risk in healthcare and the role of nurses in risk mitigation"; "Rewarding staff for 2+ years of hanging in"; "Interprofessional teamwork"; "Lack of experienced staff in practice and fewer mentors available"; "Improving staff morale"; "More flexible scheduling"; "Meaningful implementation of TJC perinatal safety measures"; "Shared responsibility for performance of agency staff is sometimes muddled, prolonged, and aggravating"; "Violence on staff and BH boarders in ED"; "Experience gap resulting from boomer retirements and new inexperienced RN"; "Physician accountability for behavior."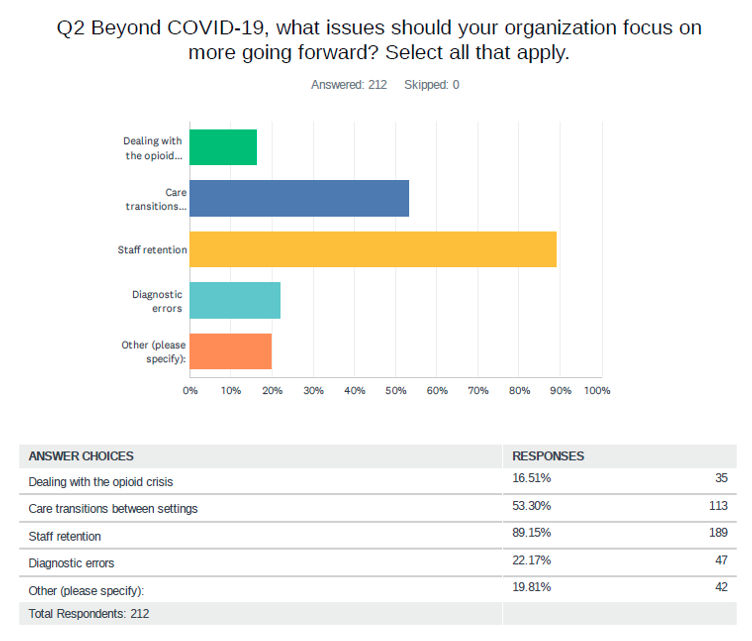 Workplace violence
Asked about their level of concern about workplace violence in their organization, 31.1% of respondents said they were very concerned, 43.4% were somewhat concerned, and 25.5% said they were not concerned.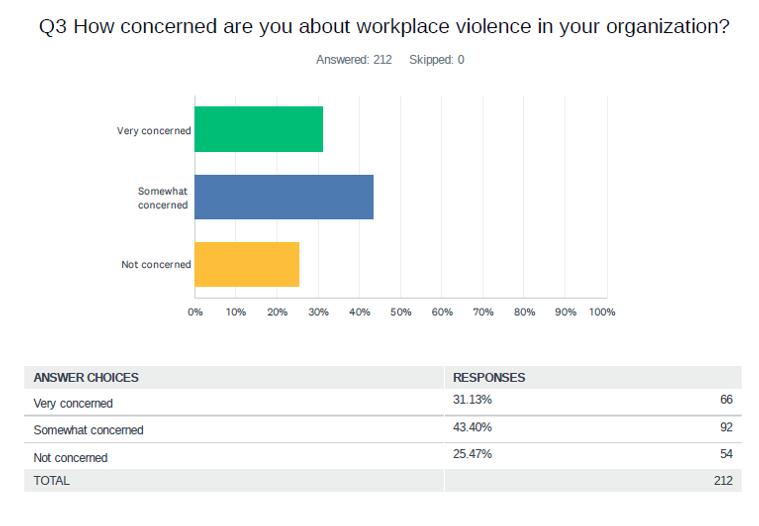 Concern about RaDonda Vaught verdict
The case of former Nashville nurse RaDonda Vaught, who on March 25 was convicted of two felonies and faces eight years in prison for a medication error that led to a patient's death, has the nursing world buzzing. Asked how concerned they were about the Vaught decision, 75.5% of respondents said they were very concerned, 21.7%, said they were somewhat concerned, and 2.8% said they were not concerned.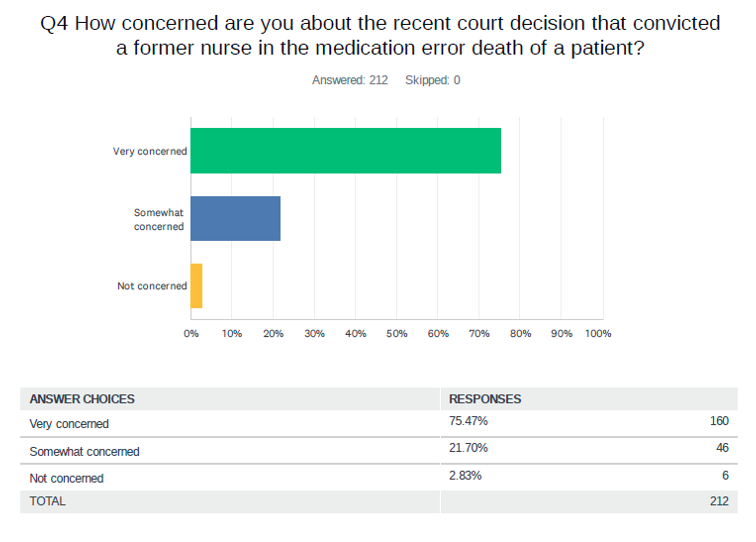 A follow-up question asked about the potential ramifications of the Vaught verdict. About 88.7% of respondents said it could make caregivers fearful of reporting mistakes, while 79.3% said it sets a dangerous precedent that medical errors could lead to criminal charges, and 74.5% said it could cause people to leave the profession or avoid it altogether. Another 3.8% were less concerned, saying nothing will change because of the decision.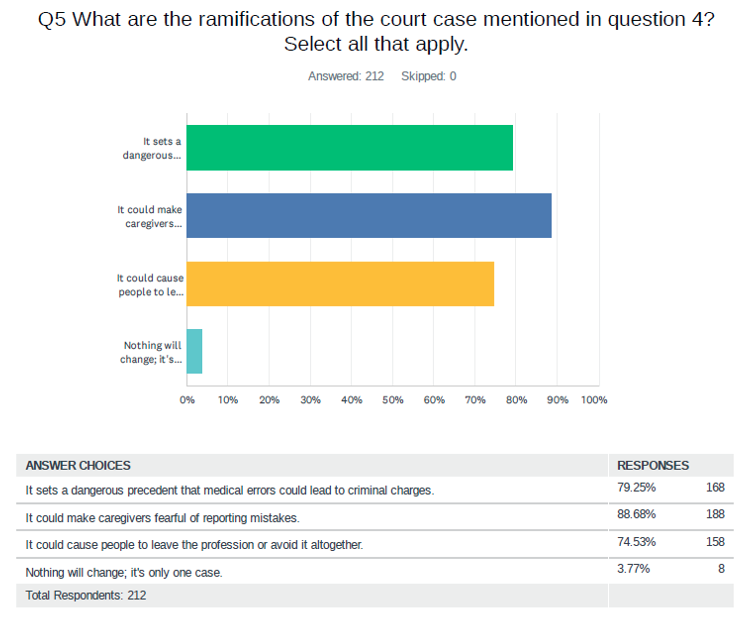 Click here for an infographic based on the results of the poll.