VAP: It's the Little Things that Count
November/December 2010
VAP: It's the Little Things that Count
NY hospitals share lessons for preventing ventilator-associated pneumonia through a statewide collaborative.
By Nancy Landor, RN, MS, CPHQ; and Patty Montone Charvat
Making sure that the head of a patient bed is elevated 30% is just one of the important elements for preventing ventilator-associated pneumonia (VAP) in critical care units. It may sound simple to do, but many hospitals still believe that you can judge the elevation strictly by sight, which is not necessarily the case. In fact, at one hospital, when they measured, only 15% of beds were elevated to the appropriate angle.
However, there are some very low or no cost, easy ways to ensure that the patient bed is elevated 30%. For example, one nurse at Stony Brook University Medical Center cut a piece of cardboard in the shape of a slice of pizza, which is now used to measure the elevation of the patient bed. Based on input from staff at Beth Israel Medical Center, a red stripe was placed on each bed by the Engineering Department to ensure accuracy in the elevation of the patient bed.
These and other practical solutions are having a significant impact on preventing and reducing VAP in hospitals. This is merely a sample of the solutions and best practices that were shared by 50 New York hospitals through a statewide collaborative focused on VAP prevention conducted by the Healthcare Association of New York State (HANYS).
As part of its extensive quality and research agenda, HANYS and its member hospitals have been focusing on the prevention of hospital-acquired infections, including VAP. Grant funding from the New York State Department of Health Division of Epidemiology-Hospital Acquired Infection (HAI) Program helped to support a quality improvement collaborative, led by HANYS, called the VAP prevention (VAPP) program.
"After conducting an assessment of our members, we chose VAP because it is a leading cause of death'Äîdue to healthcare acquired infection (HAI)'Äîin critical care, and experiences by other national initiatives demonstrated that focused efforts on the VAP bundles could prevent a pneumonia infection, which in turn improves patient care, decreases mortality rates, and lower costs," said Nancy Landor, senior director of HANYS Strategic Quality Initiatives.
The Collaborative used the Institute for Healthcare Improvement's (IHI's) VAP bundle elements, plus additional elements from the IHI's Critical Care IMPACT Program as the core of improvement activities.
The initiative relied on the hospitals' infection control practitioners for leadership, education, and data. At the end of the first quarter of 2008, the advisory committee set a stretch goal: achieving an overall VAP rate of less than one event per 1,000 ventilator days in the last quarter of 2008.
"Like many stretch goals, it seemed only possible, even only somewhat doable, but we felt it was important for promoting real change," said Landor.
Another interesting aspect of the VAP Collaborative was that it brought together 82 critical care units, including 78 adult units and 4 pediatric intensive care units, that were in varying stages of improvement—some had achieved success, others had maintained a zero VAP rate, and others had not yet begun work on preventing or reducing VAP. Therefore, each hospital chose the processes they would address and the approaches for how they would spread improvements.
"For hospitals with limited resources and new to VAP, the HANYS collaborative advisory committee recommended that they start with elevating the head of the bed 30% and daily oral care, and then advance to all the elements in the IHI VAP bundle," explained Landor. "Hospitals that had already been working on VAP were encouraged to add one or more of the three new bundle elements'Äîdaily oral care, mobility, and sedation reduction."
IHI VAP BUNDLE

Daily "sedation vacations" and assessment of readiness to extubate
Peptic ulcer disease prophylaxis
Deep venous thrombosis prophylaxis
Michael J. Apostolakos, MD, associate professor of medicine and director, adult critical care, University of Rochester Medical Center; Margaret Parker, MD, FCCM, interim chair of medicine and medical director of pediatric critical care medicine, Stony Brook University Medical Center; and Brian Koll, MD, FACP, medical director and chief, infection prevention, Beth Israel Medical Center–Milton and Carroll Petrie Division, participated in the HANYS Collaborative and served as physician advisors. Although these physician leaders and their organizations had been engaged in national and regional VAP and other infection prevention programs, they viewed the statewide collaborative as yet another opportunity to improve, network, and learn from others.
"We had been working at VAP prevention for a number of years, but had not achieved 100% compliance," said Dr. Apostolakos. "The HANYS Collaborative helped to re-energize and reinvigorate our efforts. As a result of our renewed focus, we made significant improvements in sedation reduction'Äîgoing from 20% to 40% to 100% compliance at University of Rochester Medical Center."
Florescent, removable stickers on the patient flow sheet are used by the University of Rochester Medical Center to ask nurses if they have given their patients a sedation holiday. This simple reminder was one of the factors that contributed to the Medical Center's steady improvement in sedation reduction. Another, according to Dr. Apostolakos, was nurse leaders and managers rounding, during which they encouraged the mobility of patients.
"Mobility is critical," said Dr. Apostolakos," You can't mobilize patients without disrupting sedation'Äîso you accomplish two objectives. It's also important to remember that stopping sedation and getting people up and moving helps to reduce mortality rates."
Engaging nurses and clinicians, as well as all staff members, is another important component cited by the physicians involved in the collaborative.
"Through the collaborative we learned another important lesson'Äîgetting nurses involved in non-traditional ways," said Dr. Apostolakos. "In addition to the nurse rounds, we did retreats with nurses where we talked about sedation and shared ideas'Äîthis was both an education for the nurses and a way for us to develop new ideas together."
Beth Israel's Dr. Koll said that important lessons they have learned and shared are that executive buy-in (CEO, CNO, CMO, CFO) is absolutely critical, and that you need to engage both clinical and non-clinical staff (e.g., materials management). "To sustain culture change, you need to involve everyone'Äîfront-line staff, the unions, residents and interns, physicians, nursing, non-clinical staff. Once they believe or partner in a new practice, we strengthen the sustainability of that change," explained Dr. Koll.
In fact, staff involvement and engagement at Beth Israel extends to every staff member on every shift. "We are a true 24-hour hospital," explained Koll. "We do rounding for outcomes, including assignments with night staff, so that everyone on the team is fully engaged and has input."
"Our staff went to the Collaborative learning presentations and came back enthusiastic about mobility," said Stony Brook's Dr. Parker. "While it's very challenging to be at 100% on every protocol, we knew we could be doing better. We had already achieved compliance goals for oral care, head of the bed elevation, and DVT Prophylaxis, so we used this opportunity to focus on a more consistent, aggressive weaning protocol and mobility, based on the staff input."
Another important staff engagement element is making sure feedback on progress is shared with staff. "At Stony Brook, we share the number of days without a VAP with our staff through posters and bulletin boards, making it more real to the staff," said Dr. Parker. "It helps to achieve staff buy-in and investment'Äîthey take it personally when we post results."
Flexibility was a central element of the HANYS VAP Collaborative—from goals to data collection and submission. Because each hospital was focusing on different elements, the project allowed each hospital to collect data on the process measures related to their own improvement initiatives. Only the outcome indicator, VAP rates, was consistently collected in all hospitals' participating ICUs.
Real-Time Database for Meaningful Benchmarks
The NYS Department of Health HAI Program required that the collaborative use the Center for Disease Control and Prevention (CDC) National Safety Healthcare Network (NSHN), an established system that provides consistent protocols for identifying and reporting VAPs to a centralized "real-time" database. Use of the NHSN system by all participating hospitals established a consistent way to measure the impact of implementing the VAP bundle elements on the VAP rate by hospital, ICU type, and overall. Since not all hospitals were currently using VAP case finding methods, VAP rates were not comparable among participating hospitals, and in some cases the definition and program were misunderstood—a major focus, for a time during the collaborative, was identifying and accurately documenting VAPs in NSHN.
| | |
| --- | --- |
| | NEW BUNDLE ELEMENTS FOR HANYS VAPP COLLABORATIVE |
"An unplanned benefit of the using NSHN has been that we now have a solid understanding and valid comparative information at the hospital, state, and national level," said HANYS Landor. "This will be particularly useful to tracking, analysis, and research for New York State hospitals."
"The NSHN benchmark has been very useful," said Dr. Parker. "While we've always been able to compare our facility to ourselves, the NSHN data now offers a benchmark goal and data for national and regional comparisons."
With all the other national—and often international—quality and patient safety initiatives being done, why would some of the country's leading healthcare institutions choose to participate in a statewide collaborative? When asked, all the physician executives agreed that there was added value to working with similar institutions in the same part of the country. "We tend to learn more from like institutions," said Dr. Apostolakos.
"Being local' — even in a state as large as NY — negated the often-times heard argument that 'our patients are different' and gave all the participants a level of comfort to be with local colleagues," agreed Dr. Koll.
The results of this statewide initiative? "We decreased the overall VAP rate by 36% or .9 events per 1000 ventilator days from the first 6 months to the second 6 months of collaborative" said HANYS' Landor (Figure 1). "Collectively, the hospital's critical care units actually hit the stretch goal in December 2008!"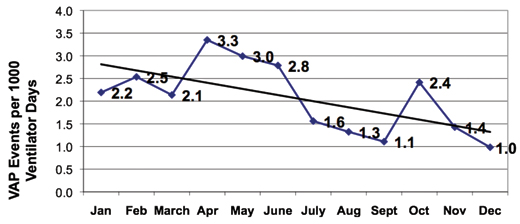 A New Way of Doing Business
But, the story doesn't end with the collaborative. "This collaborative again reinforced for me that we need a new way of doing business and we need to be thinking differently," said Dr. Apostolakos. "We need to constantly test our assumptions based on what we are learning. In the area of sedation, for example, we were taught that ventilated patients needed to be sedated, or oversedated. Now, we're re-evaluating this, particularly since we know that sedation, in fact, prolongs problems with strength and the ability to get around."
"Our mantra is to build on prior initiatives and what you do in one area to prevent infections, you should spread to all areas, because it's not just infections or pneumonia, it's all about patient safety," said Dr. Koll. "Our overriding goal is no infections, no complications, period."
Nancy Landor is the senior director of strategic quality initiatives for the Healthcare Association of NYS Quality Institute. For the last 25 years, she has been engaged in healthcare'Äîas an RN working in acute care and emergency services, as a discharge planner, as a director of healthcare resources management, and as director of quality management for one of the nation's largest mental health vendors. Landor has been an active participant in regional, state, and national professional associations including IHI and the New York Association of Healthcare Quality. She holds a bachelor of science degree in nursing from Russell Sage College and a master's degree in business from Union College. Landor may be contacted at nlandor@hanys.org.
Patty Montone Charvat has more than 25 years of experience in healthcare communications — from strategy development to full plan execution including research, public affairs, marketing, media relations, community outreach, and education — and has worked with hospitals, healthcare, associations, patient safety centers, and other health-related organizations across the country. She began her career in the corporate communications and marketing division of the Healthcare Association of NYS, with her most recent position being vice president.