Analyses
Medication Safety
Two Effective Initiatives for C-Suite Leaders to Improve Medication Safety and the Reliability of Outcomes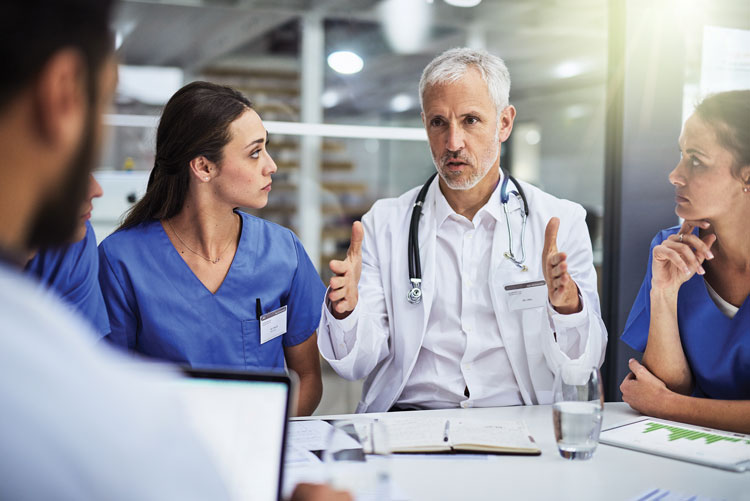 This article appears in the July/August issue of PSQH.
By the Institute for Safe Medication Practices 
As an industry, healthcare suffers from a high rate of failure—as many as 440,000 patients in hospitals suffer some type of preventable harm that contributes to their death each year, making medical errors the third leading cause of death in the US (James, 2013). Even with significant investments in technology, system design, and people, reliable patient outcomes have often been elusive given the inherent risks associated with the delivery of healthcare and the constant struggle to balance costs, quality, and safety. Can healthcare be safe? Can we really achieve highly reliable patient outcomes given human fallibility and the risky, unforgiving environment in which we work?  
The unequivocal answer is yes. When David Marx, a culture and system reliability expert, talks about the way to achieve highly reliable outcomes, he points out that organizations will be reliable only around those things that they truly value and are willing to devote significant time and resources towards (Marx, 2017). This is where each organization's senior leaders come into play—it is the C-suite leaders who decide what the organization values the most and for what they are willing to work hard to achieve.    
To achieve reliable patient outcomes, safety must be one of the things leaders clearly want to be good at, a core value that cannot be reordered in the wake of competing priorities. Leaders must acknowledge human fallibility and the inherent risks associated with the delivery of care, thus centering this core value on realistic expectations—they must chase reliability, not zero errors (Marx, 2017). They must also effectively communicate this message to the entire organization in specific terms, not jargon or safety slogans, and their message must be reflected in their behavior to be credible.  
Broad-brush improvement efforts will only get you so far (Marx, 2017). Marx suggests that, to achieve extraordinary results, senior leaders must put in a lot of heavy lifting, tackling one type of undesired safety outcome at a time (2017). In this regard, ISMP has identified two strategic initiatives related to medication/patient safety that we believe senior leaders should undertake to significantly improve reliable patient outcomes and to communicate to the organization that safety is a core value fully supported by leadership and worthy of the hard work needed to achieve—it's what the organization wants to be good at. While there are many medication and patient safety initiatives worthy of consideration, these two initiatives clearly require strategic leadership to be successful and are very likely to result in highly reliable patient outcomes. They represent a perfect opportunity for leaders to get involved in medication and patient safety in a meaningful and efficient way.  
Strategic initiative 1: Implementation of ISMP's Targeted Medication Safety Best Practices 
In 2014, ISMP first launched the Targeted Medication Safety Best Practices for Hospitals (www.ismp.org/sc?id=417), a set of six carefully selected, consensus-based interventions that address ongoing medication safety issues that continue to cause fatal or harmful errors in patients despite repeated warnings in ISMP publications. In 2016, five more targets were added to the Best Practices (Table 1) (ISMP, 2016). The Best Practices are realistic, achievable, and highly effective interventions that will clearly improve patient outcomes by reducing or eliminating errors and/or mitigating patient harm. To keep the momentum moving forward, every two years new Best Practices are selected by ISMP and a national advisory group of safety experts and added to the list.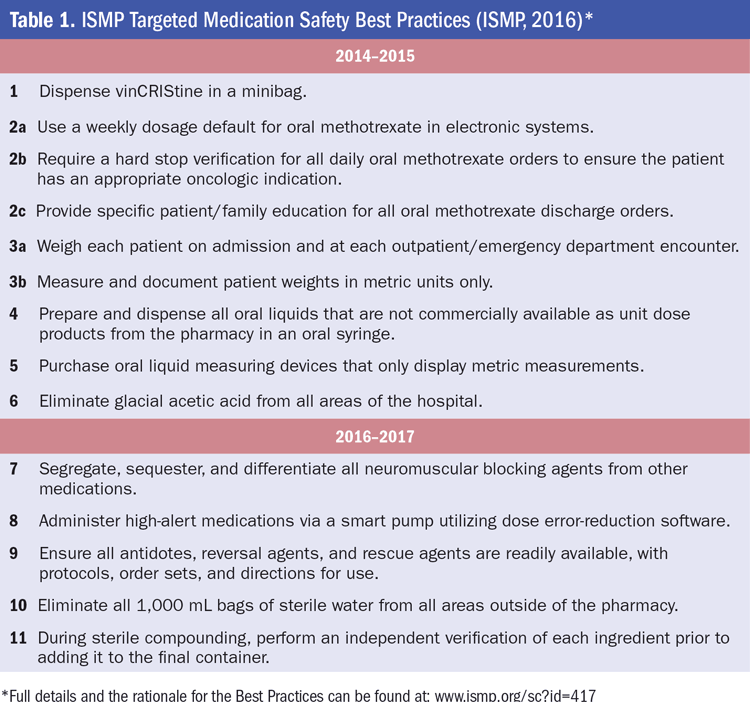 The Best Practices are intended to inspire and mobilize widespread national adoption, and with senior leadership committed to their implementation, this is beginning to happen across the country. In fact, in 2016, ISMP honored Ascension, the largest nonprofit health system in the US, with an ISMP Cheers Award for integrating the 2014–2015 Best Practices into the culture and operations at each of its 141 hospital sites. Their success far exceeded modest national efforts and was only possible with the full support and guidance of the senior leadership team.  
Leadership commitment to the Best Practices 
It can be a challenge to encourage and sustain participation by senior leaders who are managing multiple competing priorities. So, how did Ascension do it? The senior leaders at Ascension already had a strong commitment to helping the organization achieve highly reliable outcomes by designing great systems around their employees, building a Just Culture, and developing surveillance systems that allowed the organization to learn. Thus, the Best Practices were first reviewed and approved by the organization's "high reliability" steering committee. Then, the organization's most senior leaders set well-defined, non-negotiable goals to embark on a journey to implement the 2014–2015 Best Practices within 180 days in all hospitals in the health system. A memorandum, endorsed by the executive, medical, nursing, pharmacy, and safety leadership, was drafted to explain the objective clearly. The leaders then cultivated a strong commitment to this objective with the chief executives at each hospital site, who were encouraged to engage all managers and local staff early in the drive to change.