Analyses
Infection Control
Study Finds Major Problems With PPE Doffing
By John Palmer
For years, infection control experts have warned that improper donning and doffing of personal protective equipment (PPE) when dealing with patients who have highly contagious illnesses can lead to trouble.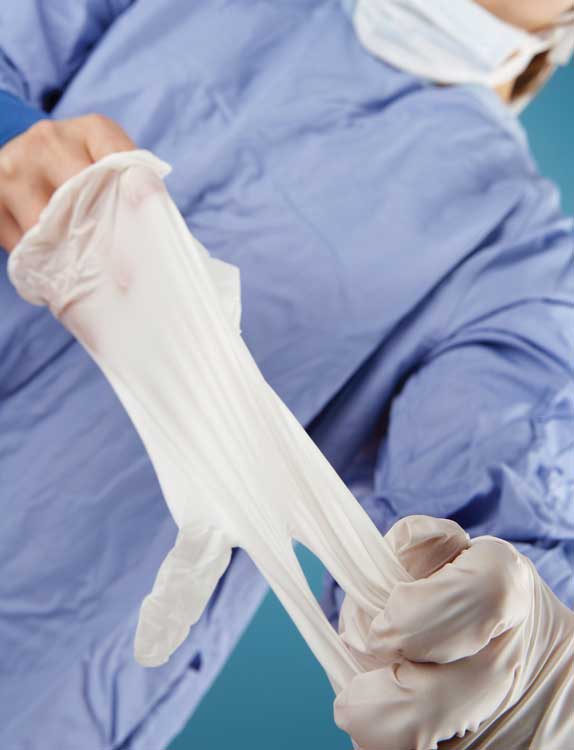 Now, there appears to be evidence that those experts were right, as a clinical study has found evidence of healthcare workers (HCW) who have been contaminated because of improper practice—even while following CDC guidelines.
According to a report published in May 2019 in Infection Control and Hospital Epidemiology, a journal from The Society for Healthcare Epidemiology of America, researchers found that more than a third (39%) of the 125 HCWs observed acquired a multidrug-resistant organism during a patient encounter. About 95 patients were studied, all of whom were on contact precautions for methicillin-resistant Staphylococcus aureus (MRSA), vancomycin-resistant Enterococci, or multidrug-resistant Gram-negative bacilli.
Over a six-month period, researchers observed the workers, including 83 nurses and 24 doctors, in four adult ICUs. Half of the doctors and nurses had received formal training in the use of PPE for the Ebola virus within the previous year, and 90% had received "donning and doffing" training within the previous five years.
The report, "Impact of Doffing Errors on Healthcare Worker Self-Contamination When Caring for Patients on Contact Precautions," was the result of 6,000 samples collected from 5,000 sites around hospital ICUs, including items that had touched the patient's body and environmental surfaces such as blood pressure cuffs, call buttons, and sinks. They also tested the HCWs' hands, gloves, and gowns before and after patient interactions. In addition, they watched the "doffing," or removal process, and recorded errors based on CDC guidelines, which recommends removing gowns and gloves together.
"The relation of HCW contamination to PPE doffing errors reinforces the importance of adherence to contact precautions and of appropriate PPE donning and doffing practices for preventing the spread of potential pathogens in ICU settings," wrote the study authors, led by Koh Okamoto, MD, MS, of Rush University Medical Center in Chicago and University of Tokyo Hospital. "Our findings demonstrate that in a real-world setting, errors in PPE doffing result in HCW contamination, which creates the potential for cross-transmission of pathogens to other patients. Greater training of medical students and residents might improve the PPE donning and doffing practice in HCWs in the long run."
Improper use of PPE is hardly new. Over the years, PPE—and standards from OSHA and other regulators—have been developed to help prevent workers from getting hurt or sick on the job. Yet, every year, we hear more about how HCWs have some of the highest workplace injury rates in any U.S. industry. To make things worse, every so often an illness rarely or never seen in the U.S. makes its way into the country's healthcare facilities (think MERS in 2012 or Ebola in 2014) and changes the way the healthcare community looks at PPE. In addition, training often takes a back seat because of shrinking budgets and lack of time.
If there's one silver lining to the Ebola scare of October 2014, it's that it brought more attention to the need for proper PPE and training in the United States.
Basically, hospitals were forced to reassess their readiness to deal with a major pandemic when Thomas Eric Duncan, a Liberian national who was visiting family in Dallas, became the first confirmed U.S. case of Ebola when he checked into Texas Health Presbyterian Hospital with symptoms. He later died; two nurses that had been caring for Duncan at the hospital also came down with symptoms, but were treated and recovered. In October of that year, a New York City doctor who had been treating patients in Guinea tested positive for the virus and was later cured at Bellevue Hospital.
The cases, the first ever in American hospitals, set off a near panic in the United States as the CDC and other agencies released guidelines and videos to help HCWs work with PPE and keep their cool when working with one of the most infectious diseases on the planet. In the wake of that outbreak, hospitals were advised by the CDC and the National Institute for Occupational Safety and Health to stock up on PPE, especially full-body suits, boots, and specialized respirators designed to create airtight seals that the Ebola virus could not penetrate.
In the meantime, many hospitals began introducing isolation wards and pandemic SWAT teams that could respond to an infectious outbreak at a moment's notice.
"PPE does not remove the hazards; it protects the individual," says Marjorie Quint-Bouzid, MPA, RN, senior vice president at Women & Infants Specialty Health at Parkland Health & Hospital System in Dallas, and author of The PPE Handbook for Healthcare Facilities. "Healthcare organizations must continue to attempt to mitigate potential hazardous situations or practices as the first line of defense."
Of course, PPE only works if proper procedures are followed to put it on and take it off.
Many HCWs have never seen a full-body isolation suit, let alone ever worked in one—and many may never need to. Small teams of specially trained workers learn to work with the suits, which have several components including a headpiece, boots, and gloves with seams that must be properly sealed with tape. In most cases, donning and doffing the PPE requires up to 35 separate steps and the help of a "spotter" to ensure it's done properly.
But working with gloves and basic PPE is something that many HCWs do on a daily basis, to the point where it is perceived as second nature and not actively thought about. That lack of consideration can be dangerous, as many -well-intentioned HCWs don't wear gloves, forget to put them on, or take them off incorrectly after caring for a patient. This can expose them to blood or other potentially infectious fluids.
Apparently, the latest study found just that type of exposure. It collected samples from areas of patients' bodies, garb sites, and high-touch environmental surfaces in patient rooms. Hands, gloves, PPE, and equipment were sampled before and after each after patient interaction.
Results found that four HCWs had contamination on their hands, four had it on their clothes or jewelry, three had it on their stethoscopes, and two had it on their in-hospital mobile phones. About 70% of environmental sites were contaminated with organisms, especially items that were close to patients such as blood pressure cuffs, call buttons, and bed rails.
The report found that following patient contact, 36% of HCWs were contaminated with a multidrug-resistant organism, and after removing their PPE, just over 10% were contaminated on their hands, clothes, or equipment.
The study's authors recognized that in some cases, HCWs were contaminated while following CDC guidelines, which recommend removing gloves before removing gowns. The problem with those guidelines is that it leaves the HCW with bare hands to take off a potentially contaminated gown.
Workers who made multiple errors when removing their PPE were more likely to be contaminated after a patient encounter, but the report found that the error rate depended on the PPE removal method, with 72% using the glove-first removal making multiple errors. Examples of errors included touching the inside of the gown or glove with a gloved hand, touching the outside of the gown or glove with bare hands, and not unfastening the gown at the neck.
"Removing gloves first in PPE doffing is an approach outlined in the CDC doffing protocol; a prior study noted 43% of HCWs removed gloves first when doffing PPE, and we observed that nearly 20% of HCWs removed gloves before gowns when doffing," the authors wrote. "Although further work is needed to determine whether HCW self-contamination risk with gloves-first PPE doffing is generalizable, [the] removing gloves first strategy might need to be reconsidered."
John Palmer is a freelance writer who has covered healthcare safety for numerous publications. Palmer can be reached at johnpalmer@palmereditorial.com.