Setting a Smart-Growth Approach to Telehealth in Motion: Three Insights
By Sierra Sohl-Dickstein
In 2020, telehealth investments focused on speed, not strategy, as healthcare providers and payers rushed to meet the need for virtual care during the pandemic. Now, a recent Amwell/HIMSS survey shows there's a need to move toward purposeful growth in telehealth.
Use cases for telehealth are diversifying beyond urgent care and behavioral health to encompass primary care, specialty care, wellness programs, and more. In tandem with this uptick in usage, technology challenges—from lack of integration and interoperability to platform sprawl—contribute to a disjointed care experience, say healthcare leaders, clinicians, and support staff. Most payers and providers use at least three platforms or systems for virtual care—and more than a quarter have five or more platforms in place.
Further, nearly one out of four clinicians say virtual care systems and workflows are either not at all integrated with their organization's existing systems or are barely integrated. When patient data live in disparate, siloed systems, the care team can't obtain a comprehensive view of the patient that persists no matter where they seek care—in person or virtually.
As healthcare providers move toward more purposeful use of virtual care in the year ahead, how can they set a smart-growth approach to telehealth in motion? Amwell/HIMSS survey results point to three key insights:
No. 1: Create a more seamless experience for patients and providers. Keeping a careful eye on establishing a seamless patient and provider experience, even as care settings converge, is key to meaningful adoption of telehealth. According to the survey, 46% of payers say a confusing member experience is a barrier to member utilization. And while clinicians generally intend to continue using telehealth, many remain hesitant to support widespread telehealth adoption, with 51% citing a preference for in-person visits.
Given that 56% of hospitals and health systems plan to increase investments in telehealth solutions and virtual care over the next two years, ensuring ease of use and a seamless experience for patients and providers will be vital to improving outcomes and lowering costs. As organizations consider the telehealth capabilities that will move their virtual care strategy forward in 2022, they should concentrate on tools that support fast, high-quality video connections and reduce the administrative burden of virtual care—two factors that were cited as "very" or "extremely" important in determining which telehealth technology investments to make.
No. 2: Tightly integrate tools, workflows, and data. Two out of three clinicians say integrating telehealth with existing workflows and systems would be "very" or "extremely" impactful in driving better clinical outcomes and experiences. Today, multiple platforms or systems for digital care exist not just for telehealth, but also for patient engagement, remote patient monitoring, and more. As organizations struggle to integrate virtual care into aging or patchwork systems, this platform fragmentation prevents robust data sharing and analysis—both critical to gaining insight that improves health. It also impedes the development of innovative models of care coordination and delivery.
For hospitals and health systems, success in integrating telehealth tools, workflows, and data will be essential to realizing the full potential of digital care. To support a smart-growth approach to telehealth, areas of focus in 2022 should include technologies that pave the way for clinicians to launch a video visit and view data from remote patient monitoring devices directly from the EHR. Leaders also should prioritize integrating telehealth into existing workflows. Process design should be led by clinicians across departments to incorporate a variety of viewpoints around how to achieve this goal.
EXHIBIT ONE: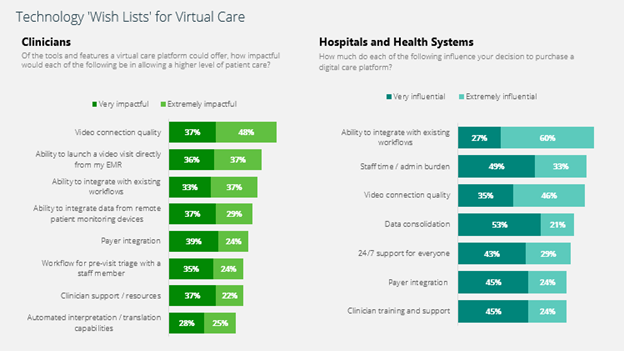 Source: Amwell (2021, September). Building the Future of Virtual Care: Streamlined, Scalable, Sustainable: Insights from Amwell's 2021 Survey of Payers, Hospitals and Health Systems, and Clinicians. https://business.amwell.com/resources/amwell-industry-telehealth-survey-paints-picture-of-an-integrated-streamlined-digital-care-future/
No. 3: Future-proof digital infrastructure. In 2022, organizations should take a hard look at their organization's digital infrastructure to assess whether they can expand telehealth at scale to respond with agility to future challenges and opportunities. Here, digital infrastructure includes not just platforms and systems, but also the ways in which platforms and systems are connected and supported at the enterprise level.
Among hospital and health system executives, eliminating telehealth platform sprawl is top of mind, with 77% of leaders citing the move toward a single, secure telehealth platform as "very" or "extremely" important. This component of smart growth will help reduce costs and enhance ease of use and compatibility. It will also position organizations to streamline implementation, training, vendor management, and data collection.
As organizations determine how to future-proof their digital infrastructure, they should consider: What barriers stand in the way of continued expansion of virtual care? And what technology gaps stand in the way of making virtual care more accessible, effective, sustainable, and relevant? The answers to these questions, which will vary by provider, should inform the organization's approach.
Capturing virtual care's value
Achieving purposeful growth of telehealth requires providers to develop a cohesive, holistic strategy for optimizing virtual care and carefully plan their investments over the next year accordingly. By concentrating on experience, integration, and infrastructure, healthcare leaders will be better able to take telehealth beyond a stopgap pandemic measure and toward a highly strategic, sustainable resource for meeting their community's diverse healthcare needs.
Sierra Sohl-Dickstein is senior director of product management at Amwell.