RFID, Barcoding, RTLS: The Connected Hospital
May/June 2013



Special Advertising Section

RFID, Barcoding, RTLS: The Connected Hospital
Whether your facility is 40 years old or 4 months old, advances in technology can help increase patient and staff safety while improving efficiency. Tracking people and things throughout the building, monitoring care and medication, and assuring accurate patient identification are all enhanced by technology. Innovations are coming that can make the Connected Hospital a reality.

Let's take a look at some of the current and future technologies for patient, asset, and staff identification and tracking. These proven applications, advanced technologies, and innovative uses of existing hospital infrastructure can be adopted anywhere.
Tested and Approved
For example, when it comes to healthcare facilities, everyone's doing wristbands but not everyone is doing barcoding. Bob Chadwick, president of Endur ID, Hampton, NH (www.endurid.com) wants to help change that. "The need to do barcoding is pretty well recognized. We started in 2003 to develop a different type of patient identification, one that could be used with desktop laser printers. Since then we've grown to include over 100 VA hospitals and about 50 private hospitals."
Endur ID wristbands can include color photographs and graphics when printed on a color laser printer. They have eliminated clips and laminates and their coatings support detailed 1D and 2D barcodes. "We have even developed products specifically designed for mental health and long term care," notes Chadwick. "By using color laser printers we can include color coding alerts on the band, eliminating extra bands. You can put DNRs, fall risk, allergies, all the alerts you might need and, with the patient's photo you know who it belongs to. It becomes part of their EHR."
The typical wrist band will have barcodes and color alerts with human readable words as well. "It could have a red block for allergy, and then say allergy," explains Chadwick "Because some people have trouble with color, we're doing both. And if there's no allergy, it's just a blank white space; if there is an allergy, it's a red square."
Kate Kovich, CPPS, is the administrator for patient safety at Advocate Health Care, Oak Brook, Ill. and an Endur ID customer. "We put five different products, from five different companies, through a really rigorous test. We printed on them, and we had associates wear them for between one and three weeks to see how they held up. We told them to shower in them, go to the gym in them, do whatever you do in your daily life and think about durability, comfort, the integrity of the information on the band."
Advocate had literally thousands of bands to evaluate. "What we were looking for was a band that could be the foundation of our barcoding platform, so that we could put a barcode on there that would remain readable through the patient's entire stay," recalls Kovich.
And the future? Chadwick says, "The 1D barcode for medication management is going to go by the wayside, and the 2D code is going to completely take over. They're so much easier to scan."
Jack of All IDs
Many companies in the automatic identification industry are broadly based, multdiscipline companies with products that might even seem to compete with each other. In healthcare, that variety approach can be beneficial as one company can supply many parts of the hospital's ID needs.
Precision Dynamics Corporation (www.pdcorp.com), Valencia, Calif. takes the theme of patient ID very seriously. PDC has been around since 1956 when it produced its first wristband. "We launched the first barcode wristband in 1986 and then 14 years later we launched our RFID (radio frequency identification) smart band," recalls PDC's president, Tracey Carpentier. "We are an innovator and originator that helps hospitals identify patients and improve the patient care process.
PDC provides positive identification that enables safe and cost effective patient healthcare, Carpentier continues. "Our mission statement is that we connect people, products, and technology through innovative ID solutions that deliver a superior customer experience worldwide."
Since PDC markets both barcoding and RFID wristbands, we asked John Park, vice president of North American marketing, which is the most popular. "Right now the critical mass is around barcode, specifically the first generation of linear barcode. Some of the more advanced hospitals are moving to the 2D barcode, recognizing that it's hard to have a readable linear barcode around the entire circumference of the band. It's cumbersome because you've got to pick up the patient's wrist every time. You've got to adjust the position, find the linear barcode, and scan it. If the patient is averaging seven to ten drugs, two to three times a day, that's a lot of scanning."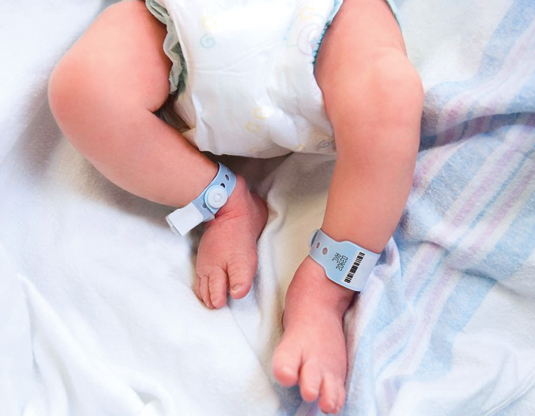 Photo 1: Speedi-Print® Wristbands
2D barcodes are starting to be considered as a strong alternative because they can be printed up and down the wristband. You don't have to adjust the patient's wristband to find the barcode. "The more advanced hospitals have picked that up," acknowledges Park.
RFID, on the other hand, is still early in its adoption. According to Park, "Some of the reason for that is a little bit of the technology adoption curve and the requirements for being able to read RFID. It will take a little time before we start to see that technology take off."
The more complicated 2D barcodes can encode a great deal of information in a small mark. This can require very precise printing to be sure the reader can scan the mark properly. Printers have improved over the older technology, and many hospitals are using direct thermal printers, which have a nice, crisp imaging, to do wristbands.
"Both laser and direct thermal work fine," claims Park, "A hospital may have an issue depending on what legacy health information system they have, however. They may need additional middleware to get the 2D to print appropriately, where they want to print it. But in general, most printers are more than adequate."
Carpentier notes, "Our customer can print the information directly on the wristband or they may print on a label that is placed under a shield or into an insert pocket."

A real problem is the need to upgrade the barcode scanners to read 2D codes. This can be a substantial cost for the facility depending on how many members carry scanners. Another issue could be the durability of the band itself as well as the quality and durability of the printing.
Carpentier focuses on this aspect, saying, "The materials we use for the wristband are specifically designed for healthcare applications; they're tested to very rigorous standards to withstand showers and hand sanitizers, for example. Some of the chemicals found around a hospital can be very strong, adding to the challenge. It's very important that caregivers and hospitals are choosing hospital-grade products."
The hospital environment is quite different from many others where ID bands are employed. Park comments, "Our bands are anti-microbial so that the patient is protected. Imagine a wristband being on the patient for four to five days or even longer. Having anti-microbial qualities is going to be useful in protecting the band."
One thing that Carpentier and Park emphasize is that hospitals need to refocus their thinking about the wristband. Carpentier explains, "People tend to think of the band at the very end of the process rather than at the very beginning. Decide what you want at the end and then work backwards. Focus on the clinical features that you would like to have for the band. Do you have pediatric patients? Elderly patients? Maybe oncology patients whose skin is quite sensitive. You should start with that in mind and then decide what you need."
Hospitals need to be cost effective. Park says, "In the ER we would really advocate using short-term bands that are much more cost effective; they don't need to last 14 days. At a long-term stay facility, you should have a band that's been tested for 14 to 30 days."
As Park points out, "We color code our bands. Being able to see information immediately—Do Not Resuscitate, allergy risk, fall risk—these are things that you need to have visible where you don't have to wait for a barcode to get information. So we have colored bands that correspond to different standards. We don't have one national standard yet; hopefully, over time we'll get there."
Besides the colored bands, PDC can put alerts onto clasps that will go on to the existing band. So even if it's a white band, there may be a purple or a yellow or a red clasp that would indicate fall risk, Do Not Resuscitate, allergy, and other information.
Collecting as much data as possible on a single wristband helps both the caregiver and the patient. As Carpentier says, "That's been an interesting trend over the last few years, a hospital's desire to communicate all of the pertinent patient information on a single band. It's more comfortable for the patient to wear one band, perhaps with an alert clasp attached to it. It's safer for the caregiver as well because they know that all the information is contained in one location as opposed to a separate band that may be hidden under the hospital gown sleeve, as an example. We've seen this consolidation of multiple wristbands to a single wristband that can indicate everything."
Where is the healthcare ID industry headed? Carpentier begins at the beginning: "We started with just identification. We advance that with visual identification, with more patient information. And now the bands and information have to advance and get smarter. I think the next generation is really going to be smarter bands that may start to play where some diagnostic instruments are now, getting basic vital signs."
Park agrees. "There will be a variety of things that we'll be looking at that can be done with a wristband. We already have some basic ability to identify or sense hydration levels, electrolyte levels. Certainly technology is changing and we've proven to be very innovative over our years in this industry, so we're certainly looking at how we can continue to add value to our healthcare customers. I think we're going to look for the bands to do more work and provide more information."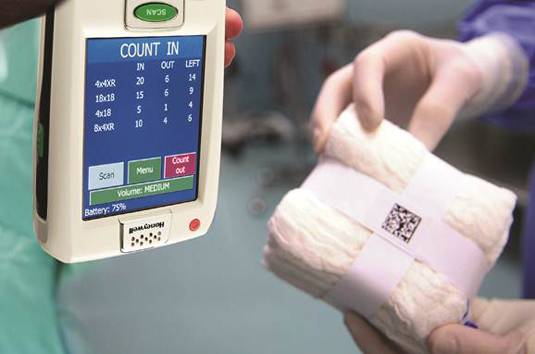 Photo 2: SurgiCounter™ with Master Tagged Barcoded Safety-Sponges
No Sponge Left Behind
Wristbands aren't the only barcoded assets we need to consider. Johns Hopkins patient safety researchers estimate that somewhere in the United States a surgeon leaves a foreign object inside a patient's body after an operation 39 times per week. In fact, a sponge being left behind is the most common surgical adverse event reported in the United States. No doctor or nurse would close a patient if he or she thought that the sponge count was off and one or more might be inside of a patient, but manual counting can be inaccurate after a long operation when everyone is tired.
Obviously, what is needed is an accurate way to inventory sponges in and out of the surgical arena. Attempts have been made over the years to do just that. One of those approaches is to imprint a barcode on each sponge so automatic scanning devices can account for each unit before and after surgery.
In "Prevention of Retained Surgical Sponges: A Decision-Analytic Model Predicting Relative Cost-effectiveness," Regenbogen, Greenberg, et al. (2009), estimated that standard counting detects 82% of retained surgical sponges while bacoding prevents at least 97.5% of retention.
What is really needed is a way to leverage unique device identification. "We happened to choose barcoding because we believe it's the best application of auto ID for this particular application," explains Brian Stewart, CEO of SurgiCount Medical, Irvine, Calif. (www.surgicount.com). "The strength of our offering comes from the unique identification, the ability to make sure that we can track individual sponges at the point of manufacture, inter-operatively and post-operatively, and the benefits that the unique ID gives us."
SurgiCount chose the 2D Data Matrix barcode which gives their system very high accuracy. Most off-the-shelf scanners, imagers, and decoder engines are accustomed to Data Matrix. Stewart notes, "We currently use products provided by Honeywell that incorporate our own proprietary software application that counts sponges. We provide that to users at no direct cost in exchange for using our uniquely identified sponges."
The SurgiCount solution works as an adjunct to manual sponge-tracking to make sure that when a surgeon asks a nurse if the sponge count is correct, the nurse can answer with confidence. A count of sponges entering the theater is verified by a count of sponges at the end of the procedure, both manually, and as an adjunct, by technology.
Obviously, their surgical sponges have to pass certification that they are sterile and won't cause any contamination from the inks that are used on the barcode. Stewart acknowledges the point and adds, "From a biocompatibility standpoint, we apply a small iron-on symbol, melted permanently into the surface of the sponge using a medical grade polymer with medical-grade inks that are actually Class 3, long-term implant-accepted components. Our sponges are sterilized just like sponges used in the operating room now, using either ethylene oxide (EO) or gamma sterilization."
Reading the barcode on a new, clean sponge is easy; scanning a used sponge, coming from the surgery, might be harder. In the case of the SurgiCount sponge, the thin, almost rubber-like label repels body fluids.
In addition, the company offers a software solution called SurgiCount 360 that allows the tracking of sponges post-operatively. Each sponge is time-stamped in the software before use and after use. The surgical team and the hospital can have a time-stamped receipt for every sponge used. The concept has been well received, with over a 160 million safety sponges having been used in more than 8 million procedures.
With the increased acceptance of mobile devices, such as smartphones and tablets, in the hospital environment, SurgiCount is looking to leverage its existing platform to provide other patient safety and OR-convenience applications. Stewart says, "As we see increasingly capable devices, mini-tablets and even more full-sized tablets, we can anticipate introducing other patient safety applications beyond just sponge counting. Image capture, safe surgery checklist applications, solutions that are important to hospitals. Our proposition is that we provide ways of increasing patient safety and reducing costs. Leveraging our platform to provide more value to our customers through expanded utility, beyond just retained sponge prevention, is our long-range goal."
Where Are You?
Being able to keep track of equipment is important; being able to keep track of patients and staff is critical. "Healthcare facilities using an accurate locating system can automate processes and communication," states H. T. Snowday, president, Versus Technology (www.versustech.com). "This automation results in reducing manual data entry, while improving patient flow and reporting metrics. Versus has provided infrared- and radio frequency-based RTLS (real-time location system) solutions to healthcare facilities, from multi-system and community hospitals to outpatient and cancer care clinics."
One of those cancer clinics, Eastern Maine Medical Center (EMMC), Brewer, Maine, recently opened a new cancer center, a three-story, 125,000-square-foot facility. Brenda Clements RN, MSB, OCN, manager of nursing services, tells us, "We see about 250 to 300 patients a day, and I needed to figure out how to find patients in this large building, how to improve our throughput and get our patients from Point A to Point B while minimizing staff requirements to do so."
Previously, EMMC used a traditional approach. "We were a paper-shuffling facility, which meant a tremendous amount of footsteps," recalls Clements. "Although moving from a small space to a very large space, by using RTLS we saved each of my CMAs (Certified Medical Assistants) over four miles of walking each day. And for my treatment room nurses, I've saved them over a mile of walking each day, despite the fact that we have tremendously enlarged our footprint."
Enter Google search. According to Clements, "I was able to find this great RTLS system on Google and saw its potential. I could see it would meet our clinic's needs. I connected with the company; they came to my facility and gave me a great demo. They worked with me on patient flow, adding some great reporting features. I was able to have the center's layout so we could see all of the actual construction pieces. And that's how I came to have this RTLS system."
Implementation was smooth, and buy-in by the staff helped. "A lot of people asked me how I got my providers to buy into this," Clements admits. "They could see the need for finding their nurse, or seeing when their patient was ready for them. The efficiency and convenience of the system speaks for itself, Buy-in really wasn't hard at all. I wore my badge for a number of months ahead of time so people could see that it wasn't an intrusion. It didn't tear up my clothes. It didn't turn me green or make me glow in the dark!"
It seems that the biggest concern that people had was they wanted to make sure the system wasn't monitoring them when they were in the bathroom. "I ensured them that I didn't have sensors in the bathroom, and after that it was straightforward," Clements laughs. "I actually have it deployed on almost all the desktop monitors in my building with generic sign-on. They are out of sight of patients and families so it does comply with HIPAA."
There are many ways to judge the value of technology. Clements lists some of them: "Right out of the gate, it saved me three FTEs (full-time employees), and it saves a lot of time and footsteps, which translates to productivity for staff."
There is a pharmacy notification aspect where nurses can notify the pharmacist that they're ready for the patient's chemotherapy. The pharmacy will then notify them when the pre-meds are ready, so the nurse can make just one trip to the pharmacy instead of going back and forth, back and forth, back and forth, looking to see when the drugs are ready. Clements acknowledges, "Whenever somebody is making multiple trips, it's an opportunity for them to get stopped by co-workers or patients and families, and that delays care. This RTLS certainly made my treatment room nurses more efficient."
She adds, "This also allows our pharmacists to remain more focused on chemotherapy order processing: fewer interruptions equal safer practice by reducing potential for errors,  I have a highlighting system where the CMA will push their badge button while in the exam room with a patient and it highlights the doctor's name. The doctors can be in their offices, glance at their screen and if they see their name highlighted, they know their patient is ready for them."
Some other key features include a time-alone alert so none of the patients are ever alone more than 20 minutes at any given time. "An alert will fire to appropriate nearby computers, alerting the staff that they need to go in and interact with the patient," explains Clements. "And I have these alerts set so they cannot be cancelled at the desktop. A staff member must go in and interact with the patient, improving patient safety and satisfaction."
An added safety aspect, according to Clements, is that "I'm able to pull reports that show badge-to-badge interactions, so if I had a patient come in, say, with influenza, I can see all of the folks that have had interactions with that patient. I can quickly identify those folks and notify them. I think this is a key, internal and external, safety feature."
Making the Transition
A lot has changed in healthcare in the past 100 years. The successful companies are those that have been able to make the many transitions needed to keep up. For example, take Standard Register Healthcare, Dayton, Ohio (www.standardregister.com/healthcare). As Tim Kelly, director of technology marketing, puts it, "We are a hundred-year-old company that traditionally was involved with printed forms for healthcare. From the very beginning, we wanted to be sure that all the information needed on and for patients concerning their care was readily available and readable. Over the last two decades, we've been making the transition to electronic identification and e-forms."
Electronic health records (EHRs) are becoming a requirement, and Standard Register Healthcare can help a hospital.  "If a facility's not quite ready for fully electronic forms, we move them toward that with systems that print individual patient documents such as a release-of-information form, a consent form, an advance directive," acknowledges Kelly. "We then embed a barcode onto that information so when that form is ultimately scanned into the EHR, the specific document is automatically associated with the correct patient without errors."
Standard Register Healthcare endeavors to move all of its clients to a true e-form technology. "Let's get that paper out of the system entirely," Kelly admonishes. "EHRs are important but they only encompass a small volume of all of the care documents that are associated with patients. So, we execute detailed, procedure-specific consent forms, for example, entirely electronically. We can launch our solution from within an EHR and bring more information than simply who the patient is; we also have the provider's information—we know who the provider is via their login information to the EHR."
When you collect signatures on that form using a digitized signature capture pad, it's all done electronically. Standard Register supports the Apple iPad and all types of hardware. "When you bring that information into an e-form, rather than simply having the patient information in the barcode, we can also tease out other information from a safety perspective," Kelly continues. "We can pull out what type of procedure the patient's going to have and what the surgical site is going to be. Later on, during the pre-procedure verification or in the OR during the time-out process, you don't have to go hunting for a paper form like you did once upon a time to confirm the patient understands the procedure and confirm the surgical site."
Scott Wallace, vice president of strategic development at Standard Register Healthcare agrees that EHRs are only part of the solution. "An important part of the work that we do is with the existing wristbands and making certain that that wristband is non-destructible, continually intelligible. We are barcoding wristbands, and some customers are putting the patient's photograph on the wristband. We've explored making them from bacteriostatic materials which limit the growth of bacteria due to concerns about MRSA (Methicillin-resistant Staphylococcus Aureus)."
The use of barcodes on wristbands has become common. Wallace comments, "We print barcodes on wristbands, making certain that the integrity of what gets printed does not get diluted, does not get destroyed, does not become unreadable. The last thing you ever want to do when someone's a patient is replace a wristband because that breaks the 'chain of evidence.' We also are looking at additional ways to deploy barcode technology."
Standard Register Healthcare's hometown of Dayton, Ohio has been known as a ceramics center; now there is work being done to make it an RFID hub. "We explored ways to have RFID included as part of the wristband," Wallace remembers. "We were trying to figure out how to build information systems that could make that information available, using Bluetooth or wireless, at a central decision hub such as a nurse's station."
One problem they found was the range of the passive RFID chip was very limited, especially in older hospitals. As Wallace says, "If you go to a hospital that's 20-years old, it's built like a bomb shelter. That construction doesn't lend itself to wide-range wireless. Wristbands using active RFID tags are limited by battery size and they can be uncomfortable to wear for any length of time.So we started to explore ultrasound for signal transmission from the room, where the RFID tags can be passive, to a central hub."
Working with IBM and other partners, Standard Register continues to explore this new technology. However, Wallace confides, "Ultrasound created problems when you have a multiple-bed situation, because while microphones for ultrasound have gotten much better, there are still many questions."
He quickly adds, "We're constantly looking at ways to embrace the patient experience and truly try to drive information back to the patient. It involves patient identification. It involves protecting their information. It involves communicating with them privately. It engages the family in an appropriate way. What we see today in healthcare is anything from handwritten labels that get slapped on a plastic band to complex materials that are just crazy in how they're constructed. That really goes to the question of durability and readability, what can fit the existing wristband format."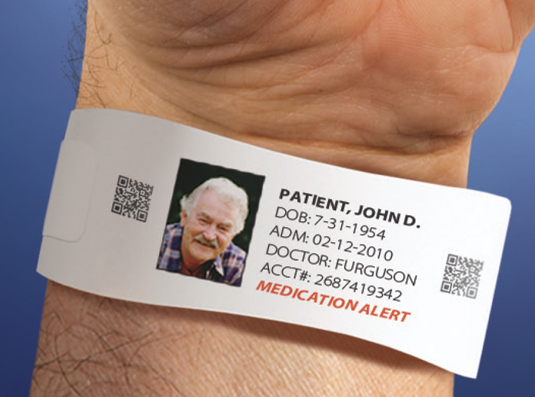 Photo 3: Barcoded Patient ID wristband from Standard Register.
Photo Courtesy of Standard Register.

I See You — Everywhere
No doubt the most important "asset" in any hospital is the patient. Using asset tracking technology, then, makes sense when the system can locate patients as well as equipment. In 2000, a group of wireless network experts and scientists at Helsinki University in Finland started work on a technology to do just that. With seed money from a venture capitalist, Ekahau was formed, and by 2007 they were developing a way to determine location using radio waves, including Wi-Fi.
"As we saw Wi-Fi become more ubiquitous, we saw our solution, which is based on Wi-Fi radio waves, really start to take off," recalls Mark Norris, CEO of Ekahau (www.ekahau.com), Reston, Virginia. "I think we're most excited about the patient and staff safety solution we brought to market. It's unique in the sense that we're the only ones with a badge with a patent-pending safety switch. We do two-way communications, real two-way messaging, which is a unique feature in the industry. So we're very excited about our safety solution."
Unlike the limited range passive tag RFID, Ekahau uses a self-powered active tag. By leveraging a hospitals existing WiFi network augmented as needed by infrared beacons, Ekahau RTLS sees where all tagged patients are at all times, anywhere within the footprint of the network, indoors or outdoors. If a patient is in his or her room or on the assigned floor, the system will locate them. Should a confined patient venture onto a fire escape, for example, the RTLS will alert staff members and security officers.
The rechargeable tag can be worn by a patient on their wrist or ankle depending on the type of patient and situation. The tag emits a periodic signal to the network that is then captured to calculate location and to apply business rules and alerts associated with that tag. The tag has a highly sensitive sensor that cannot only detect motion but also detect if the tag has been tampered with or removed.
How does the system work in a facility? Norris explains, "In a very large behavioral health system in California they have anywhere from 800 to 900 clinical technicians and workers within the facility that need to be protected. The patients range from not dangerous to very dangerous, so it's important to have visibility throughout the entire campus. And that campus is more than 20 buildings on 130 acres."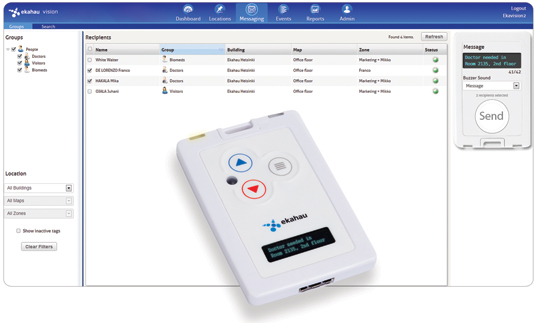 Photo 4: The Messaging Tab within the Ekahau Vision™ Software platform and a B4 Badge.
Photo courtesy of Ekahau
He continues, "The most common use is if a staff member feels threatened they pull down on their badge tag. That sends an alert to a backend server. We've got a rules engine that determines, 'When receiving this alert, send a message to people nearby' or perhaps to the entire facility if it is a facility-wide event."
One of the advantages of Ekahau is that the system knows where everyone is and can send messages based on a geographical area that doesn't have to be predefined. "For example," Norris notes, "the intelligence rules might say, 'Send this alert only to team members.' We're the only player in this space currently that has the ability to geographically send these messages to our badge tags."
Typically it takes between one second to five seconds to be able to send an alert campus wide. "It's really instantaneous in the sense that I pull an alert and immediately, one to five seconds later, those individuals that I've determined need to know where I am are alerted and know to come help," claims Norris.
Another opportunity to use RTLS comes in making a facility and its staff more efficient. An orthopedic clinic, Joint Implant Surgeons of Florida, receives between 165 and 185 patients daily and wanted to boost its efficiency. Using RTLS to time, track, and locate all patients and clinical staff members, they were able to see where delays occur so that they can be resolved. The system also provides alerts if an individual has been waiting longer than the clinic's established time limit.
RTLS is used to track the locations of staff members and patients to improve efficiency, and to gain real-time updates when delays occur. The clinic's existing wireless network receives the signals transmitted by the badge, and that data is forwarded to software which calculates each tag's location. According to Norris, "Each clinical staff member's badge transmits an ID number linked to that individual in the Ekahau software. The software comes with a floor map on which an icon representing that worker can be seen moving around, according to his or her location."
In some cases, to create greater granularity, several infrared location beacons were installed within a single room to help the clinic pinpoint a patient's location, even in which chair an individual may be sitting.
This ability to define location of individuals so precisely has a variety of uses. "When an event takes place," Norris says, "I want to know what everybody did when that event occurred. When a staff safety event or a patient safety event has taken place, we can record all of the people and all the interactions that take place from the moment the event started to the moment that the event ends. We call this a 'forensic replay.' It can be used in reviewing the procedures and response times of staff members during an event. It's one of the innovations that RTLS can provide."

Innovation. Medical science has been in the forefront of innovative techniques and the suppliers to the field are working right along with the providers of healthcare to make sure that patients, staff, visitors and everyone else in the hospital are safe and secure. By adopting new technologies like RFID, barcoding and RTLS, facilities are moving rapidly into a safer future.
Tom Inglesby is an author based in southern California who writes frequently about medical technologies and improvement strategies.

References
Lally, C., & Malloch, K. (2010, August). Workarounds: The hidden pathway to excellence. Nurse Leader, 8(4), 29-32.
Wray, B. R. (2012). Barcodes: a useful tool for the lab. MLO: Medical Laboratory Observer, 44(11), 28-31.

A Tale of Two Questions:
Achieving Patient Safety through Nurse Adoption of Barcoding Technology for Specimen and Transfusion Management
The First Question
One question comes up consistently in almost every conversation relative to barcoded specimen management technology—technology that has been designed to improve patient safety, provide zero errors, and decrease specimen turnaround time and the number of redraws (because of real time order availability). Despite all of these powerful patient safety, system and clinician benefits, I am asked: "How can we be certain the nurses will be scanning the wristband, and not the chart label, or another wristband that they have printed out?" Many otherwise conscientious and patient safety focused clinicians have been observed to either affix a number of labels or wristbands to a clipboard (or themselves) so that they can scan a barcode "easily" instead of scanning the patient wristband. These workarounds put every stakeholder in the specimen management continuum at risk. The risk intensifies when the workaround is applied to transfusion management.
This is a subject of much contention and challenge for the nurse and lab leader; the ongoing workaround and failure to adopt the standard of practice can result in mistrust between staff and leadership, and between departments, decreased productivity, poor return on investment (ROI), and a great chance of error and increased risk of patient harm. Barcoding can be one of the easiest technologies to use if all equipment is available and working. It is imperative that nurses are advised and aware that technology like Sunquest Collection Manager™ is not only critical to improving patient safety, but is also a nurse safety mechanism.
According to Wray (2012, p. 31), "With a high quality barcode label, a working scanner, and a trained operator, data collection can happen at lightening speeds with 100% data accuracy." If 100% accuracy resulting in zero errors is the expected outcome—and goal—of barcoding for specimen collection, then project and implementation planning must address and assess each of these elements. A number of hospitals have performed FMEAs (Failure Modes and Effects Analysis) prior to implementing Sunquest Collection Manager™ on their nursing units; these collaborative activities uncover a significant number of organization and unit specific issues that could result in challenges to implementation and adoption, and the teams work with Sunquest as needed to find resolutions prior to their go live.
The proactive approach to involve nurses in the selection of barcoding technology and equipment that will be used for specimen and transfusion management as well as medication administration is critical to these technologies' success.  
The Second Question – one you need to ask
If you are addressing a barcode, or any technology workaround, start by asking one question:
"Why can't you _____________?"
Note the word "can't" and not "won't." Won't implies noncompliance and may cause the person to become defensive. If you are working with a group, continue by asking "and why/what else?" By asking this one question in an authentic way, and actively listening for the answer, you will learn valuable information on your workflow and equipment needs and challenges. If the answer is personal to the end user, as in "I don't want to," then that is a leadership issue that you must address (and we won't cover here!).
You may uncover very thoughtful considerations. Some workarounds are actually attempts to protect patients and promote care excellence, and must be evaluated! Nurses should not be punished for their attempts to improve a process, but must be encouraged to participate in system-wide solutions (Lally & Malloch, 2010).
We know that barcoding saves lives, but it must be used in order to do so. To answer the first question, checking digits and other barcode additions can ensure that the only barcode accepted for specimen management is on the wristband affixed to the patient. This combined with a policy that requires leadership approval or another mechanism for duplicate wristband printing can provide for higher compliance rates. I aim for commitment but will always take compliance.