Q & A: Directing a Medical Simulation Center
March / April 2006
Q & A

---
Directing a Medical Simulation Center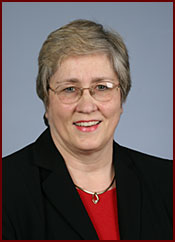 Sharon Denning, M.S., R.N., C.N.A., is the director of the HealthPartners Simulation Center. In this interview, she discusses her decision to make the transition from her nursing career to become the Center's director, shares her views on the role of medical simulation in medical education, and explains the challenges she faces in advancing the mission of the Center to promote patient safety. The HealthPartners Simulation Center for Patient Safety at Metropolitan State University (www.hpsimcenter.com) is a collaboration between HealthPartners' Institute for Medical Education (IME) and the School of Nursing at Metropolitan State University, St. Paul, Minnesota. The Simulation Center, which opened in April 2003, offers advanced clinical education using high-tech simulators to improve patient care and safety. IME is one of the largest providers of undergraduate, graduate, and continuing medical education in Minnesota. IME is part of HealthPartners (www.healthpartners.com), a family of nonprofit, consumer-governed healthcare organizations that also includes the 450-bed Regions Hospital (a Level I Trauma Center and teaching hospital affiliated with the University of Minnesota Medical School), HealthPartners Medical Group & Clinics (whose 600 physicians practice in 35 medical and surgical specialties at the 28 primary care and specialty care clinics), and a 630,000-member health plan. Metropolitan State University (www.metrostate.edu) is a comprehensive urban university that provides accessible, high-quality liberal arts and professional education to the citizens and communities of the metropolitan area, with emphasis on underserved groups, including adults as well as communities of color. The mission of the School of Nursing (www.metrostate.edu/sn/) is to prepare registered nurses to advance professional nursing and enhance the health of underserved and diverse populations. Sharon Denning may be contacted at Sharon.M.Denning@HealthPartners.com.
When did you become the Director of the HealthPartners Simulation Center for Patient Safety at Metropolitan State?
In September 2004.
Can you summarize your background?
I have a diploma in nursing from St. Barnabas Hospital, which with all the hospital mergers and closures in the Twin Cities over the years, is no longer around. I also have a bachelor's of nursing from Augsburg College in Minneapolis, and I earned a master's of science in nursing administration from the University of Minnesota.
I have more than 35 years of experience on the front lines of nursing in Minneapolis-St. Paul, including 15 years as the ICU manager at North Memorial Medical Center. Immediately before coming to the Simulation Center, I was the director of critical care and perinatal services at Methodist Hospital.
What attracted you to the position? Why did you want to take on the job of director of the Center?
I felt a push and a pull. Three decades plus on the front lines of nursing is a long time for anyone. I was at a point in my career, and in my life, where I was ready to step back from the demands of hospital nursing and try going in a new direction. Medical simulation technology was certainly intriguing. The director position itself was appealing because I saw a chance to apply my experience and expertise in new ways — an opportunity to improve patient safety and medical education. And I'd get to define my own role in a brand new position. Plus the academic setting at Metro State was also a positive factor. I thought I'd enjoy being at the university.
Are you the only woman serving as the director of a medical simulation center in the United States?
As far as I know, there are a few of us. Kathy Rosen, M.D., at West Virginia University School of Medicine. Mimi Hotchkiss is a nurse who is director of the Center for Research in Human Simulation at Virginia Commonwealth University's School of Allied Health Professions. And there is one woman who is a co-director: Bonnie Driggers, R.N., at the Oregon Health and Science University Clinical Learning Center. It does seem, however, that we're rather unique.
Why do you think that is?
Medical simulation emerged initially from the specialty of anesthesiology, and almost all of the 300 or so centers in the United States are affiliated with medical schools. So many directors are physicians and, yes, men.
When did you first learn about the field of medical simulation?
Candidly, not until I learned about the director position at the Simulation Center. Simulation is a new field in medicine. The Society for Medical Simulation (www.socmedsim.org), which represents the growing group of medical educators and researchers who utilize a range of simulation techniques and technologies for education, testing, and research, was organized in January 2004. That's new.
What do you see as the primary role of medical simulation in medical education and continuing medical education?
   



Learners respond as the adult simulator's heart rate suddenly drops. ©HealthPartners

It enables students and practicing providers to experience a variety of clinical situations and to practice their skills without putting real patients at risk. Simulation is excellent for learning both hard skills (the techniques of using various types of equipment to perform procedures) and soft skills (communication and team work).
An important element of medical simulation training is that it affords opportunities to engage in detailed de-briefing after educational sessions. You get to review, discuss, and learn from what transpired in a simulation session. That kind of in-depth review is often unrealistic, if not impossible, in real clinical settings, which are so fast-paced. Thus, it's not just about hands-on training and practicing procedure skills. It's about learning how you communicate and how to communicate more effectively. It's about developing the skills to work closely with others in proficiently functioning care teams.
So the audio-visual equipment in simulation centers must be an essential component.
Absolutely. Viewing a videotape of your session can be a real eye-opener. Learners can see how they actually communicated and performed in a realistic clinical scenario.
In your opinion, what makes your simulation center unique?
As I said, most simulation centers are based in medical schools and university medical centers. We do use the Center for nursing students at Metropolitan State. IME uses it, of course, in providing education for University of Minnesota medical students and residents at Regions Hospital, as well as for continuing medical education for HealthPartners physicians, nurses, and other medical professionals. But, we see the Simulation Center as a community resource available to healthcare organizations and providers across Minnesota and from around the Midwest.
That makes us different. We do not just serve learners from our sponsoring organizations. We envision the Simulation Center as a vital center of medical technology and medical education in Minnesota.
What are your primary responsibilities as director?
Putting operational structure and organizational supports in place, grant management and reporting, and outreach and marketing — especially to increase other healthcare organizations' use of the Center.
Your priorities for the Center?
My priorities? Developing a business plan, prioritizing Simulation Center use and scheduling to meet the demands of various users, and increasing revenues both from fund raising and from charging outside organizations when they use the Center.
What challenges do you have to overcome to meet your priority goals?
My main challenge is figuring out how to price simulation sessions for users. Prices have to be sufficient to meaningfully contribute to paying our expenses. Yet, the Simulation Center cannot overstrain users' ability to pay. It's difficult to strike the balance. This is a new use of technology and a new type of service, so pricing is inherently difficult.
My colleagues across the country in the Society for Medical Simulation are terrific about sharing information and insights — except when it comes to pricing. I don't think it's because they fear competition from other centers. There's something else going on. Simulation is at a stage where pricing is just so variable that people are somewhat wary about discussing the wide variability in their pricing. It's a problem for all of us.
   



An Air Care flight team uses the pediatric simulator to practice preparing a critically ill child for transport. ©HealthPartners

Ongoing curriculum development is always a challenge. Training in a simulated environment is a novel step in the learning process — a step between conventional classroom instruction and actual clinical instruction with real patients. For each type of simulation session (for instance, cardiac arrest), a range of realistic clinical scenarios have to be developed to simulate the different types of cases that occur with real patients. While our human patient simulators come with some pre-programmed scenarios, most of our scenarios are developed by our staff, including a Ph.D.-level registered nurse and an emergency medicine physician. Their clinical experience provides them with the ability to create realistic situations that can be tailored to meet the specific needs of participants. With input from the instructors for each session, the scenarios can be adapted to the varying levels of experience of the learners.
Setting aside the pricing problem, what is the biggest challenge in getting other healthcare organizations to use your center?
Increasing awareness is a basic issue. Once people come and visit the Simulation Center and see a demonstration of the technology in action, the light bulb of inspiration lights up. People see, and get excited about, what they could do. So getting them to know about the Center and coming for a tour is the challenge.
Have other hospitals other than Regions started to use your center?
Yes. Pulmonary fellows from Hennepin County Medical Center have used the virtual bronchoscopy equipment to practice procedures prior to carrying out the procedures on real patients. Participants consistently report that the simulation experience is both fun and a valuable learning experience.
Several other hospitals are exploring potential applications. In hospitals today, Rapid Response Teams are augmenting the traditional cardiac arrest teams. The idea is to intervene at the very onset of a crisis of rapid clinical deterioration, before the patient "codes." We have been approved for grant funding to help train Minnesota hospital teams in the Rapid Response process, and a number of hospitals, from the metro area as well as outlying areas, have taken advantage of this opportunity.
Is your center available to other medical educators?
Yes. For instance, St. Mary's University of Minnesota offers graduate and professional programs in nurse anesthesiology. They have started using medical simulation for training their students after a year of course work, before they go out for hands-on clinical training in area hospitals. Children's in Minneapolis found that the group that went through simulation training was the most confident and competent group they've ever had for clinical training.
So far what's been the most unusual application of medical simulation?
Faced with orienting 20 critical care nurses and paramedics for medical air transport within 6 weeks, educators from North Memorial Medical Center's Air Care used simulation to accelerate learning of critical processes, thinking skills, communication, and teamwork. Their simulated experience varied from arrival at an "out-state emergency room" to returning in the "helicopter" with critically ill patients. Participants simulate going through their checklist and preparations while in flight for different types of patients. They even practice one scenario in which the physician at a local hospital is reluctant to transfer the patient.
In their classroom training, it's emphasized to the nurses and paramedics that they must have their flight bags well organized. During simulation sessions they found out how stressful and inefficient it is when they really don't know what's in their flight bag and where things are. After experiencing that, they waste time searching through the entire bag for what they need during highly realistic simulation sessions; they internalize that critical lesson. The next time they do Air Care training, we may even pipe in the sound of helicopter rotors to intensify the experience.
In addition, they have returned to the Simulation Center for their annual skills demonstration for accreditation. The opportunity to practice scenarios over and over is excellent preparation for Air Care crews.
What's been the biggest surprise you've encountered thus far?
I've been impressed with the level of the enthusiasm medical simulation inspires. But surprises? I think that would definitely be the big difference it makes when a trainer uses the microphone so that a voice comes from the human patient simulator. When the patient speaks during simulation sessions, it all becomes so real.
What's the future of medical simulation, generally, and your center, in particular?Ý How do you see medical simulation changing the education of providers in the future?
Again, I see the HealthPartners Simulation Center as an educational resource where people come from across Minnesota and the Upper Midwest to use advanced medical simulation technology to improve the effectiveness of care and patient safety.
We'll see a continued, and even more intense, emphasis on learning teamwork and developing good communication among care teams. Simulation, especially with de-briefing, is well-suited for this.
We also continue to expand our simulation scenarios, complicating them with real-world ethical, cultural, and family dynamics issues. In addition to the basic challenge of managing sicker patients in hospitals, providers need to manage a host of other facets of patient care. Our society is becoming increasingly more diverse, and it is essential to be sensitive to the needs of people of various cultures and to respond appropriately. This can include language barriers, the importance of gender considerations in caring for patients of different cultures, religious values, and different cultural health beliefs.
As we are able to maintain people longer with critical or chronic illnesses, we also need to be able to identify when our efforts are futile and know how to deal with the issues of dying. Family members come to the patient's bedside with a whole range of responses, made even broader by cultural diversity, and we need to learn how to address them. All of these factors can be incorporated into simulation scenarios, providing an opportunity for experiencing and discussing them in a realistic but non-threatening environment.
Medical Simulation Technology Overview