News: Health Axioms: Turning Advice into Lifestyle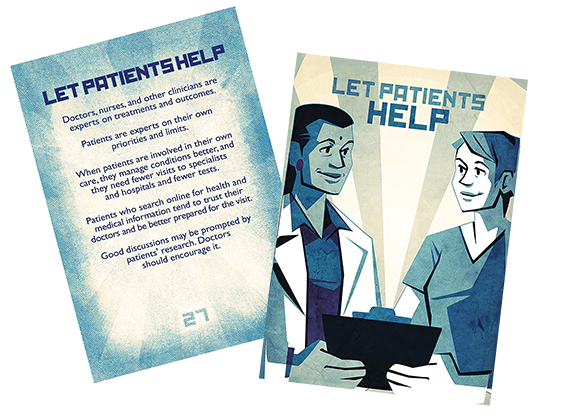 Good patient care isn't just diagnosis and prescriptions; it also involves patient compliance. Recognizing this, Involution Studios, a software design studio that specializes in healthcare software, created Health Axioms. Health Axioms is a set of cards, each of which contains a single "axiom," or lesson, given in straightforward language. Some examples include "keep good records," "examine yourself," and "don't rush the brush."
The cards are simple to use. Physicians can put together sets customized for individual patients and the lifestyle changes they want them to adopt. For example, Health Axioms recommends a set of 10 cards for diabetes patients, but it is up to the physician to choose which axioms they ultimately want to include. Patients are then prescribed the set but encouraged to work on one axiom at a time, making it part of their daily routine. If they are not 
having success with one card, they are 
encouraged to simply move on to the next.
Health Axioms cards work because they focus on routine and are designed to be user-friendly. Each card uses beautiful-but-accessible art, and the text is short, simple, and clear.
To learn more, visit www.healthaxioms.com.