Analyses
Environment and Facilities
Need to Lower Overhead Costs? Try a Space Management Plan
By Maegen Fleck, Assoc. AIA, Attainia PLAN, LSSYB
An analysis commissioned by the American Hospital Association (AHA) shows that total hospital revenues in 2021 could be down between $53 billion and $122 billion from pre-pandemic levels due to the fallout from delaying non-urgent procedures, depressed volumes, and higher expenses. This is on top of AHA-estimated total losses for the nation's hospitals and health systems in 2020 of at least $323 billion.
As a result, healthcare leaders are investigating options for reducing overhead costs. In addition, social distancing requirements for patient and staff safety are forcing hospitals to devise strategies on how to approach space use.
In unprecedented times like these, healthcare organizations should consider space management strategies to reduce overhead costs. Below are strategies, key challenges, and potential solutions for developing space utilization best practices.
Invest in a space assessment. The secret to reducing overhead costs related to space utilization is to truly understand how your space is being used. Invest the time to conduct a comprehensive walk-through of all of your buildings—both owned and leased—at least twice a year.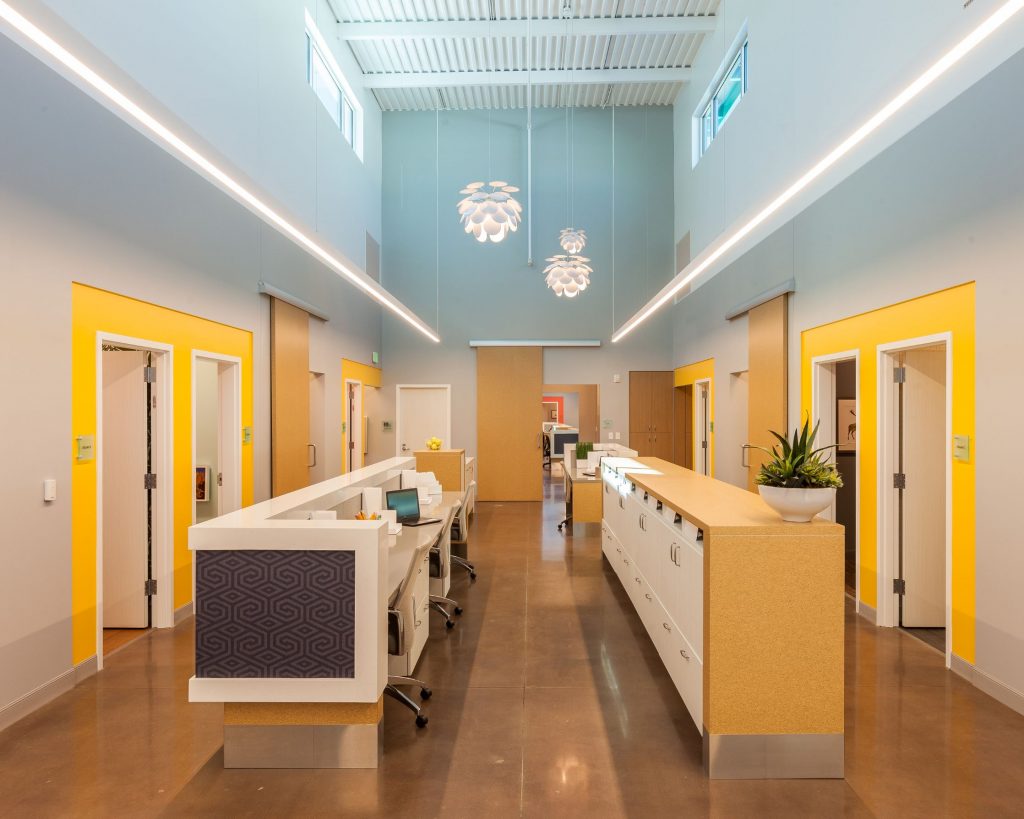 Observe your space utilization through these four lenses:
Underutilized space: Are you properly utilizing your conference rooms? Are you regularly using the family consult rooms on patient units? How many periop cubicles see use every day? Is an OR out of commission due to a faulty light boom? It may cost $10,000 to replace the light boom, but having that room available for procedures could bring in $20,000–$40,000 of revenue per procedure. Many hospital administrators are surprised at how much square footage is being underutilized.
Overutilized space: Are ad hoc workstations crammed into the end of hallways? Are 12 physical therapists crowded together in a tiny workroom? You may be surprised to see the challenges employees and caregivers face trying to deliver care. Providing the appropriate space allocation for these employees can improve productivity and morale, contributing to better patient satisfaction scores.
Redundant space: Do you have individual check-in and registration areas for multiple departments, all with their own waiting areas? With the increased popularity of telehealth, are those areas even being used? Do you have fewer administrative personnel working on-site? As changes in healthcare delivery continue, it is critically important to monitor the space utilization of all your areas and document redundant space.
Inappropriately utilized space: Have storage rooms on patient floors become unit discharge offices? Are you appropriately using your data closets, or are they a gathering place for cardboard waste or unused furniture? Have ORs being utilized as storage space? This category often illuminates the most egregious space utilization issues.
Document your findings. It is important to document your observations in a way that can facilitate decision-making. Many hospitals use spreadsheets to track space usage, but this strategy can be difficult to translate to total square footage. Consider developing floor plans that are color coded by type of space (underutilized, overutilized, redundant, or inappropriate) to provide comprehensive metrics. This will help you identify the source of your utilization issues so that you can develop targeted solutions.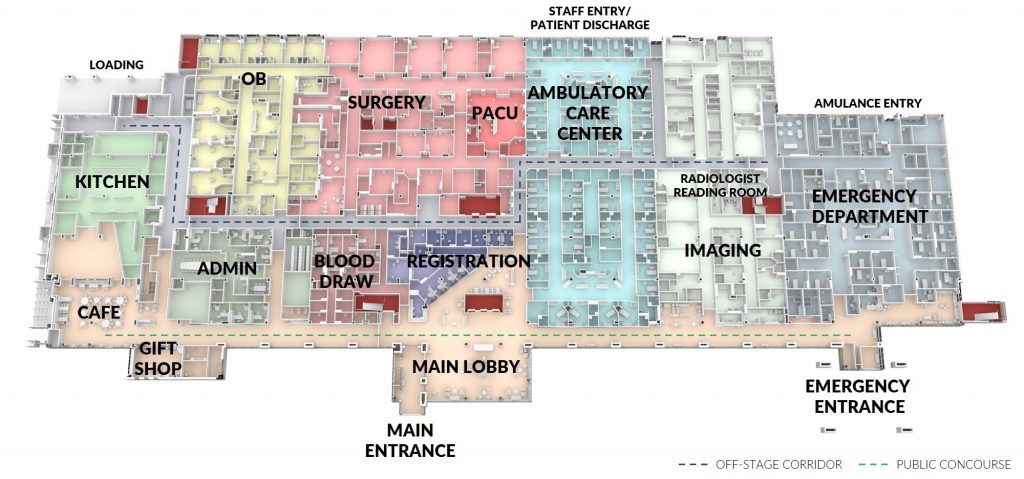 Facilitate future planning. Accurate documentation supports both facility master planning as well as business and capital expenditure planning that can help you meet emerging community needs. Using the data contained in a space assessment plan, health system administrators can strategically plan for growth, projecting expenditures for the next five to 10 years.
For example, wishing to respond to increasing infant mortality rates in their state, an urban health system wanted to expand their maternal/fetal service line. Because they had developed a space assessment with color-coded floor plans, they were able to quickly identify potential areas for renovation and complete construction, which will allow them to become the high-risk birth provider of choice in the state.
Understand the impact of adjacencies. Many hospital departments grow organically over time, often expanding into space that is not immediately adjacent to their main location. Are adjacencies where they should be? Could they be improved? Understanding how many people are in a specific department and where they are located can help you identify redundant space and staff.
Also consider the impact of travel distance between department locations. If multiple physicians work in more than one specialty practice, how much time is consumed by traveling (even if it's measured in footsteps)? Reducing travel time has tremendous impact on employee productivity, which can translate to increased revenue.
Ask who really needs to be on-site. The COVID-19 pandemic has caused a sea change in consumers' perception of healthcare accessibility and delivery. This is supported in large measure by the Centers for Medicare & Medicaid Services (CMS) expanding reimbursements for telehealth services to ensure that patients are practicing social distancing and reducing their risk.
In a national survey of 1,945 consumers conducted in May 2020 by The Harris Poll, 81% believe COVID-19 will fundamentally change healthcare delivery. With so many patients, providers, and insurers embracing telemedicine, healthcare campuses will likely have a surplus of space as exam rooms, waiting rooms, and physician offices migrate to telehealth. This, combined with an increased acceptance of work-from-home arrangements for administrative staff, makes it imperative to assess your organization's utilization of these spaces and review how they may be repurposed.
Examine lease management. As healthcare organizations grapple with the lessons learned from the pandemic, many recognize the benefits of having separate locations, buildings, or facilities to separate acute care patients from well-patient or outpatient visits.
Part of a robust space management plan includes identifying service lines that can be housed in the main hospital versus a medical office building. It's also critical to understand the lease commitments for each of your properties. If a space is underutilized, it may be less expensive to relocate staff or service lines from a hospital-based location to a medical office building or other leased space, freeing up space for clinical areas like ORs or procedure rooms that produce higher revenue.
Calculate cost of storage. If you discover that a large amount of space is being utilized for storage rather than its intended use, is there an opportunity to consolidate that storage space? The pandemic has required hospitals to keep significantly more PPE on hand, leading to a critical need for additional storage. Document how much space is being used to store equipment.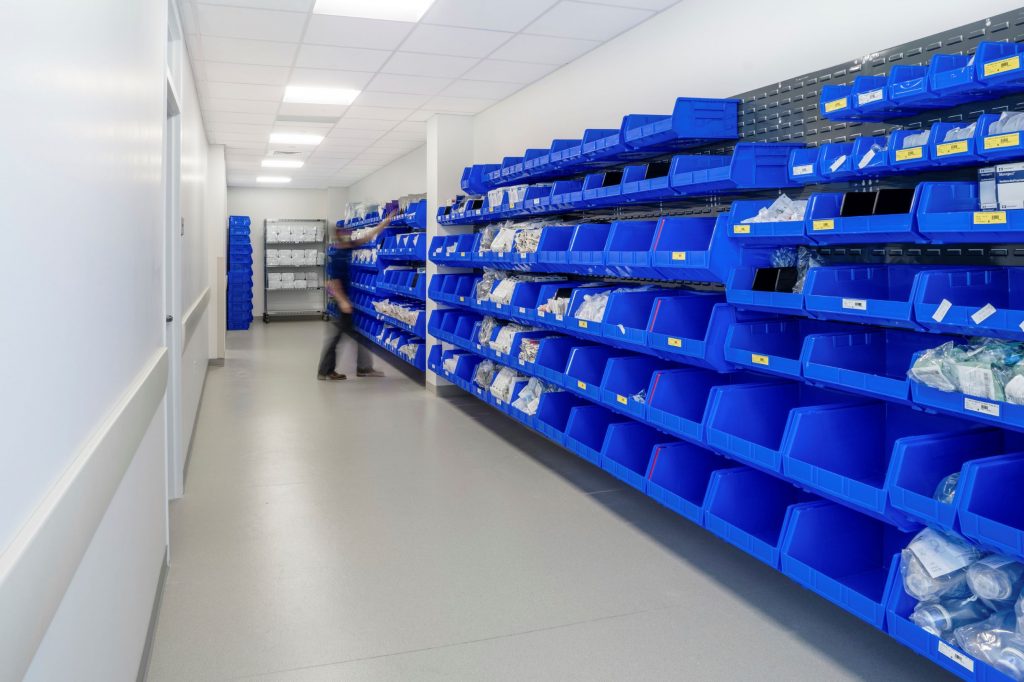 A potentially less expensive solution would be leasing or constructing an off-site storage facility that can support multiple locations. These facilities are usually less expensive to lease or can be sited on property that is less expensive to acquire and can be built at a lower cost per square foot.
Get leadership buy-in. Leadership buy-in and support of a space management plan is perhaps the most critical success factor in reducing overhead costs. Unfortunately, many health systems approach space management with a "patch and repair" approach that may initially appear to save money but can end up costing much more over time.
Often the cost of the space assessment is an obstacle in developing a space management plan. Take the time to educate and illustrate the value of the investment to hospital leadership by sharing how other health systems have achieved savings.
Make a smart investment. Committing the resources for a space management plan is a smart investment in the future of a health system. The findings can highlight utilization deficiencies that can significantly improve workflow, boost productivity, and generate cost savings. In addition, regularly updating the information helps facilitate campuswide master planning, keeps you prepared for a CMS audit, and allows you to avoid a potential shutdown while you update your facility plans.
Maegen Fleck, Assoc. AIA, Attainia PLAN, LSSYB, is planning services project manager with BSA LifeStructures.