MedWise: Preventing Medication Waste While Promoting Safe Administration
November / December 2009
MedWise: Preventing Medication Waste
While Promoting Safe Administration
By Jeffrey Conzelmann, PharmD; Karyl King, PMP; Sharon Sarnicola, RN; and Brenda Wierenga, RN, BSN
Hospitals face a frustrating medication dilemma: should inpatients be allowed to take their multi-dose medications (e.g., inhalers, topical creams, eye drops, insulin) home upon discharge? The natural inclination is for patients to ask, "These are paid for; why can't I take them home? What's the big problem?"
The problem is to comply with federal regulations for the labeling of medications that are sent home. Regulations require that any medication a patient takes home must be labeled as if it were coming from an outpatient pharmacy. If these labeling requirements cannot be met, then the multi-dose medications must be discarded (Michigan Public Health Code, 2008). This labeling requirement creates difficulties, but on the other hand, it seems that no one is served when expensive medications are thrown away.
At Spectrum Health in Grand Rapids, Michigan, three of us — two RNs and a pharmacist — addressed that dilemma as a work team. Instead of just accepting the status quo, we went to Spectrum Health's Innovation Lab — What I.F.? — and enlisted the help of its project manager. Together, we presented our concern to a leadership team, the Spectrum Health Innovation Committee, which includes executive-level administrators from finance, information and technology services, marketing and communications, medical affairs, research and education, patient affairs, general counsel office, and is chaired by the president.
Some of the questions discussed initially included:
How can Spectrum Health document and track medication history at discharge while complying with all federal and state regulations?
How can we create a virtual outpatient pharmacy function at the point of discharge that converts inpatient multi-dose medications to outpatient medications for home use?
What labeling is required and appropriate?
What patient education services are needed?
The Innovation Committee gave its approval for the work team to begin an initiative called "MedWise" to conduct a literature search, collect data, and obtain an independent legal opinion.
Literature Search and Data Collection
First, we conducted a literature search to determine if any other hospitals had implemented similar programs. That search resulted in finding little or no information. Second, we carried out an internal data analysis to try to validate our assumption. Were we, in fact, wasting valuable resources?
The data showed that the average potential out-of-pocket cost for multi-dose medications per patient was $120; the range was between $6 and $520. In another component of our data analysis, a sampling was kept of medications thrown away from all types of inpatients at Spectrum Health's Blodgett Hospital for the week of July 2, 2007. The total value of those medications was approximately $5,000. We also kept a sampling of medications thrown away from all types of inpatients at the other major Spectrum Health hospital — Butterworth Hospital — for the week of August 6, 2007. The total value of those medications was approximately $25,000. Annualized, the total value of medications thrown away at both facilities was a staggering $1,560,000!
Legal Analysis
Based on recommendations from the Spectrum Health Risk and Compliance Department, we requested an independent legal opinion.
In its opinion, the firm stated that neither the Michigan Public Health Code (2008) nor the Board of Pharmacy's General Rules (R 338.471) directly address the question of whether patients may take home unused portions of medications dispensed to them while they are in the hospital. However, the destruction of unused medication dispensed to hospital patients is not an absolute requirement; single-use packages and IV solutions designed to be tamper-evident and which show no evidence of tampering may be returned to stock. On the other hand, medications that leave the institution may not be returned to stock for redispensing. Thus, the General Rules implied that medications can leave the hospital with the patient at discharge.
Technology Solution
Based on all of these preliminary findings, the work team returned to the Spectrum Health Innovation Committee and was given permission to find a solution. After rechecking the literature for potential appropriate solutions and not finding any, we began to evaluate the various types of technology options within our system.
The first option we investigated was to create one label that provided all the required information, but existing systems were not able to accurately differentiate between multi-dose and other types of medications. The second option we evaluated was the use of a generic preprinted label added to the Cerner patient barcode label (Figure 1). This solution proved to be workable within our system, and it met all federal and state regulations regarding properly labeling medication for dispensing at discharge.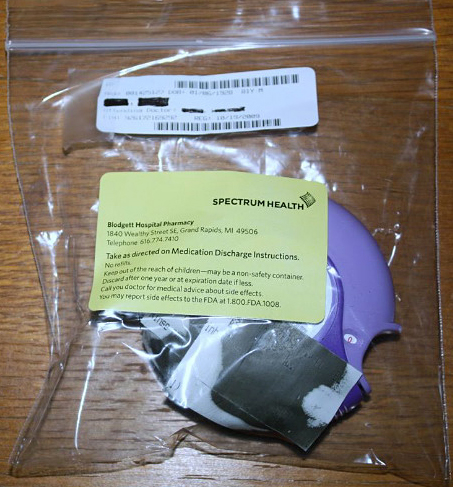 Figure 1: Labeling Solution: Generic Hospital Label with Cerner Patient Barcode
Policy Requirements
While we were designing the technology solution, we also began to revise our policy related to dispensing medications to discharged and clinic patients. The revised policy, which needed to address both the processes for dispensing and patient education issues, states that:
Multi-dose medications including inhalers, ophthalmic products, insulin products, and topical preparations may be provided to patients upon discharge provided the following criteria have been met (injectable medications other than insulin products are excluded):
The specified multi-dose product must be a continuation of hospital-initiated therapy.
The physician must write a physician order in the chart indicating that the multi-dose product may be sent home with the patient.
The product must be labeled according to federal labeling requirements:

Pharmacy will label the product prior to dispensing for inpatient use with the following information: the patient name, product name and strength, and date of initial dispensing.
Pharmacy will then dispense initial product in a clear plastic bag with a label on the plastic bag indicating name, address, and phone number of the hospital pharmacy. The label will contain instructions for use by the patient as indicated on the patient's discharge medication sheet. The label will include the statement: "Discard this medication one (1) year after the date it is dispensed or on the manufacturer's expiration date, whichever is sooner."
Once initial product is received by the nursing unit, a patient label will be placed on the bag by the nurse. This label will include the patient name, numerical identifier, and attending physician.
The multi-dose product will be maintained in the plastic bag during the patient's hospital stay and be kept in the patient's locked medication drawer.
The patient must be provided the opportunity for counseling from nursing, pharmacy, or a licensed independent practitioner; questions regarding their medications must be addressed and documented. Documentation of this activity is entered on the patient's education record.
If a licensed independent practitioner does not want the patient to take home the hospital-issued multi-dose medication, but does desire the patient to continue therapy, the practitioner must provide the patient with a written prescription. A record of such discharged prescriptions must be noted in the patient's chart.
The Emergency Department (ED) follows the same process, except patients discharged from the ED may receive starter medications when circumstances prevent prompt access to prescriptions through an outpatient pharmacy.
Education and Communication Strategy
Once a technology solution was defined, the entire process was reviewed with the key stakeholders: the Nursing Education Committee, hospitalists, nursing leadership, the pharmacy, and the risk and compliance leadership.
After obtaining approval from all key stakeholders, we worked with nursing education to define the educational requirements. These included developing an online training course, information about the new policy, information about the change in process, a Frequently Asked Questions flier, and a description of new roles and tasks for nursing staff.
A critical key to successful change was to ensure we had a broad, far-reaching communication plan that targeted the entire hospital as well as external independent practitioners. We leveraged a variety of vehicles to communicate the change in medication dispensing, its rationale, the change in process, and new role definitions. These included the use of Hot Topics (a monthly physician newsletter), department meetings, a letter to physicians from senior management, and various announcements and memos to everyone involved.
We decided to launch the MedWise initiative in two phases approximately 6 weeks apart. Phase 1 focused on Blodgett Hospital, which has 297 beds. Phase 2 targeted Butterworth Hospital, which has 614 beds, and Helen DeVos Children's Hospital, which has 152 beds.
An important part of the launch involved communicating the benefits of the change to patients, their families, physicians and other practitioners, payers, and the community. These included:
Improve patient satisfaction by enhancing their quality of life and reinforce our partnership by providing them with an exceptional experience.
Improve fiscal responsibility for expensive resources.
Safe and responsible use of resources in a manner that supports our hospital polices, federal and state regulations.
Measuring Success and Course Correction
To define success for the MedWise initiative and determine any ongoing changes needed, we identified two measurement procedures:
Include in our quality audits an evaluation of the medication reconciliation discharge form to ensure that every form contains three signatures (physician, patient, and nurse).
Collect medication returns to the pharmacy at each hospital location to determine if there has been a reduction in returns.
 

Spectrum Health

Spectrum Health is a not-for-profit health system in West Michigan that offers a full continuum of care through the Spectrum Health Hospital Group, a collection of seven hospitals and more than 140 service sites; the Spectrum Health Medical Group, a multispecialty team of nearly 100 providers; and Priority Health, a health plan with nearly 500,000 members. Spectrum Health's 14,000 employees, 1,500 medical staff members, and 2,000 volunteers are committed to delivering the highest quality care to those in medical need. The organization provided $111.1 million in community benefit during its 2008 fiscal year. As a system, Spectrum Health has earned more than 100 awards during the past 10 years.

 
Currently, we are in the implementation phase of the initiative. Although we are early in the implementation phase, we are seeing a reduction in medication waste by 50%, and staff and patients report positive feedback as they follow the new process. We are partnering with the Spectrum Health Quality Department to evaluate the audit results, offer further education, and review the new policy as appropriate.
Value of MedWise
Before implementing MedWise, there were times when patients with limited resources had to choose between paying for medication they received in the hospital or taking care of their other needs. By implementing the MedWise process we are:
Allowing them to take home their unused multi-dose medications. This increases patient satisfaction and is seen as actively "doing the right thing" for our consumers and their families.
Engaging physicians and staff more fully in promoting patient safety and compliance in medication dispensing.
Being fiscally and environmentally responsible by decreasing medication waste.
An additional benefit for the hospital involves our patient leave-of-absence policy. The MedWise initiative allows the hospital to remain in compliance with federal and state regulations while patients take needed medications with them during a leave defined in their clinical path.
Conclusion
The MedWise initiative is new and initial evaluation is incomplete. As technology changes with the introduction of computerized provider order entry (CPOE), we know we will need to revise our process to ensure an easy transition from paper orders to computerized orders.
However, it appears we have successfully created a virtual pharmacy that allows patients to take home their prescribed and paid-for medications. Initial feedback from Spectrum Health staff supports the MedWise initiative. It is seen as actively "doing the right thing" for patients while being fiscally and environmentally responsible by decreasing medication waste.
---
References