Analyses
Environment and Facilities
Massachusetts Weighs Hospital Wayfinding Regulation
Law would mandate improved signage and security at hospital entrance
By Megan Headley
OSHA, the International Building Code, ADA, and other authorities already regulate hospital signage, largely to help people find their way out of a building. However, Massachusetts legislators are now weighing passage of a new law to fill in potential signage gaps to ensure people are able to find their way into critical care buildings.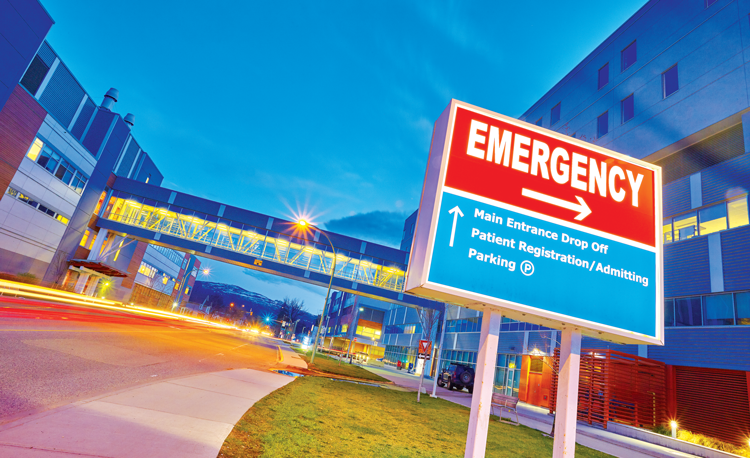 "An Act ensuring safe patient access to emergency care" (H.B. 1850 and S.B. 1276) has become better known as Laura's Law after Laura Beth Levis, who died on September 16, 2016, just outside the front doors of Somerville (Massachusetts) Hospital. The 34-year-old walked to the hospital while suffering an asthma attack, only to find the entrance at which she'd arrived was locked.
Unable to get inside, Levis called 911. Due to a series of miscommunications and missed signs, no one was able to find her. She lost consciousness on a waiting bench 29 feet beyond the doors of the ER.
In a letter of support for Laura's Law, Janet R. Carpman, MCP PhD, director of wayfinding for the Institute for Human Centered Design, described the scene that night: "The door was technically for ambulance access only, but signage was poor, and there was no clear direction for her to follow to enter the ER. There were no illuminated ER signs. In addition, there were lighting-related problems. The ambulance entrance was more brightly lighted than the ER walk-in entrance, where Laura was supposed to go. In other words, the wayfinding lighting cues were reversed. As anyone else would have been, Laura was drawn to the more brightly lighted, but inappropriate, ambulance entrance. In addition, lighting was very poor across the front of the hospital, which was likely why she wasn't seen on a bench, even though it was only 29 feet from the ER door.
"Due to these and other associated failures, including that of 911, cell phone locators, and the hospital's visual monitoring of the area, Laura lost consciousness outside the emergency room, was deprived of oxygen, and because of that deprivation succumbed in intensive care seven days later," Carpman concludes.
New requirements
Peter DeMarco, Laura's husband, has led the push to put legislation in place to prevent the kind of catastrophic miscommunication that led to his wife's death. The bills currently working their way through the Massachusetts legislature would require the state Department of Public Health to set regulations that require all Massachusetts hospitals to meet certain criteria to ensure safe patient access at all times to an emergency room or department. These measures would include indoor and outdoor signage, indoor and outdoor lighting, and best-practice wayfinding.
These regulations would also require security and monitoring of all emergency department access points or any "prominent hospital doors or entrances that are locked at night through which a patient might try to egress," alongside the installation of panic buttons, emergency doorbells, active video-intercom systems, or other supporting safety technologies.
The bills also mandate the state commissioner of public health to convene a working group that will make further recommendations on emergency department oversight.
Wayfinding under stress
During testimony on the bill in late September, DeMarco commented, "When you work at a hospital, and you walk through the same door 1,000 times, you become immune to what that door might look like to a patient in distress. Maybe you got lost your first day at work, but soon that door—or the lack of proper lighting, or the unmanned security desk at night—all become just part of the wallpaper, things you don't even notice."
In this regard, DeMarco hopes the pending legislation will give every Massachusetts hospital cause to see a second set of eyes to review access elements and determine what's missing or what obstacles might be preventing a patient in distress from easily accessing help.
"Stress, in particular distress, as well as physical, sensory, and brain-based temporary or permanent functional limitations—and the multiple limitations that occur as a result of aging and other conditions—can significantly affect wayfinding behavior," Carpman adds. Stressed or panicked travelers are more likely to forget routes they otherwise know or miss subtle wayfinding cues, such as unmarked turns or unlighted signage. They may overshoot or undershoot destinations, take more circuitous routes, or even freeze in fear. So clear signage is particularly critical along these routes, but most go well beyond a well-lit emergency sign.
As Hesper Smyth, lead designer for Corbin Design, wayfinding experts based in Traverse City, Michigan, points out,  "One of the biggest mistakes is assuming that clearly marking the emergency entrance will solve all problems."
While every location will have unique wayfinding needs to address specific issues, exterior wayfinding should be multifaceted and, Carpman suggests, regularly audited to assess the  effectiveness, safety, and legibility of vehicular and pedestrian access routes and drop-off areas, exterior lighting, ER parking, walk-in entrances, signage, and monitoring of ER entrances by staff.
Smyth adds that consistency throughout the location also is critically important. Consistency at every stage both boosts visibility and adds to the overall comfort level for patients and visitors.
And that consistency is what wayfinding experts hope these new regulations will address.
"Though we're finding that most healthcare facilities are trying to incorporate consistent emergency signage, there are often discrepancies as to how emergency is presented and directed to on any given campus," Smyth says.
Carpman adds, "Despite some related standards, codes, regulations, and best practice guidelines—but too few and too general—there continue to be a wide array of design-related and operations-related conditions that make finding and entering emergency rooms potentially life-threatening for unfamiliar, panicked patients and families. These bills will begin to fill the regulatory gaps relating to safe, legible, access and entry to emergency rooms in Massachusetts by patients and families on foot or using their own vehicles." *
Megan Headley is a freelance writer and owner of ClearStory Publications. She has covered healthcare safety and operations for numerous publications. Headley can be reached at megan@clearstorypublications.com.