Analyses
Patient Safety, Patients as Partners, Quality Improvement
How to Engage With a Population to Break Down Barriers to Health Improvements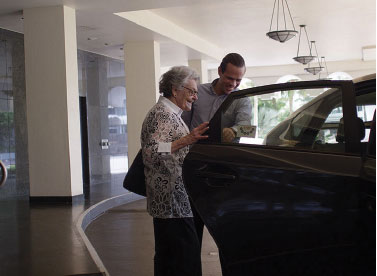 In January, the ride-sharing service Lyft partnered with National Medtrans Network in New York to provide rides for seniors to nonemergency medical appointments. As the ride provider described on its blog, this is a population in need of reliable transportation solutions. Many have frequent medical appointments, but limited access to smartphones. As a result, Lyft launched Concierge, a third-party web product that lets health system partners request rides for their patients through the Lyft platform. A requester inputs the passenger's name and pickup and drop-off location, and a Lyft driver is matched to give the ride. Through this partnership, Lyft says it has fulfilled 2,500 rides per week in New York City alone, providing dramatic reductions in missed appointments and increasing patient satisfaction.
Around the same time, MedStar Health, the largest not-for-profit healthcare system in Maryland and the Washington, D.C., region, began collaborating with Uber, the popular app connecting people with drivers. The organization began displaying a "Ride with Uber" button on MedStarHealth.org to allow patients to quickly find out the wait time and approximate cost of a ride and easily request one.
"Anecdotally, we believe providing convenient transportation alternatives such as Uber have been effective in reducing missed medical appointments," says Michael Ruiz, vice president and chief digital officer for MedStar Health. "Generally, missed appointments are a result of unreliable transportation for those who either don't have their own mode of transportation or those who rely on others to drive them to appointments. Utilizing Uber enables these patients to consistently arrive to their scheduled appointments. Additionally, patients are more likely to arrive on time, since they don't have to navigate confusing or full parking lots/garages."
Through UberCentral, a web-based ride management system, case managers can order rides for patients. Ruiz explains that the patient receives a text message or automated call that shares the driver's name, car type, and license, as well as anticipated arrival time. "This is especially helpful for patients who do not own smartphones or who are uncomfortable with using technology," he says. It also enables MedStar to track who is using the service.
"Patient satisfaction with the Uber service seems to be high, as we continue to receive positive stories about Uber drivers going beyond the norm to help them their riders, e.g., assisting someone into or out of the car," Ruiz says. Additionally, he points out, "the cost of UberX, Uber's lowest-fare option, is significantly less than the cost of a cab in the region, so patients who previously relied on taxis are saving money. As a not-for-profit health system, this allows us to provide ride vouchers for more patients as a result of the lower cost of service."
Circulation, a ride program launched in September, goes further than other nonemergency medical transportation options by integrating with healthcare systems and Uber's API to provide a HIPAA-compliant portal that customizes rides around patients' healthcare needs and preferences. The process starts with secure login and verification of the customer's health insurance and ride