Analyses
Quality Improvement
How is Your System Supporting Overwhelmed Physicians?
Workflow and staffing solutions to stop physician burnout
By Megan Headley
Doing more with less is the new normal for professionals in many industries today, but nowhere is that charge causing more problems than in healthcare. In fact, the requirement to spend more time managing administrative tasks, including updating electronic health records (EHR), is frequently listed as a chief cause of physician burnout. The January 2019 report A Crisis in Health Care: A Call to Action on Physician Burnout claimed EHRs "impose a frustrating and nonintuitive workflow" on many physicians, reduce the time that could be spent with patients, and create a series of administrative chores "that do little, if anything, to advance the goals of patient care." That burnout is taking a major toll on the industry, driving more physicians to consider leaving a profession already facing crippling shortages.
But Christopher Maiona, MD, chief medical officer for PatientKeeper, a Waltham, Massachusetts–based company that provides EHR optimization applications, offered some perspective on the problem in the eBook Attending to Physicians. "A physician's biggest pain point before the EHR was not having access to enough data," he wrote. "A physician never felt as though they had a comprehensive view of the patient. Now with EHRs, we should have better access to patient information, but it's often buried in a sea of redundant or irrelevant data, or it may be in an inconsistent format, which makes finding the pertinent information challenging."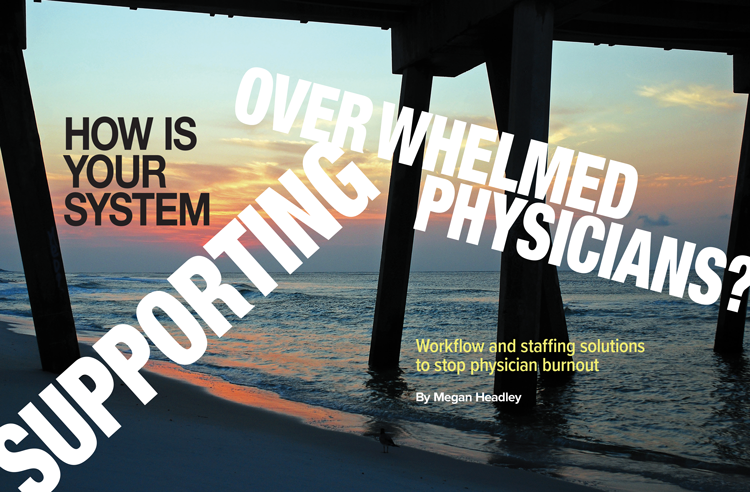 Even though there's more data than ever, few organizations have updated their processes for managing this information overload. But that's beginning to change. Health systems are finding ways to ease physicians' burden with solutions that include restructuring staff and putting tools in place to stem the tide of burnout.
Getting to the problem's source
When the Health Information Technology for Economic and Clinical Health (HITECH) Act became law in 2009, the goal was to streamline paperwork, reduce waste, and promote more cost-effective healthcare. Ten years later, new research finds that the length of time devoted to medical recordkeeping has essentially doubled and is a direct contributor to approximately 40% of total clinician stress.
"We are losing the equivalent of seven graduating classes of physicians yearly to burnout and, as they leave the profession, they point their finger at the time now required for them to document their work and how it has led to the loss of quality time spent with patients and families," commented Philip Kroth, MD, director of biomedical informatics research, training, and scholarship at the University of New Mexico (UNM) Health Sciences Center's Health Sciences Library and Informatics Center and professor in the School of Medicine.
Kroth was one of the researchers on a project from UNM, Stanford University, the University of Minnesota, Hennepin County Medical Center, and the Centura Health System in Colorado and Texas. The project surveyed 282 clinicians on how strongly they felt EHR design and use factors were associated with stress and burnout.
"In many ways, physicians are finding that the goals of a traditional medical record have been hijacked," Kroth said in a report accompanying the project findings.
While they once served solely as a tool to create a patient history, medical records now document against potential medical malpractice, collect information for quality assurance initiatives, support billing processes, and factor into governmental policy oversight processes, Kroth noted. "[N]o one is looking at the sum total of how all these additional data entry requirements are adding up or whether they actually benefit the patient or the healthcare system."
While waiting for the U.S. Department of Health and Human Services to approve standards to reduce EHR-related burdens, health systems are developing strategies to take matters into their own hands.
Analyzing workflow
For some systems, the solution has been to examine current workflow, then actively design a process to streamline it. Such was the case for the University of California San Francisco's General Internal Medicine department.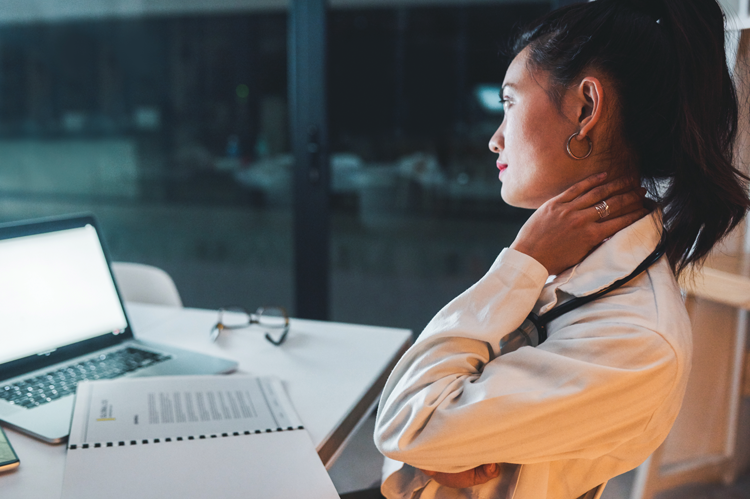 When a survey of the department found that 56% of its physicians were experiencing some level of burnout and 88% reported feeling stress, leadership took action. Specifically, the department followed steps laid out by the AMA's STEPS Forward™ program to reduce administrative burden.
To begin, the department hired nurse practitioners to check physicians' inboxes and handle certain patient requests. They also reorganized how phone calls were answered by creating a one-touch team that resolved half of incoming phone calls on the first call.
In addition, the department reduced physicians' workloads by eliminating one appointment slot each day, shifting the freed-up time to documentation and email management. Lessening the work burden has helped physicians shorten their after-work hours.
Finally, the division moved to a new clinic "flow" system. By giving medical assistants or licensed vocational nurses new administrative responsibilities, such as agenda setting, these "flow managers" were able to reduce the administrative burden on physicians. Upon implementing these changes, survey results for burnout dropped to 31% and stress fell to 63%.
Accepting new roles
Though more practices are shifting administrative responsibilities from physicians to other roles, many have been reluctant to employ medical scribes specifically to address EHR burdens. A report from Advisory Board found that healthcare leaders around the country viewed scribes as too expensive, a crutch for physicians, or simply not sustainable at their system due to high turnover rates.
Yet new evidence indicates that the cost of hiring scribes may meaningfully offset the cost burdens of maintaining EHRs. A study published February 2019 in BMJ found that using medical scribes in EDs could help physicians see more patients and save hospitals up to $31.15 per scribed hour, with no significant risk to patient safety.
The study took place at Cabrini Hospital in Australia. During a randomized study, researchers evaluated scribes' impact on physician productivity or patient safety incidents in five EDs from November 2016 through January 2018.
Katherine Walker, director of emergency medicine research for Cabrini Hospital, and her colleagues randomly assigned medical scribes to 88 doctors, then collected data from 589 shifts with scribes and 3,296 shifts without scribes. The data identified increased physician productivity across most of the ED sites. Physicians assisted by scribes saw nearly 16% more patients per hour than their counterparts. During primary consultations, the presence of scribes increased the number of patients seen by more than 25%. Overall, the researchers saw that patients' length of stay was 19 minutes shorter during scribed shifts.
More importantly, there appeared to be no significant negative impact to patient safety. The researchers identified patient safety incidents in one out of every 300 scribed appointments, typically involving misidentifying a patient or ordering the wrong test. However, in half of the incidents, the scribe helped prevent an error from occurring. By boosting physician productivity and reducing the time patients spent in the hospital, scribes helped save hospitals up to $31.15 per hour.
There are, of course, stipulations. Hamza Hasan, practice manager of the Medical Group Strategy Council, cautioned that "to achieve financial savings, practices should have unmet demand that could be met by increased productivity through scribes. [Scribes] also need to be targeted to physicians who are willing to modify their workflows to fully integrate and leverage the scribe."
Working more closely with vendor partners
Other groups are looking to improve how they work with EHRs by going straight to the source: their vendor. By working closely with EHR vendors and speaking out about their hardships, physicians may be able to help transform EHRs from burden to value-add.
Maiona noted that physician efficiency is partially impacted by needing to slog through information to get to the right screen of the EHR. "Currently when physicians log into an EHR, they see the same view of patient information regardless of their area of practice, the disease state they're dealing with or if it is an existing versus a new patient," he wrote. "This makes no sense. The information an OB/GYN needs when working with a postpartum patient is significantly different than what they need for a patient who is in labor. A hospitalist may need to have the entire patient history in front of them, while a general surgeon may only require specific information. Technology should be putting the most relevant information on the very first screen that a physician sees."
Other drags on time are due to ­system-generated messages. A Health Affairs study looked at the relationship between physicians' well-being and their in-basket messages generated by the EHR system; it found that receiving more than the average number of in-basket messages (114) was associated with a 40% higher probability of burnout. Family physicians and internists received disproportionately higher numbers of system-generated messages. Many of these messages were generated by population health management algorithms reminding physicians to perform work that might have otherwise been overlooked but also could potentially be better handled by another individual.
As the researchers pointed out, "Keeping up with ­system-generated messages can be overwhelming." They suggested that EHR design engineers reconsider whether ­system-generated automatic messages are the best way to ensure quality of care. They also encouraged healthcare organizations to allow messages to reach physicians' in-baskets only during work hours, "conveying the message that physicians are so highly valued that the organization wants to protect their private time."
Other vendors are looking to deploy technology solutions that reduce time spent entering data. For example, Suki, a health tech startup that recently partnered with Google Cloud, uses natural language processing, machine learning, and artificial intelligence to create what the company calls 100% accurate notes. Suki integrates with EHR systems to push approved notes into the relevant EHR sections. The technology is already being used at Ascension, Unified Physician Management, and Sutter Health. Meanwhile, Microsoft recently formed a similar partnership with AI company Nuance Communications to develop its own suite of integrated clinical voice solutions.
The next evolution
Healthcare's rapid-fire evolution over the past decade has been full of unmanaged potential. But the problem can't be placed solely at the feet of EHRs. Healthcare's digital transformation has created unprecedented levels of data without also creating processes for managing that information. While EHRs still have a long way to go to achieve the intended levels of efficiency, health systems also must implement new processes for sorting through information to better support their physicians. *
Megan Headley is a freelance writer and owner of ClearStory Publications. She has covered healthcare safety and operations for numerous publications. Headley can be reached at megan@clearstorypublications.com.