Analyses
Quality Improvement, Technology
Expanding a Telehealth Program to Serve More Patients
Integrating specific objectives into the workflow. Instead of conducting telehealth sessions without any stated purpose, specific disease management questions are integrated at specific points in the telehealth process. For example, there are points in the care process when the telehealth nurses will ask cancer patients about pain control or diabetic patients about sugar levels.  
To ensure that patients continue to adhere to their medication regimens, medication management is purposefully integrated into the telehealth nurses' workflow. For example, on Tuesdays, the telehealth nurses focus on medication management by asking a series of specific questions about the patients' medication compliance. On Wednesdays, the nurses follow up to make sure the patients took action on any gaps that were identified the previous day. And on Thursdays, the nurses work with the patients to ensure that they are prepared to stay in compliance with the medications over the weekend.  
"With this predesigned workflow, we can optimally staff each day because we have a better idea of what our needs will be," Hornbeck says.
Making sure all staff work at the top of their licenses. To optimize the cost-effectiveness of this initiative, MultiCare is striving to ensure that all staff members are being used as efficiently and thoroughly as possible.    
"With every task, we ask, 'Is that staff member practicing at the top of their license?' " Gariando says. "So, if an RN is doing something that an LPN could do, we make sure the LPN starts doing it. If an LPN is doing something that a tech could do, we make sure the tech starts doing it. As a result, we have hired a lot more techs and are decreasing our costs." 
By strategically expanding the telehealth program, MultiCare expects to continue to improve care, reduce readmissions, and enhance patient satisfaction, all while reducing costs.  
"We are leveraging the telehealth as much as we can and expect that we will be able to stay on the right path toward improved care outcomes and decreased costs by engaging patients more intimately in their own care. Our goal is not only to expand this program within MultiCare, but to share what we have done and the best practices we have identified with other home health agencies so they can experience the similar positive outcomes," Hornbeck concludes.
Results: Reduced hospital readmissions   
Just how successful has MultiCare's telehealth program been? Now in its third year of using video technology, the program has been shown to reduce 30-day readmission rates for both heart failure and COPD. For heart failure, the 30-day remote patient monitoring (RPM) readmission rates (Figure 1) have never exceeded 5.1%, which compares favorably with national CHF 30-day readmission rates of 25% (Hanes, 2015). In addition, when compared to all of MultiCare's heart failure patients, the RPM patients experienced 30-day readmission rates of 3% and 4% compared to 22.38% and 18.70% respectively for the two reporting periods (2016 and January–June, 2017).   

For COPD patients participating in the RPM program, 30-day readmission rates have decreased steadily since the program was implemented: 10.7% in 2015, 6.0% in 2016, and 4.0% in January–July 2017. These readmission rates also compare favorably with national COPD hospital readmission rates of 20.2% (Shah, Churpek, Coca Perraillon, & Konetzka, 2015).  
Results: Positive patient satisfaction 
Patient satisfaction is another area where hospital organizations can demonstrate care delivery improvements that also impact reimbursement levels. A summary of the satisfaction surveys administered in 2017 to RPM patients is shown at left (Figure 2). For all but one question, 93%–97% of patients answered positively with an "agree" or "strongly agree" response. The highest-rated questions (agree or strongly agree) were for reliability and ease of use of the telehealth equipment (97%) and whether the patient would use the equipment in the future (96%).   
MultiCare's RPM program has already resulted in improved patient care, enabling patients to stay in their homes and increasing the efficiency of care delivery by avoiding expensive rehospitalizations. While no formal return-on-investment study has been conducted, an in-house study by MultiCare in 2015 estimated a cost savings of $1.9 million. Further, by lowering its 30-day readmission rates, MultiCare avoids the costly penalties levied by CMS on hospital organizations with unacceptably high readmission rates. Going forward, as MultiCare expands its RPM programs to additional patient populations, it expects to realize similar benefits while continuing to demonstrate the possibility of delivering patient care that is both higher quality and more efficient.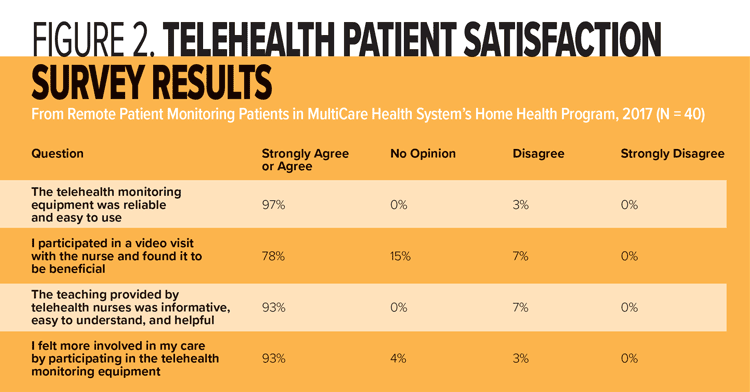 Mitch Work is president and CEO of The Work Group, Inc., a Chicago-based marketing and market research company. He can be reached at mitch1@workgroupinc.net. 
References 
Hanes, E. (2015, May 15). Emerging heart failure strategies improve outcomes and reduce readmissions. Modern Healthcare. Retrieved from http://www.modernhealthcare.com/article/20150501/SPONSORED/150509999 
Shah, T., Churpek, M. M., Coca Perraillon, M., & Konetzka, R. T. (2015, May). Understanding why patients with COPD get readmitted: A large national study to delineate the Medicare population for the readmissions penalty expansion. Chest, 147(5), 1219–1226.