Analyses
Workplace Safety
De-Escalation: Mitigating Violence in Healthcare
By Brian Ward
The International Association for Healthcare Security and Safety Foundation (IAHSS) in August 2017 released a report to address strategies to prevent workplace violence in healthcare. Those familiar with the healthcare industry won't be surprised by its conclusion: Healthcare facilities need to take steps now to mitigate violent incidents.
"Violence in the workplace continues to be a major problem in medical facilities, despite a decline in overall assault rates nationally in recent years," the report's authors wrote. "Why are people in these environments so vulnerable? And what can hospitals, emergency care units and mental health facilities do to better protect staff, patients and visitors?"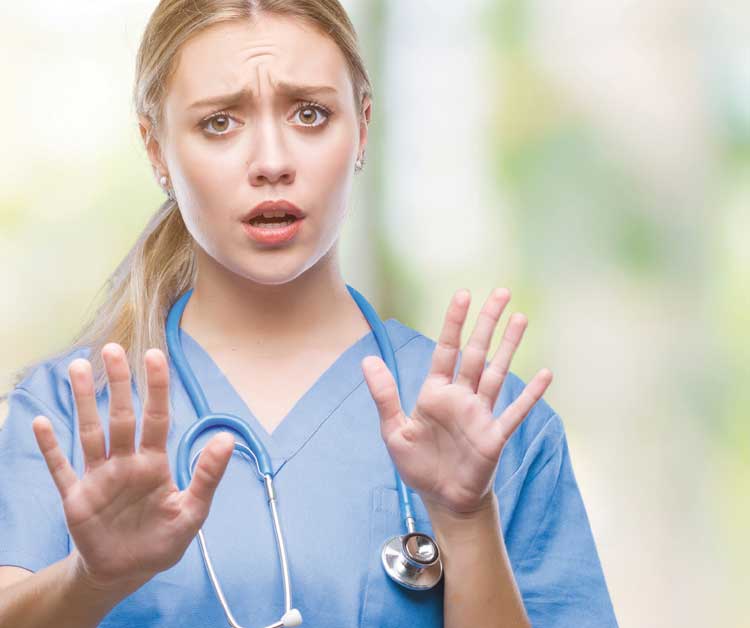 The IAHSS touts itself as the only organization solely dedicated to professionals involved in managing and directing healthcare security and safety programs. Its membership includes more than 2,000 healthcare security, law enforcement, safety, and emergency management leaders. The report, titled Mitigating the Risk of Workplace Violence in Health Care Settings, breaks down stressors and risk factors that can trigger disruptive and sometimes violent behavior.
Ironically, despite the latest warning, IAHSS released a study in 2016 that found violent crime in hospitals had dropped by 68% between 2012 and 2015. Still, the report found that assaults in general were on the rise in U.S. hospitals.
Available data suggest that healthcare and social assistance workers are far more likely to be injured in an incident of workplace violence than their counterparts in other sectors. In 2014, there were 8.2 injuries related to workplace violence per 10,000 full-time healthcare and social assistance workers—that's more than quadruple the rate experienced by the private sector overall (which saw 1.7 injuries per 10,000 workers), according to an OSHA analysis of data from the U.S. Bureau of Labor Statistics. Violence rates were highest in psychiatric and substance abuse hospitals, where OSHA found 109.5 intentional injuries per 10,000 full-time workers.
Officials have long been aware of a need to proactively identify and mitigate threats, which is why OSHA published the first version of its Guidelines for Preventing Workplace Violence for Healthcare and Social Service Workers more than two decades ago. (The latest version, which was updated in 2015, is available online for free.) These voluntary guidelines, known in the industry collectively as OSHA 3148, include recommended policies and procedures to combat workplace violence in a variety of settings.
While OSHA (and The Joint Commission and CMS) don't collectively have standards that lay out specific steps for preventing violence, the consensus seems to be that the healthcare industry will eventually be regulated by standards that will protect workers and patients.
Since December 2016, OSHA has been "considering whether a standard is needed to protect healthcare and social assistance employees from workplace violence" and has requested public comments on the subject. The public comment period closed on April 6, 2017.
Federal OSHA is likely to follow in the footsteps of at least nine other states with laws that require employers in the healthcare sector to implement workplace violence prevention policies. In 2014, California passed a law requiring healthcare facilities to, among other things, "adopt a workplace violence prevention plan as a part of its injury and illness prevention plan to protect health care workers and other facility personnel from aggressive and violent behavior."
The workplace violence policy must be in place by April 1, 2018, but some of the law's mandates became effective on April 1, 2017, including a requirement that California healthcare facilities keep a record of all violent incidents.
IAHSS recommendations
In the past, IAHSS has issued design guidelines for hospitals to help increase security in general, but this is the first time the group has directly issued recommendations to reduce violence in healthcare facilities. The recommendations advise a multipronged approach that includes not only design changes, but a teamwide approach, including staff training to help employees recognize when violence is about to break out. Specifically, IAHSS points out that some of the most common stressors in medical facilities include the following:
>          Increased wait times in hospital emergency centers
>          Behavioral patients admitted to emergency departments with little or no information, and no intake facility willing or able to take them
>          Increased use of hospitals for treatment of acutely disturbed individuals in lieu of jail or holding at police departments
Other vulnerabilities that IAHSS identifies stem from the open design of many medical facilities, including the following:
>          Unrestricted movement of visitors
>          Spillover of gang activity from the street
>          Prevalence of firearms entering the building
Lastly, IAHSS points out that violence can be caused by other issues prompted by financial constraints and lack of staff training, such as the following:
>          Budget cuts forcing leaner security staff
>          Inconsistent adherence to security protocols
>          Staff inability to recognize warning signs of potentially violent behavior
Types of violence and how to deal with them
The new IAHSS report recognizes that there are several types of violent incidents that can take place in healthcare facilities, and that they each require different protocols for prevention and response:
Domestic violence. These are incidents that can either occur at staff or patients' homes as well as at the healthcare facility. IAHSS recommends that any policies developed should include notifications to security, local police (if appropriate), human resources, and risk management, with requests for a response.
All involved parties need to be notified, and information should be shared by the entire organization rather than held by a single department.
Workplace violence. This includes incidents occurring anywhere on the grounds of the facility, whether perpetrated on staff, patients, visitors, or service providers. Policies should outline the appropriate response to take and any consequences that will be levied. Policies for workplace violence must also include aftercare follow-up for any victims.
Rape and sexual assault. This pertains to events occurring at the facility. The policies and guidelines set for any rape or sexual assault should include immediately reporting the incident to local law enforcement and the medical facility's police department. There should also be detailed guidelines established for collecting forensic evidence to support an investigation of the incident.
Active shooters. This unfortunately is becoming more of a problem in U.S. hospitals, and many security experts think it is only a matter of time before a mass shooting occurs in an emergency department.
In addition to having policies and procedures in place for responding to an active shooter, IAHSS recommends that healthcare facilities should institute mandatory annual training of security and staff in active shooter scenarios. The training should include prevention, mitigation, preparation, response, and recovery.
Furthermore, IAHSS says that security and staff should be trained to recognize potential signs of a pending threat and to conduct informal threat assessments. The following questions should be considered. Is an individual:
>          More belligerent than usual?
>          Showing up late for work?
>          Insubordinate to supervisors?
>          Showing signs of depression or rage?
>          Capable of gaining easy access to a weapon or something that could serve as one?
Recommended technology
Many new technologies are being developed that can help hospitals prevent violence against both staff and visitors. For instance, video surveillance cameras are a simple deterrent that can be placed in strategic areas to monitor patients, staff, and visitors. They can also be deployed in high-risk behavior rooms to enable security to watch multiple patients simultaneously. Analytics such as sound detection can further mitigate risk. Other technologies recommended by IAHSS include:
Access control keycards, touchpads, and/or biometrics. These can be used to limit access to sensitive areas. Entry privileges should be provisioned using a layered approach, becoming progressively more restrictive when moving from the property perimeter to the building perimeter to interior perimeters to the most sensitive interior areas where security risks are highest.
Body cameras. Police do it—why not hospitals? When worn by security officers, EMTs, and emergency department staff, IAHSS says body cameras can provide valuable evidence in criminal investigations and proceedings as well as civil lawsuits.
Staff duress alarms. Panic alarms can be installed at intake desks and nurses' stations or carried by individuals (with real-time location systems). With preprogrammed cell phones, staff can quickly inform security of a volatile situation and give staff a chance to respond appropriately.
Mass notification systems. Mass notification systems are especially useful for broadcasting messages facilitywide in the event of an active shooter or other emergency situations. Code words, color codes, and other notification systems help communicate dangerous situations quickly.
You can access the entire IAHSS report online.
Editor's note: This article was originally published in Patient Safety Monitor Journal.