Computerized Physician Order Entry – CPOE at a Community Hospital: First Steps
July / September 2004



Computerized Physician Order Entry

---
CPOE at a  Community Hospital: First Steps


The crescendo of recommendations from regulatory, clinical, payer, and purchaser groups touting applications such as computerized physician order entry (CPOE) as solutions to unacceptable error rates is hard to ignore. Success at government and academic hospitals whose physician staff are primarily employees with a single practice site has been well documented. Community hospitals, serving private practitioners who often practice at multiple facilities as well as their own offices, have been slow to adopt these technologies, stymied by a unique set of obstacles.
This is the first in a series of reports that will follow one community hospital's progress as it advances its computer functionality toward the goal of improved patient care. Implementers at Huntington Hospital have chosen an open approach, a demonstration project of sorts, in an effort to take advantage of the brain trust in the healthcare information technology community and avoid the pitfalls of brave early adopters. Readers are encouraged to comment on prospective plans and provide input from experience, with the goal of enjoying mutual pride in the ultimate success.
Strategic Plan for Information Technology
Huntington Hospital, a 525-bed not-for-profit tertiary care community hospital, was established in Pasadena, California, in 1892; its mission is simply to excel at the delivery of healthcare to its community. Taking a cue from its namesake — Henry Huntington, the tycoon who brought the Pacific Electric Trains to Los Angeles — Huntington Hospital has long embraced technology for the improvement of its services. Healthcare information systems are welcomed for their positive impact on quality, patient safety, and operational efficiency.
Huntington Hospital's experience with healthcare information systems follows that of the typical community hospital, first acquiring financial systems, followed by patient tracking, results reporting, and patient billing systems. The hospital survived Y2K unscathed due to an exhaustive effort to reprogram its unsupported legacy systems with compliant code, leaving functional, though perfunctory, automation. Functionality for physicians consisted of printing patient lists and locating lab results.
With Y2K behind it, Huntington Hospital looked ahead with the development of an aggressive long-term information technology strategic plan. Huntington Hospital's information technology strategy is aligned with its overall business strategy emphasizing operational excellence"organizing to deliver high-quality service at a competitive price. Figure 1 (page 14) illustrates the key operational pillar of Huntington's overall strategic premise of "market indispensability"as approved by its Board, and the technical strategy that supports it. It is this tenet that drives and guides the information technology plan at Huntington Hospital.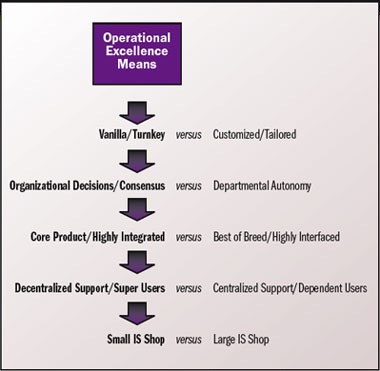 The strategic plan included a bold decision to replace money-hungry legacy mainframe systems with state-of-the-art client-server technology. About the same time, Huntington Hospital began an enthusiastic campaign to seek out solutions to meet physicians' overall needs. Using the motto, "Huntington Hospital, Where Good Doctors Come to Work," physicians were surveyed on a variety of topics. Everything from parking to dining to streamlining the patient admissions process was evaluated. Physicians began to express an interest in using technology to facilitate their work, not coincidentally falling on the heels of the release of the Institute of Medicine's landmark report, To Err is Human,and the well-publicized initial recommendations of The Leapfrog Group. Huntington's physicians expressed an unpredicted interest in using computers to streamline their daily patient care, choosing to embrace rather than reject technology.
As part of the information systems strategic plan, a position dedicated to support physicians' computer needs, the manager of physician computer services, was created. Though this position reports directly to the chief information officer as part of the information systems department, strong alliances were built with the patient care, medical staff services, graduate medical education, medical records, business development, and quality departments. The first order of business was to train the entire medical staff on the functionality of the new healthcare information system (HCIS).
Huntington Hospital's medical staff consists largely of private practitioners. Eight hundred active staff include solo practitioners, small and large medical groups, house-based physicians, and contracted emergency and radiology department physicians. Huntington also proudly supports a graduate medical education program of 35 medical and surgical residents.
Creativity and Luck Help in the Beginning
Attacking the physician training strategy with little precedent took some creativity and luck. The creative stroke of genius was to leverage the technological enthusiasm and relative poverty of the residents, the contacts of the business development department, and the budget of the information systems department. Luck was a matter of timing. A recent blitz of clinical journal articles supporting the need for electronic ambulatory clinical records, coupled with widespread adoption of personal digital assistants and wireless home networking, made "making the case" for automating health records relatively easy. If this project had taken place just a year or so before, physician adoption of computers for healthcare would certainly have been much less widespread.
A road show of a laptop, a projector, and an eager trainer made the rounds of physician offices, enlisting the aid of the office managers to corral busy physicians for a half-hour of training on-site. No opportunity was lost"the trainer even took advantage of opportunities during her personal healthcare visits to engage over-scheduled practitioners in a lively discussion of the merits of healthcare information technology. The residents staffed a 12-hour-per-day one-week training open house at the hospital and eagerly accepted a $100 gratuity to wear an "Ask Me About Meditech" button in the weeks immediately preceding and following go-live.
An ad hoc physician information technology committee was created, consisting of very kind volunteers who met monthly to review the build process. The committee gave input on whatever configurable items were presented, giving special input on the face sheet and communication plan.
On March 1, 2003, Huntington Hospital "went live" with its new Meditech Client-Server 5.3 healthcare information system on a brand-new network, 700 upgraded desktop PCs and 700 additional NEC "All in One" wireless workstations. Legacy functionality was replaced with a new supported application and an open-platform architecture. The expected stampede of irate physicians did not materialize. The phrase, "Just show me how it works, and make sure there are enough PCs," ruled the roost.
Physicians use the Enterprise Medical Record as their primary portal to patient information. By virtue of being tagged as the admitting or attending physician, a patient's name automatically appears on the "My Admitted" list. Physicians navigate through online lab, microbiology, blood bank, radiology, and medical record reports. Physicians called in to consult may add their names to the official list of providers by placing an electronic consult order, the only order they may currently enter online. Physician usage reports are monitored monthly and compared to patient volume reports; 70% of those seeing patients are using the systems on a regular basis. Interesting trends along specialty lines have appeared; surgeons have the least online time, while infectious disease specialists can't get enough of it.
The first phase went live on March 1, 2003, with a new healthcare information system replacing all basic functions such as patient registration, order entry and results reporting, pharmacy, radiology, laboratory, materials management, payroll, and general accounting. Phase II, currently under way, includes implementing remote-connectivity (live October 2003), physician wireless network (live January 2004), electronic signatures (in progress) and nursing documentation scheduled for fall 2004.
Establishing a Physician Committee
As planning moved forward to more advanced functionality, it became clear that the ad hoc Physician Information Technology Advisory Committee required more authority. Use of electronic signatures would necessitate bylaw changes and policy development. Online order entry would demand standards-setting and roll-out decisions. An official voice was needed to answer the question, "What do the physicians think of this?" A proposal to create a formal medical staff committee was placed on the Medical Executive Committee agenda by the physician champion. Meditech provided an industry expert who had participated in successful roll-outs to explain this committee's role as an essential component for the success of future physician automation projects.
The ad-hoc Physician Information Technology Advisory Committee became a formal medical staff committee in May 2004, with the charter to provide physician input into computer technology decisions. The committee reports directly to the medical staff Quality Committee, and upwards to the Medical Executive Committee. An obstetrician who sits on the Medical Executive Committee, and who has always voiced strong support for healthcare information technology, was asked to take the leadership role. The following month was spent recruiting a cross-section of physician members, representing the full spectrum of clinical specialties and technical prowess. Surgeons, pediatricians, intensivists, hospitalists, internists, the chief resident, and the head of the pharmacy, Therapeutics and Dietary Committee were recruited. Hospital personnel include the medical staff committee coordinator, the director of clinical informatics, the director of pharmacy, and the manager of physician computer services.
Physician training to view the upcoming online nursing documentation system is under way. Planned modes of training include large-group presentations to medical staff committees, a week-long open house staffed by medical residents, and 1:1 training at physician offices. Once again the residents will play a key role in the training process. Demonstrations of Meditech's "Physician Care Manager" module, which will provide tools for online physician documentation and order management, are attracting a higher-than-expected turnout; implementation of that functionality is expected for spring 2005.
Competition Among Projects
As Huntington Hospital moves on with its next phases, one key hurdle is fitting the projects in with competing hospital initiatives. The same personnel are frequently tapped to serve on committees to improve patient flow, address 27 new quality standards, monitor patient satisfaction, and prepare for the new continual-readiness accreditation process. The executive team expects a complete business plan including the scope of impact and costs for both financial and human resources before giving a project the green light to go forward. Approving a capital budget purchase is only half the battle. At a time of severe nursing shortages, pulling an RN off the floor for even a 1-hour training session makes compliance with California's mandated nurse:patient ratios extremely difficult.
Huntington Hospital's management team acknowledges that technology's cycle does not fit easily with its annual planning process and therefore provides a cushion for previously unexpected installations. The information systems department started 2004 with a list of 18 approved projects, including several that demand significant culture change. Continuous readiness tracking software and professional fee billing systems compete for resources with online nursing documentation and a new filmless radiology system. By end the of June, 24 new projects had been added. In an attempt to anticipate upcoming demands, the chief information officer and his staff maintain a "Watch List" of not-quite-ready-for-prime-time technologies. As time progresses, projects such as the wireless "Guest" network bubble to the top and prove their worthiness. Figure 2 shows the list of physician-specific projects in their "live," "implementing," and "investigational" status.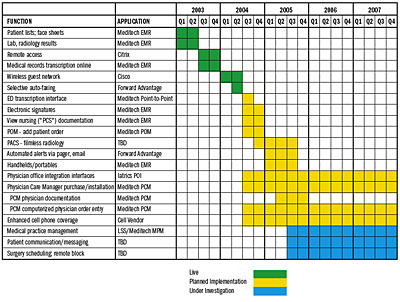 Planning for CPOE
As Huntington Hospital approaches computerized physician online order entry, great care is taken to learn from the experience of early adopters. Fortunately, those who have had both successful and painful experiences have been willing to share their lessons learned.
The hospital's software vendor provides not only detailed step-by-step application installation plans, but puts at the hospital's disposal industry experts who suggest approaches and connect customers for moral support. Active membership in industry-related professional organizations such as the Healthcare Information and Management Systems Society (HIMSS; www.himss.org) and attendance at conferences such as the Physician Computer Connection (www.keeneresearch.com/pcc.htm) have been invaluable for gaining access to industry experts and breaking down competitive organizational walls. Involvement in professional organization advocacy efforts prevents being blindsided by new state or federal regulations.
Huntington Hospital is currently pondering its approach to computerized physician order entry, and will soon put a stake in the ground for step-wise goals. Everything from a tentative step of ordering non-pharmaceutical items by a single clinical department through a no-holds-barred "Big Bang" — all orders/all clinical departments — is being considered.
Meanwhile, those preparatory steps that will not drain current resources are being taken. A project to catalog all current manual order sets is under way, with gaps to be identified and filled. Evidence-based medicine tools are being evaluated along with other knowledge-based resources. A subtle awareness campaign has begun, taking advantage of the theme in recent clinical literature for the promotion of ambulatory health records. Given that the acronym "CPOE" strikes immediate, visceral fear in the greatest of men, alternative names for the effort are being suggested.
Comments and Suggestions
Readers are invited to email the author (maggie.lohnes@huntingtonhospital.com) with comments and suggestions. The most immediate issues on the table include:
How does a community hospital determine realistic goals for computerized order entry?
What metrics should be used for pre- and post-measurement to document success for computerized order entry?
The case for quality and patient safety via healthcare information technology has been heard, but the "how-to" at the community hospital level remains cloudy. It is hoped that Huntington Hospital's open approach will benefit both the hospital's own effort to demonstrate successful installations, but also provide a model for other community hospitals to follow. Course corrections based on external input are anticipated and welcomed.
---
Maggie Lohnes is manager of physician computer services at Huntington Hospital in Pasadena, California. She is a member of PSQH's Editorial Advisory Board and may be contacted at maggie.lohnes@huntingtonhospital.com.