Can We Achieve ZERO Preventable Hospital Deaths?
By Douglas B. Dotan, MA, CQIA
As a passionate advocate and pioneer for patient safety, I apply my knowledge of systems thinking and safety process management to transformational change in hospitals. Today we implement innovative technologies with sophisticated real-time solutions at the point of care.
The rigors of my roles in aviation accident investigation, intelligence gathering, and data analysis prepared me in developing critical team leadership skills and joining a "new generation" of safety professionals. Leveraging my training as a helicopter pilot and a veteran of three wars, I translated the experience gained in the air directly to what was happening on the ground. Our successes included designing transformational change programs for safety and quality education, selecting investigative analysts, and training go-teams. We helped avert losses of multimillion-dollar aircraft and saved scores of pilots' lives. By identifying root causes in some 100 safety investigations, we were able to take preventive action that reduced mishaps by 50% within five years using performance improvement methodologies.
When the Institute of Medicine's To Err Is Human report was published in 1999, there was a desire to emulate the aviation solutions of the 1980s and reduce preventable medical errors by 50% within five years. I switched careers from aviation to healthcare, developing IT solutions to help improve patient care and value-based margins. Unfortunately, the Institute of Medicine's goal has not been reached—instead, over the next 18 years, the number of preventable deaths is estimated to have quadrupled.
Yet this is not to say we have made no strides in protecting our patients. By applying aviation safety methodologies to healthcare, hospitals are now able to design and implement new safety systems that will lead to preventing patient harm. With this in mind, I became the regional network chair in Texas for the Patient Safety Movement Foundation (PSMF) in 2017.
The objective of the PSMF is to mobilize leaders across the world to reach more hospitals, healthcare technology companies, and the patient advocacy community to achieve the goal of ZERO preventable deaths by 2020. As a regional network chair, my responsibilities are to gather "commitment to action" letters from key societies, associations, and/or nonprofits aligned with the Foundation's work. I aim to secure commitments from hospitals or healthcare organizations that impact lives directly and to obtain "open data pledges" from healthcare technology companies. I constantly connect with patient advocates, asking them to share their stories and come together as a team with others in the PSMF collaborative network.
The PSMF has identified the top challenges that hospitals face and supplied proven processes to address each challenge. Along with the world's best patient safety experts, I believe achieving zero preventable deaths in hospitals is possible if facilities implement and adhere to the proper processes. There are hospitals around the world that have achieved zero deaths in areas like hospital-acquired infections, and there are many hospitals that have significantly reduced preventable deaths by creating a culture of safety.
In the United States, we are also attempting to encourage safety through financial repercussions. Each year, hundreds of hospitals lose 1% of their Medicare payments through the Hospital-Acquired Condition Reduction Program. The penalties were created by the Affordable Care Act to drive hospitals to improve the quality of their care. In 2019, the federal government penalized 751 hospitals for having too many infections and patient injuries, and some states are feeling the cuts in Medicare payments more than others. Of the 3,300 hospitals evaluated, Medicare punishes the worst-performing 25%.
Patient safety summit: Where we've been, where we're going
I recently attended the seventh annual World Patient Safety, Science & Technology Summit in Huntington, California. The Summit was co-convened by the American Society of Anesthesiologists and the European Society of Anaesthesiology and brought together hundreds of hospital leaders, medical and information technology company representatives, patient advocates, public policymakers, and government officials from around the world to focus on one number: ZERO. We celebrated how many hospitals had implemented the Actionable Patient Safety Solutions (APSS) and the number of lives that were saved. In just seven years, 273,077 mothers, fathers, daughters, and sons were saved because of the people who chose to do things just a little differently—to put processes in place and adhere to them like their patients' lives depended on it.
The reality is that we can achieve zero today. We already have the processes and technology; now we need to make it happen. Every hospital needs to take action by adopting and implementing the best practices in patient safety covered by the APSS.
At the Summit, what really drove the urgency in implementing these processes were the victims and their families. They were present on each panel, and by the time they finished their stories, they had made an imprint on everyone's hearts and minds. Of course, everyone in the medical field cares about the health and well-being of their patients. But it's often easy to forget what happens when things go wrong—when our systems fail, or when one human error sets off a domino effect with catastrophic results.
Hearing the accounts of patients and families who suffered tragic loss reminded us what we are fighting for and how we must continue to work together to ensure this loss never happens again. But along with these heart-wrenching stories, the Summit revealed the heart-warming statistics that show our significant collective impact.
In his closing keynote address at the 2019 Summit, former U.S. President Bill Clinton described the PSMF's remarkable progress in saving lives. He encouraged participating clinicians, hospitals, and healthcare technology companies to recruit others to join them:
I'm grateful that the movement just in the last year alone saved more than 90,000 lives. I'm grateful for the 4,700 hospitals at home and around the world that are part of this effort. I'm grateful that 89 technology companies have committed to share data to develop algorithms and predict dangerous trends. And I hope there will be more. I'm very happy that this is increasingly a global effort. The patient safety movement now has 35 regional chairs leading local networks across 50 countries. … My most important message is to please stay active in this, please get more people active in it, and don't give up.
Following the speech, President Clinton sat down with Joe Kiani, founder and chairman of the PSMF, to discuss the present state of world affairs along with the dangers of apathy, the opioid epidemic, global warming, and other critical matters affecting people around the world.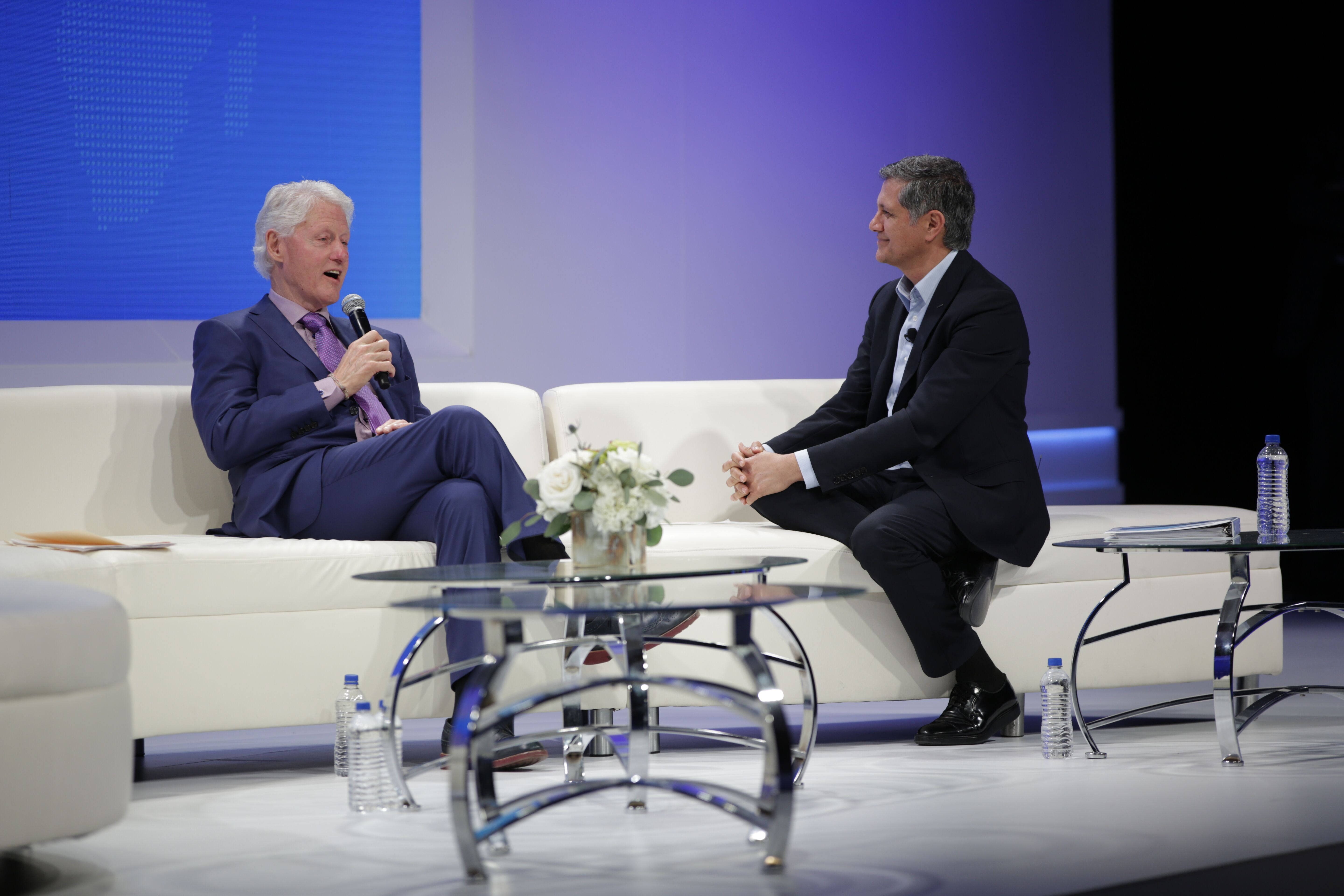 The Summit days leading up to President Clinton's presentation were filled with keynote addresses from other public figures and patient safety experts; plenary sessions with healthcare luminaries, members of the press, and patient advocates; as well as announcements from organizations that made their own commitments to reach the PSMF's goal of zero preventable deaths. On the Summit's first day, Kiani gave his annual State of the Movement address. He stressed the 2020 goal and urged every hospital to implement all of the APSS. He stated, "To err is human, but to not put the proper patient safety processes in place is inhumane."
The PSMF has developed more than 30 APSS across 18 Challenge areas to overcome some of the leading patient safety challenges facing hospitals today. The Challenges can be downloaded from www.patientsafetymovement.org.
New Actionable Patient Safety Solutions
In 2019, we saw the introduction of new APSS, including an important addition under the Challenge of Medication Safety: Drug Shortages. This solution addresses how hospitals can mitigate possible delays in treatment protocol and the increased likelihood of medical errors due to subpar substitutes by averting drug shortages in the healthcare system caused by such factors as business decisions, manufacturing problems, and product discontinuations.
Also new this year, Dr. Steven Scheinman, dean of Geisinger Commonwealth School of Medicine, introduced the 17th APSS on Patient Safety Curriculum for Schools. This APSS focuses on education to help close a critical gap in training when students in various medical fields are introduced to patient safety. The APSS provides a core patient safety curriculum that can be adopted by educational programs for all healthcare professions (nursing, pharmacy, behavioral health, medicine, etc.). The result of nearly two years of development by a workgroup of academics, clinicians, and patient advocates, the curriculum will go beyond care of individual patients to address systems of care as well.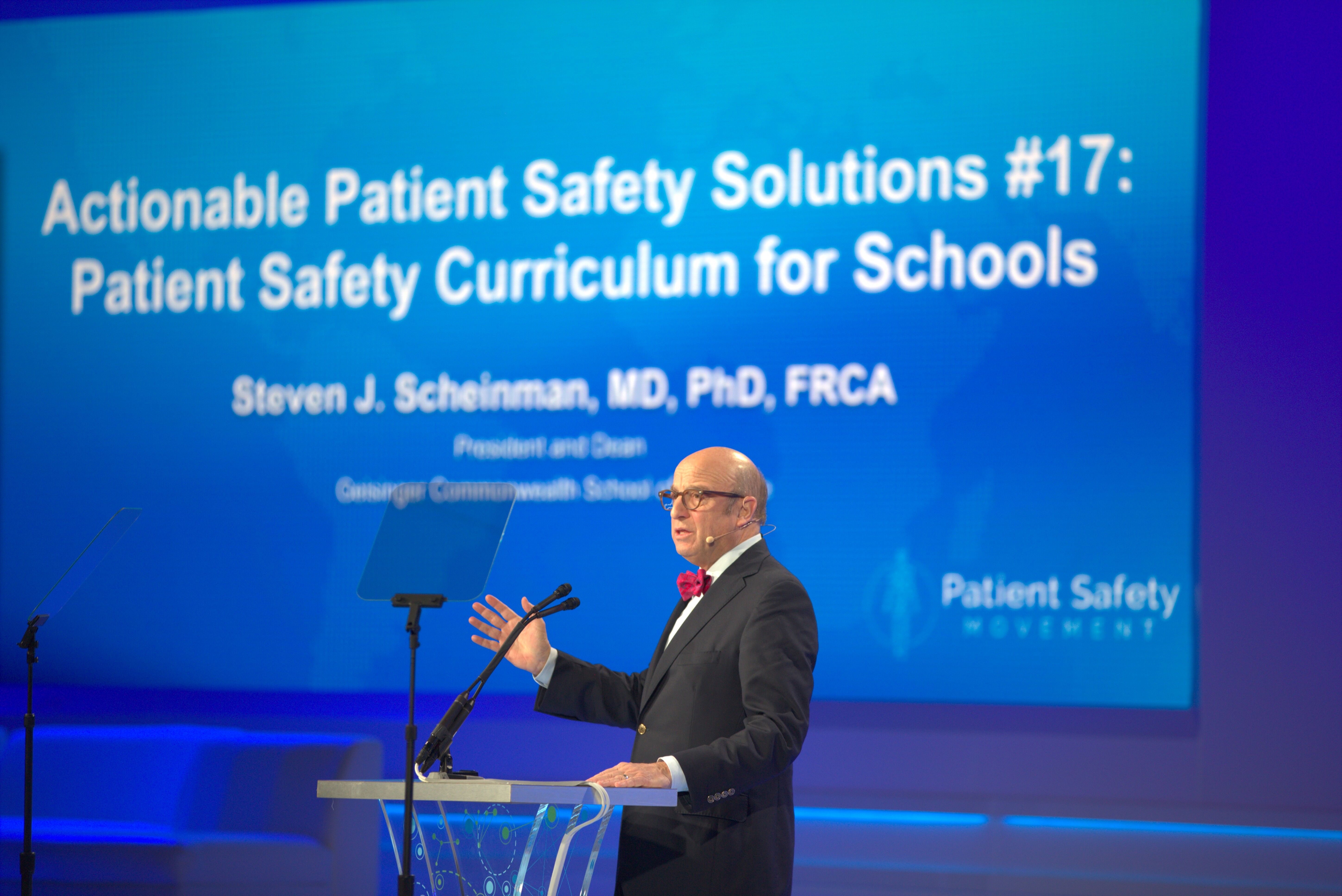 Kiani underscored the importance of APSS during the Summit:
We can't hope for zero preventable harm and deaths; we need to plan for it and put the proper patient safety processes in place. … Patient safety experts from around the world have done the heavy lifting and created proven solutions. These APSS are available to every hospital and thousands have implemented one or two APSS, but sadly, only four hospitals have implemented all of them. We hope to see every hospital implement every APSS in 2019.
In a separate keynote, Daniel J. Cole of the American Society of Anesthesiologists presented on what will be the PSMF's 18th Challenge concerning Postoperative Delirium in Older Adults. Cole's presentation was complemented by a panel on postoperative delirium titled "An Emerging Patient Safety Challenge." Moderated by Dr. Michael A. E. Ramsay, the panel of experts discussed how delirium can be prevented in half of the estimated 2.6 million patients affected by it in the U.S. each year.
Presentations and panels examine key patient safety issues
The World Patient Safety, Science & Technology Summit presents an important opportunity for medical professionals and patient safety experts from across the globe to exchange information, open lines of dialogue, and share ideas to make the 2020 goal of zero deaths a reality. And the 2019 Summit was no different.
In one of the Summit's other keynotes, world-renowned patient safety expert Dr. Peter Pronovost discussed challenges of going from healing in the hospital to being healthy at home. Also, Dr. Kai Zacharowski, the incoming president of the European Society of Anesthesiology (one of the Summit's co-convening organizations), urged critical care medicine intensivists and anesthesiologists to join forces to combat patient safety problems.
A number of other critical topics in the areas of technology, transparency, and the media were explored in depth by panels of experts in their respective fields. These panels included:
Healthcare Technology Leadership Panel: Medtronic's Chairman & CEO Omar Ishrak moderated a panel to discuss how hospitals are leveraging open data to create interoperability.
Pushing Transparency and Aligned Incentives Through Policymakers Panel: This panel of policymakers was moderated by former Surgeon General Dr. Richard Carmona and featured Congressman Harley Rouda. They highlighted the need for aligned incentives to increase transparency.
Leading Causes of Preventable In-Hospital Deaths Panel: This panel, moderated by patient safety champion Dr. Tami Minnier, explored the often-overlooked flipside of patient safety. Rather than a Safety I perspective that emphasizes an environment where "as few things as possible go wrong," the panel instead focused on a Safety II perspective that emphasizes ensuring "as many things as possible go right."
Hospital Leadership Panel: Patient advocate Jack Gentry joined a panel of experts to discuss the importance of transparency from a legal perspective, highlighting the need for transparency, just resolution, and immediate root cause analysis at hospitals after each harm event.
Media Panel: Patient advocate Jamie Thomas King shared how losing his youngest son propelled him into the world of patient safety. The panel, which included journalists from USA Today, Health Service Journal, and The International Consortium of Investigative Journalists, urged hospitals to be open and share their stories of medical errors and medical successes.
Leadership announcements and awards
The annual Summit is also a time to honor those who have had the greatest impact on saving lives and furthering the movement's mission. Kiani announced that David B. Mayer, MD, will now serve as CEO of the PSMF, and Michael A. E. Ramsay, MD, FRCA, will become chairman of the board, effective after next year's Summit.
Mayer is the executive director of the MedStar Institute for Quality and Safety and previously served for almost seven years as MedStar Health's vice president for quality and safety. He was one of the architects of CANDOR, a toolkit that focuses on transparency, immediate root cause analysis, and education. Since 2012, when he implemented CANDOR at MedStar, serious patient safety events have been reduced by 65%, and the cost of care associated with serious safety events (including medical liability) has been cut by more than $70 million. In 2016, Mayer won the PSMF's Humanitarian Award.
Ramsay is the chairman of the Department of Anesthesiology and Pain Management at Baylor University Medical Center and president of Baylor Scott & White Research Institute, in addition to holding many other university medical school teaching positions in Texas. Ramsay is particularly noted for developing the Ramsay Sedation Scale, a measurement to interpret the depth of sedation for patients in the critical care unit.
This year's Humanitarian Award recipients honored a diverse range of leaders in patient safety:
The Steven Moreau Humanitarian Award went to William C. Wilson, MD, MA, chief medical officer at UCI Health. This award recognizes the hospital administrator who exhibited the most zeal for improving patient safety in his or her facility. Dr. Wilson's leadership has resulted in UCI Health in Orange, California, becoming the first academic medical center to obtain a five-star ranking under the PSMF's hospital ranking program.
Julie Morath, president and CEO at Hospital Quality Institute, received the Beau Biden Humanitarian Award. Morath was honored for her efforts to spread transparency across the state of California, creating a model for other states to follow. In a year's time, Morath successfully engaged 92% of California hospitals, and 55% of them are now publicly displaying a dashboard on their websites.
PSMF Humanitarian Award winner Tore Laerdal is the chairman and CEO of Laerdal Medical and executive chairman of Laerdal Global Health. Under his leadership, Laerdal Global is sharing its progress implementing simulation-based training to advance patient safety across more than 80 countries. In 2018 alone, Laerdal Global partnerships saved 30,500 lives.
If you are not currently engaged in advancing patient safety to the greatest extent your position allows, I invite you to reach out to me, join the PSMF, and help us reach zero preventable patient deaths in hospitals. Contact me at Douglas.Dotan@Pegwin.io or 281-720-8830.
Douglas B. Dotan, MA, CQIA, is regional network chair for the Patient Safety Movement Foundation and founder/chairman/president of Pegwin.