Barcode Basics: Why Printing, Symbology, and Media Choices Matter
July / August 2007
Barcode Basics: Why Printing, Symbology, and Media Choices Matter


Photo courtesy of Zebra Technologies
The adoption and use of barcode technology is on the rise as hospital administrators and healthcare providers gain familiarity with its value. Viewed by many as a forerunner of more comprehensive patient safety initiatives, such as ePrescribing, computerized physician order entry (CPOE), and electronic medical records (EMRs), barcoding is also known for its relative ease of implementation, demonstrated return on investment, and broad array of applications.
Hospitals are deploying barcode solutions in a variety of settings to reduce errors and improve patient safety, from admissions, lab, and pharmacy departments to the patient bedside and beyond. While purchasing decisions often focus on software selection, it is critical that healthcare organizations also carefully evaluate print technologies, barcode symbologies, and media types to ensure optimal success. Without legible, accessible, easy-to-scan barcodes on labels or wristbands, the entire auto-identification system breaks down. Nurses and technicians may not be able to identify a medication, a specimen, or a patient — and safety suffers.
Print Options
Whether creating patient ID wristbands, labeling unit-dose medications, or marking samples and specimens, an organization's choice of print technology is a key decision. Print technologies vary a great deal when it comes to barcode production speed, quality, edge definition, flexibility, and cost. For example, even though inkjet and dot matrix machines are inexpensive and ubiquitous, they lack the necessary speed, resolution, and image durability that barcoding requires.
The most common barcode print technologies are thermal and laser. Thermal printers generally — and direct-thermal printers in particular — offer sharp image quality that achieves reliable read rates when scanned. Because they are designed for barcoding, thermal printers can produce labels in batches or individually with virtually no waste. Thermal technology printers are also more solidly constructed than laser, ink jet, or dot matrix machines.
Although some direct-thermal paper labels can be sensitive to conditions such as heat and light, protective top-coated media is available. And because thermal printers accept media on rolls, they cannot print letter-sized documents.
Laser printers create images with good density and resolution. They can generate high-quality symbols on plain paper documents and serve as economical, high-volume document printers in the office. But there are three major limitations:
Most laser printers require at least half a page of media for proper handling, so producing single or small labels can be wasteful.

Laser-printed labels tend to curl and, if media is not carefully selected, adhesive can seep onto the printer mechanism.

Many laminated or coated materials are not compatible with laser printing, which limits options for those hospital users that require durable labels resistant to water, re-agents, blood, soaps, chemicals, and so forth.
Selection Criteria
The desired symbology, label or wristband size, and print volume will drive printer selection. Before selecting specific printers, hospitals should consider their needs:
Performance. Does the printer produce sharp, clear, high-resolution edges? Can it process variable data — a necessity to capture lot codes and expiration dates for pharmaceuticals — at its top print speed? Can the equipment survive a hospital environment with its dust, moisture, and vibration? Will the printer handle a wide variety of media, such as polyester and heavy-duty labels, as the use of barcoding is expanded into other applications?
Ease of use. Will bottlenecks arise if administrators or nurses use one printer for both office documents and barcode labels? Who will switch out paper for label media and vice versa? Do the printers have the flexibility to connect via USB, Ethernet, 802.11b-standard wireless, and other standard network interfaces?
Total cost of ownership. If a barcode printer is not designed for the task, how much time and money might be spent clearing jams and replacing parts? Print heads and other components designed for creating barcode labels can handle the demand. Standard office document printers may suffer from excessive wear. Can the printer create labels on demand or does it only print full sheets, which can be wasteful?
Finding the Right Symbology
Since the first barcode was developed in 1948, hundreds of different "symbologies," or barcode formats, have been introduced. But only a handful are common in healthcare. Choosing the right one begins by determining the type of data to be captured and the space available for marking. Generally, you should encode all the necessary information in the least amount of space.
Three of the leading symbologies in healthcare are linear codes, rather than two-dimensional: Code 128, Code 39, and the Reduced Space Symbology (RSS) family. These options are useful for representing the alphanumeric character combinations that may represent a patient name, ID number, or other unique identifier.
It's important to note that laser scanners for linear barcodes can recognize multiple linear symbologies. This capability, called "autodiscrimination," means hospitals need not use the same symbology for wristbands, blood bags, or unit-dose medication packaging.
More advanced 2-D symbologies, such as PDF417, Data Matrix, and Aztec Code, can serve as portable record files, some capturing more than 3,000 characters of patient-specific data. The FDA did not mandate 2-D barcodes when it established its barcode rule in 2004, however, because the more common laser scanners used for linear barcodes cannot read them. Regardless, many healthcare organizations have invested in 2-D symbologies to take advantage of their high-capacity and image "read rates" when scanning the barcodes.
On the Surface
There is much more to label and wristband media compatibility than whether the material fits into the printer. Media decisions should be driven by possible exposure to elements such as soaps; alcohol; water; blood; lab washes; ultraviolet, fluorescent, or natural light; moisture; radiation; sterilization; and cold storage. Wristband and label media generally consist of either paper or synthetic face stock, a protective coating, and a label adhesive or wristband fastener.
When selecting and producing patient identification wristbands, three decisions must be made:
What information should be included on the wristband? Wristband barcodes serve simply as a key to access a specific record. If nurses have easy access to comprehensive electronic medical records, there is little need for more than this key on the wristband. But where patient data is not readily available at the bedside, wristbands can capture and convey more details. Some 2-D symbologies can serve as portable medical records or even capture digital images.
How should the wristband be printed? Barcodes can print directly on the surface of the wristband or as separate labels applied or inserted by hand. The direct, one-step process is more convenient and is less prone to damage.
What type of media should be used? Missing wristbands are a common concern for hospitals, particularly because they serve as the foundation for many barcoded patient safety applications. Consider all the patient scenarios, potential exposures, and usage conditions when selecting a material. Low-quality printers and materials may lead to fading, scratching, or wrinkling that renders the barcode unreadable and useless. Wristband media should have a special top-coat layer that protects against alcohol, foams, soaps, blood, water, and ultraviolet light. Expanding options even further, antimicrobial wristbands are now available to help protect wristbands from bacteria that cause infection.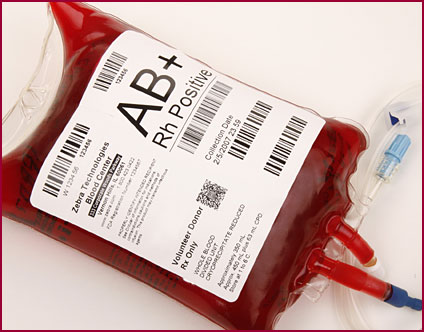 Using bar codes for blood administration can reduce transfusion errors and enhance safety. The right solution can also enable easy adherence to new ISBT standards.
Photo courtesy of Zebra Technologies
Labeling Considerations
Deviating from recommended combinations of printers, labels, ribbons, and wristbands can cause quality problems that compromise the effectiveness of a patient safety program. As a result, it is important that healthcare providers take steps to match printers with the correct supplies.
In addition, while one or two printers may satisfy all labeling needs, each application may require its own label media. Adhesives and protective coatings designed for the pharmacy, for example, may not serve specimen sample labeling.
Unit-Dose Labeling in the Pharmacy
The most common use of barcodes in the pharmacy involves labeling unit-dose medications, which pharmacists scan to verify the NDC (National Drug Code) number and record the medication dispensed in the pharmacy information system. The same barcodes used for automated dispensing also drive bedside medication administration applications, which are at the heart of barcode-based patient safety programs.
For most medication safety programs, pharmacists will need on-demand printers to create patient-specific barcode labels for medications prepared especially for individual patients. Beyond custom identification, pharmaceutical packaging and marking systems already use integrated thermal printers in a variety of ways:
Repackaging equipment efficiently prepares unit-of-use packages from bulk liquids and oral solids. For repackagers without barcode printing capability, separate printers can create labels for manual application.

For labeling irregularly shaped objects such as syringes, vials, and ampules, overwrapping is a barcoding option. If performed in-house, labels may be printed on demand.

Automated dispensing systems rely on barcoded medications and cassettes for their selection and counting processes. With a barcode system, pharmacists can create labels for medications to be loaded into automated dispensing machines.
Medication Administration
The cornerstone of medication administration safety is the principle of the five rights — right medication, right dose, right time, right patient, and right route. At the time that medications are administered, nurses scan barcodes on their own ID badges, patient wristbands, and medication-specific unit-dose labels. This assures an identical match between patient and medication, and also identifies the clinician administering the medication.
The system is supported by software that confirms the medication to be dispensed matches the order for the patient. The encoded NDC number provides the medication strength and other system needs, but does not reflect the prescribed dose. The software checks the NDC data against the prescription order and then issues an approval to dispense or an alert. Data about the patient and the medication at the point of care is critical to the success of such a program and must be accessible in a clear, easy-to-scan barcode that expedites rather than impedes the clinical activity of hospital staff.
In recent years, the use of barcode technology for medication administration has grown significantly. According to a 2006 survey from the American Society of Health System Pharmacists (ASHP), 9.4% of hospitals currently use barcoded medication administration, up from 4.4% in 2004 and only 1.5% in 2002.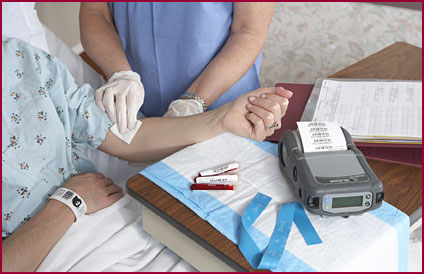 Mobile bar code printers can produce specimen identification labels at the point of care.
Photo courtesy of Zebra Technologies
Labeling Specimens
Sample labeling at the bedside represents a small but growing application of barcoding for patient safety. Prior to taking a sample, a nurse scans the patient's wristband. Through a mobile computer, the system verifies that the sample is needed. Using patient and test order data, a mobile printer produces a barcode label, which the nurse applies immediately. In the lab, technicians scan the barcode, reducing the chance for sample identification error, and saving time on data entry.
The three essential components for point-of-care labeling include a mobile computer for access to real-time orders; a small, lightweight printer; and label media that will survive testing and storage. Printers should be fast, built to withstand occasional drops, and able to produce single labels on-demand.
Ensuring Success
Beyond software, healthcare organizations face a number of important decisions when deploying barcode applications. Printers, symbologies, wristbands, and label media all work together. Because there are so many choices, each organization's solution will probably represent just one of thousands of possible options. A specialist in barcoding materials and management can help users find the right combination for their organizations. Through the use of an effective barcode strategy that combines the best software and hardware components, today's hospitals can achieve true digital and clinical transformation — making healthcare faster, better, and safer.
---
Debbie Murphy is global practice leader, Life Sciences at Zebra Technologies, a global provider of on-demand specialty print solutions for the healthcare industry. She is also a member of the HIMSS Auto ID Task Force and may be contacted at dhmurphy@zebra.com.
References
Pedersen, C. A., Schneider, P. J., & Scheckelhoff, D. J. (2006, February). ASHP national survey of pharmacy practice in hospital settings: Dispensing and administration — 2005. American Journal of Health-System Pharmacy, 63, 327-345.