Analyses
Medication Safety
A Lot Happens When You Report a Hazard or Error to ISMP—There's No 'Black Hole' Here!
By the Institute for Safe Medication Practices
ISMP is nearing the end of its 25th anniversary as the nation's only nonprofit organization devoted entirely to medication error prevention. As we reflect on our accomplishments over the years, we recognize that you, too, have been pivotal to our successes because you have reported medication hazards and errors to us, bringing attention to significant medication safety issues. Every report is indispensable to us, and we want to assure you that the reports you submit never fall into a "black hole," irretrievably lost and never to be seen again. To demonstrate this, we want to share with you all that happens when you report a hazard or error to ISMP (summarized in Figure 1 below), whether it's face-to-face, via email or a phone call, or through one of our three error reporting programs—the ISMP National Medication Errors Reporting Program (ISMP MERP), the ISMP National Vaccine Errors Reporting Program (ISMP VERP), and the ISMP Consumer Medication Errors Reporting Program (ISMP C-MERP).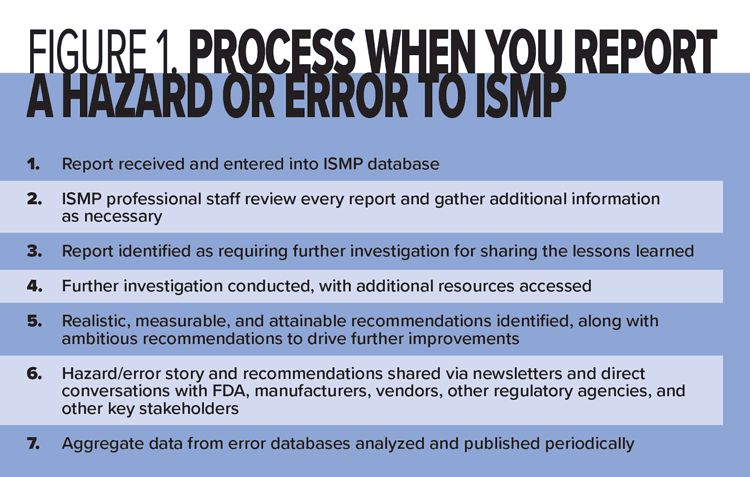 Initial review of reports
When ISMP receives a hazard or error report, it is entered into one of our databases and initially reviewed by an ISMP nurse or pharmacy technician analyst. Since most reports submitted to ISMP include the reporter's email address, ISMP sends an email to the reporter to confirm receipt of the report and to thank him or her for reporting.
After redacting any identifying patient and/or facility information, our nurse or analyst distributes all reports and any accompanying pictures or attachments through a secure portal to all ISMP interdisciplinary professional staff. The professional staff review every report and often share comments on the topic with each other through the portal; identify similar hazards, errors, or related resources; suggest questions to ask the reporter to better understand the report; and make recommendations for mitigating the risk. Many reports incite conversation among ISMP professional staff so we can all understand the reported risks and underlying causes.
Depending on the level of detail provided in the original report, our nurse or analyst (or another ISMP professional) sends specific questions to the reporter so we can learn as much as possible about the event and its causes. In addition, each report is shared with the FDA and the manufacturer(s) of the involved product(s), with or without the reporter's contact information based on his or her permission. If the hazard or error involves a device or technology (e.g., electronic health record, electronic prescribing system, dispensing or workflow system, drug information system), we will also notify those companies about the reported hazard or error. More often than you might think, it is these reports from you that trigger the FDA, the manufacturers, and/or the device/technology vendors to investigate further, searching their own databases for similar errors and taking action when necessary.
Identifying reports that require further investigation and sharing
After initial review of every report, a team of ISMP interdisciplinary professionals decides if the reported event requires further investigation for advanced learning and possible sharing with the healthcare community. The single most significant factor that leads to further investigation and sharing of the lessons learned is the ability for anyone in the healthcare community, including patients, vendors, and regulators, to take a specific action to prevent or reduce the risk of a similar error, or to mitigate potential patient harm if an error happens. The ISMP team also takes other criteria into consideration when deciding which events require further investigation and sharing, including whether the hazard or error is new; involves a common or unusual contributing factor; can cause, or has caused, patient harm; or requires action by an external organization (e.g., FDA or other regulator, manufacturer, vendor, licensing agency, legislature).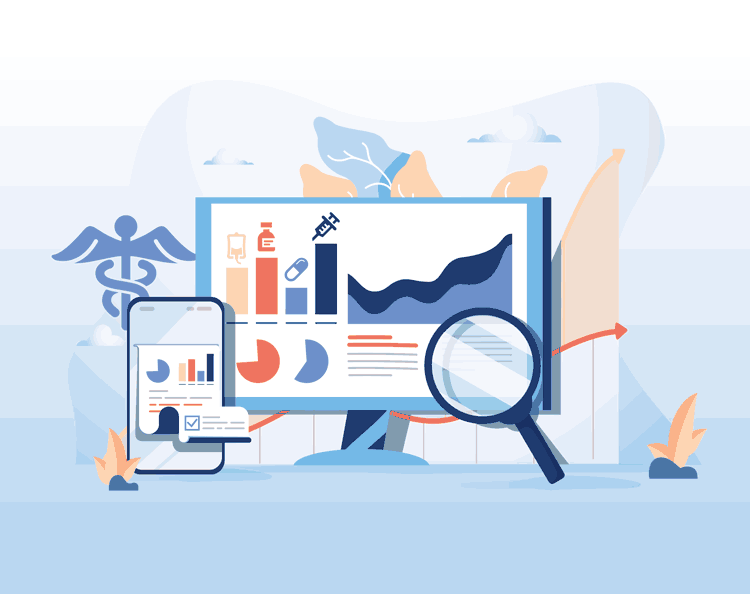 Further investigation of hazards and errors
Once the ISMP team decides which hazards and errors require further investigation, they often start by reaching out again to the reporter to learn more about the event, ask clarifying questions to identify personal- and system-based performance shaping factors, and support the reporter as necessary. After conducting professional literature, drug information, and/or ISMP error-reporting database searches, the ISMP team often searches our published guidelines and newsletters to identify associated ISMP recommendations. Occasionally, the team holds an interdisciplinary ISMP professional staff meeting to further discuss a hazard or error, its causes, and recommendations.
The team may also seek out expert advice from established advisory groups that have extensive knowledge in key subject areas, such as healthcare technologies, current clinical practices, and specialty populations and/or healthcare settings, who can help us understand specific risks and errors from various points of view. Or, for additional information on product, practice, device, or technology issues, we may contact a patient safety or specialty organization such as ECRI Institute, the American Society for Parenteral and Enteral Nutrition (ASPEN), the Infusion Nurses Society (INS), or the Pediatric Pharmacy Association (PPA); a professional organization such as the American Society of Health-System Pharmacists (ASHP) or the Anesthesia Patient Safety Foundation (APSF); and/or a standards-setting organization such as The Joint Commission or USP.
The ISMP team also speaks directly with FDA staff, particularly with professionals in the FDA Division of Medication Error Prevention and Analysis (DMEPA), who may also conduct a search of the FDA Adverse Event Reporting System (FAERS) for similar errors and, under a memorandum of understanding (MOU), share the redacted results with ISMP. In fact, ISMP holds monthly calls and two semiannual face-to-face meetings with FDA to follow up on these reported hazards and errors.
As appropriate, the ISMP team also contacts the product manufacturer, medical device vendor, or technology vendor to directly discuss the hazard or error, to query whether the company is aware of any other similar reports, and to make recommendations to prevent further risks. The ISMP team may use professional listservs to ask questions and/or visit local facilities to learn more about involved technologies and processes. On occasion, we have even conducted a survey to learn more about a specific type of error that has been reported to ISMP. To cite one recent example, we just finished conducting a survey on newborn naming conventions after a series of related errors were reported to ISMP.
ISMP recommendations
Based on the results of the investigation, the ISMP team identifies recommendations to prevent the hazard or error, reduce the risk, and/or mitigate patient harm. To do this, the team searches current ISMP guidelines, professional organization recommendations, regulatory or accrediting standards, and professional literature for associated recommendations, and may seek the advice of an expert advisory group.
While ISMP's primary focus is on a few well-thought-out, high-leverage, long-term recommendations that are realistic, measurable, and attainable with reasonable resources, ISMP is comfortable with making challenging and ambitious recommendations that cannot be achieved by incremental or small improvements but instead require going beyond current capabilities and performance. Because ISMP is not a standards-setting organization, we sometimes make ambitious recommendations to drive practice, process, and technology improvements.
For example, despite a current lack of capabilities, ISMP has made recommendations to electronic order entry systems and automated dispensing cabinet (ADC) vendors to develop an algorithm that requires search criteria that will result in only one drug name appearing in a drop-down menu (or to require a minimum of five letters for drug name searching). Despite the complexities with making label changes, we have called upon FDA to require a change in the labeling of vinca alkaloids that removes possible administration via a syringe in favor of administration via a minibag. Despite a preponderance of current practice, we have steadfastly recommended that practitioners avoid diluting or reconstituting IV push medications by drawing up the contents into a commercially available, prefilled flush syringe of 0.9% sodium chloride. And pushing the envelope with our recommendations has often worked! Regulatory agencies, vendors, manufacturers, practitioners, and providers have often stepped up to the plate to support ISMP's recommendations, even if it takes time and effort, because they recognize it is best for their patients.
Sharing the lessons learned
If the hazard or error and ISMP recommendations are important to share with the healthcare community for learning, ISMP's primary vehicles are publication in one or more of our five subscription-based newsletters—the ISMP Medication Safety Alert! Acute Care Edition, the ISMP Medication Safety Alert! Community—Ambulatory Care Edition, Nurse AdviseERR, Long-Term Care AdviseERR, and Safe Medicine (for consumers). ISMP's reach with our newsletters is wide, with practically all U.S. hospitals subscribing to the acute care publication, along with thousands of community pharmacies, hospital nurses, long-term care facilities, and consumers subscribing to various editions of our newsletters, many of whom redistribute the newsletters to others within their facilities. International providers and organizations, accrediting and standards-setting organizations, the FDA, and product manufacturers/technology vendors also subscribe to our newsletters. Urgent medication advisories that require more immediate notification of healthcare providers may be published first in a National Alert Network (NAN) alert that is also distributed widely to both ISMP newsletter subscribers and others.
To share the lessons learned, we contextually de-identify the hazard or error story and describe the underlying causes to provide a solid rationale behind the recommendations we make. The stories make the hazard or error memorable and impact the likelihood of implementing the recommended practice, process, and system changes. Before publishing, each story and accompanying ISMP recommendations are reviewed by all ISMP professional staff as well as an external peer-review expert advisory group, which has been specifically recruited for each of the publications.
While the frequency of reports may decrease once ISMP has published an article on a specific topic, we sometimes get repeated reports about the same risks and similar errors. Assuming that everyone has not read about the hazard or error, or implemented the recommendations, we may publish a reminder if the event causes, or may cause, patient harm.
Analyzing aggregate data
Periodically, ISMP analyzes aggregate data from our error-­reporting databases, particularly based on topics that arise during event investigations, the many questions that we receive via email, or for specific drugs or settings of interest based on reported events. For example, we recently analyzed all reports involving intravenous (IV) oxytocin after a string of recent errors was reported and our sister organization, ISMP Canada, published an analysis of all oxytocin errors reported in Canada. Earlier this year, we analyzed all reports submitted to ISMP involving smart infusion pumps to inform our forthcoming updated guidelines. We have also published articles on the aggregate vaccine errors that have been submitted to the ISMP VERP during a specified period, focusing on a specific, identified area of risk.
Conclusion
While ISMP's subscription-based newsletters are an ongoing funding source, management of our three reporting programs, professional staff review of all submitted reports, and further investigation of specific reported hazards and errors are unfunded activities, despite consuming significant time and resources at ISMP. However, we consider these activities to be our lifeblood, and we sincerely thank all who report hazards and errors to ISMP. We recognize that it takes time for you to report these events to us and to answer our questions during investigation of these events. We understand that you report hazards and errors to ISMP for altruistic reasons—to keep patients safe—and that you expect ISMP to act on those reports. We want you to know that each report is important to us, reviewed by ISMP professional staff, and many are investigated further with the prospect of sharing the lessons learned.
Furthermore, our impact on effecting change based on these reports has been immense. Through your reports, we have worked with FDA and manufacturers to change hundreds of product labels to reduce confusion and mix-ups, and we have stimulated new product standards that have affected hundreds more. We have worked with many technology and device manufacturers to build safer medication systems and devices. We have collaborated with professional, accrediting, and regulatory agencies to establish reasonable and effective safe medication practice guidelines and standards. We have conducted national summits to bring key stakeholders together to adopt expert- and evidence-based guidelines on complex topics such as interoperability of smart infusion pumps with electronic health records. We have successfully petitioned standards organizations to change confusing dose presentations (e.g., ratio expressions). We have worked with practitioners to implement our recommendations through various self-assessment and gap analysis tools.
And we clearly have you to thank for these successes—please keep reporting hazards and errors to ISMP (www.ismp.org/error-reporting-programs)! *
From the November 7, 2019 issue of the ISMP Medication Safety Alert! Acute Care Edition.