Analyses
Infection Control, Patient Safety, Team Training
5 Types of PPE and How Your Staff is Misusing Them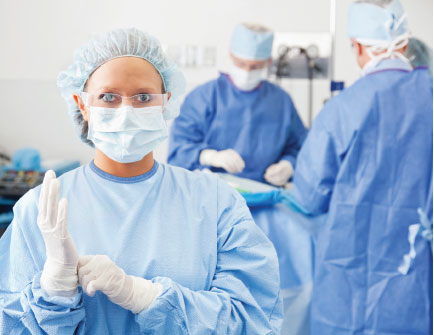 By John Palmer
Train your workers how to use the tools that protect them.
One of the first things that a student learns in medical school, one of the first thing a worker learned on the job, and perhaps the most important thing you, as a safety professional can be a pest about with your employees, is the importance of proper on-the-job protection.
PPE is essentially what stands between a healthcare worker and debilitating (and possibly career-ending or life-threatening) diseases or injuries. In the old days of medical clinics and healthcare workers, there are plenty of war stories about how patient care was often done without proper protection, and because of that, many have needlessly contracted diseases from needlesticks, exposure to bloodborne pathogens, and spills from hazardous chemicals.
Over the years, PPE—and standards from OSHA and other regulators—have been developed to help reduce and prevent workers from getting hurt or sick on the job. Yet, every year, we hear more about how healthcare workers have some of the highest workplace injury rates in any industry in the United States. To make things worse, every so often an illness rarely, if ever, seen in the U.S. makes its way into the country's healthcare facilities (think MERS in 2012 or Ebola in 2014) and changes the way the healthcare community looks at PPE. In addition, training often takes a back seat because of shrinking budgets and lack of time.
"PPE does not remove the hazards; it protects the individual," says Marjorie Quint-Bouzid, MPA, RN, vice president, patient care services/chief nursing officer and emergency manager for Fort Washington (Maryland) Medical Center. "Healthcare organizations must continue to attempt to mitigate potential hazardous situations or practices as the first line of defense."
That's easier said than done. Mitigating hazardous situations or practices assumes that your workers are doing the right things in the first place. Some of our healthcare security experts shared some of the most common PPE mistakes they see made in clinics, and what needs to change.
Gloves  
Simple latex (or more commonly, nitrile) gloves are perhaps the easiest and most widely used PPE in the healthcare environment (along with masks and goggles) today. With the advent of OSHA's 1991 Bloodborne Pathogens standard and the subsequent Needlestick Prevention Act in 2000, wearing protective gloves became a ubiquitous part of the PPE arsenal in healthcare.