September / October 2005
Q & A

---
CPOE:
Help or Hindrance?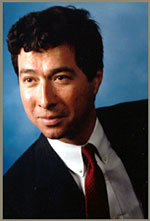 Manuel Lowenhaupt, MD, is a partner in Accenture's Health & Life Sciences practice and is internationally noted for his work in clinical transformation, care management, and clinical informatics. Dr. Lowenhaupt focuses on physician adoption of new information technology, and his work includes redesign of clinical processes and creation of efficient utilization models. In his 15 years of leading clinical information systems projects, Dr. Lowenhaupt has worked with more than 120 healthcare organizations in the United States, Canada, Europe, and the Far East. His work in CPOE has focused on improving clinical outcomes, operational performance and user satisfaction.
Patient Safety and Quality Healthcare (PSQH) had the opportunity recently to talk with Manuel Lowenhaupt, MD, about the effectiveness of computerized provider order entry (CPOE) as a safety tool and opportunities that the technology offers.
PSQH: At least two studies published recently, one in JAMA in March (Koppel, et al.) and one in the Archives of Internal Medicine in May (Nebeker et al.), reported that use of CPOE increases the incidence of medication errors. What's your take on these findings?
ML: I think the studies highlight some challenges and very helpful warnings. I'm concerned that study findings of this kind, especially taken out of context, can be used by those who are interested in maintaining the status quo. The results can be presented as a reason why we should not continue to invest and grow in this direction. The good news is that these studies can more appropriately serve as tools to help us design better systems. All the issues raised by the studies are highly addressable. None of the findings make us believe that organizations should not plan, design, implement, and use CPOE systems.
Actually, I'm very comfortable with these studies. Many of the organizations we serve have perceived some of these same challenges and designed their systems accordingly.
With such a complex process of care delivery, we should expect challenges. The findings serve as guideposts on the road, warning us of the possibility of fallings rocks, but they should not prevent us from going on the journey.
PSQH: Problems with CPOE are sometimes blamed on clinician resistance during implementation. How significant is that problem?
ML: I see two themes in any implementation of computerized order entry. The first is the technical theme: Does the computer do the things we want it to do? Is it fast and responsive? Is it easy to find what I need to do my job? The second is the social component, which has to do with how collaborative, aligned, and functional we are as a medical community, hospital, or physician group. How comfortable are we with making quick decisions and using models that allow us to leverage and align our behavior with larger organizational goals.
What is described as "clinician resistance," often simply has to do with the challenge of being a physician in 2005. Incentives are mis-aligned, and there are often problems with our morale. Look at whether or not doctors and nurses are happy about their professional lives, and you will see some opportunities around satisfaction. In my view, calling it "clinician resistance" oversimplifies the nature of the problem. Projects like this reflect our current organizational state. If we are working well together and communicating seamlessly, we will have easy implementation of these projects. On the other hand, if we are not making collaborative decisions, if we are misaligned, projects like CPOE shine a bright light on our dysfunction. That is the component I worry about a great deal.
One of the key problems is the disconnect between those that need to make an investment of time, training, etc., and the perception of those who will benefit from that investment. If the benefit goes to the hospital, so they can score well on some external report card, or get a Leapfrog check mark, that's something that a clinician may not feel directly connected to. So the incentives for changing behavior may be limited. If the benefit can be reconnected to those who need to make all the changes, that's where you get your traction.
PSQH: On one hand, that sounds very hopeful. You describe an attractive "alignment" of individuals and organizations, but the changes required are daunting.
ML: I would also offer that part of the reason people implement CPOE is to make it easier to take good care of their patients. That's the fundamental theme. If we can make it easier for busy nurses, pharmacists, and doctors to do a good job, then we're doing the right thing. And especially if I can show that front-line healthcare provider that CPOE will help them help their patients. That is something that is often done poorly during implementation. When we go back to mature sites, hospitals that have had CPOE for a while, I often hear doctors and nurses say that now they can't imagine working without CPOE.
PSQH: It sounds like preparation for implementation is very important. How can a hospital tell if it is "ready" for CPOE? What can they do to insure a successful implementation?
ML: I stress three things that will greatly increase an organization's chances for success with these systems:
1. If you are planning to put a clinical system in place, you must have clinicians in positions of ownership. They must not think that this is being done to them. People tend to be much more patient and forgiving with challenges that they chose, rather than something that someone else chose for them.
2. Be very thoughtful about how you approach the planning process. Base it on realistic expectations. Build in lots of contingency plans. Assume that the whole process will take longer than you might like.
3. Approach your vendor with a conservative point of view. Some vendors will indulge in what I call "future truths." They aren't being dishonest; what they say will be true, it's just not quite true yet. I would be very careful to understand what's available now, and what will be available when I need it. You want to avoid being disappointed by the system's current capabilities.
Also, think about the nature of the organization. Don't use this project — CPOE or any other complex clinical system — to try to "fix" medical staff relationships or other things that may be broken in the organization. Fix relationships before you begin the project because these are not the best projects for building trust relationships. Build the collaborative culture first and then begin the project. Or, if you anticipate that a project is gong to reveal problems, you must build time into the process to deal with them. This again, is the social component. I would focus on the social element as I prepare to initiate a project.
PSQH: What do you estimate is the current percentage of hospitals in the U.S. with CPOE systems? Do we know how many of the systems currently in use include decision support?
ML: When I look at surveys, I see a range of estimates: 5%, 10%, 15%, even 20%. Some of the range reflects different answers to the question, "How do you define CPOE?" Regarding decision support, I would rephrase the question and ask how many organizations are actually achieving benefits from CPOE. That's what interests me the most, and unfortunately, I think the percentage is small at this point. Certainly, there are hospitals across the country measuring and recognizing benefits from their investment, but there is a much larger number that are too early in the journey to show those results.
One of the ways you can build the system it to basically match the existing care model. Some would say that this is an easier implementation because you don't butt up against clinicians who feel that their choices have been limited. Others would say you're just paving the cow path. And I would agree that you're not truly building value with your investment if all you do is automate current practice.
If you're going to get benefit from this investment, you have to step up to building evidence-based order sets and rules, build in some decision support models that offer some challenge to your practice model or you're simply going to support business as usual. If you computerize an inefficient care delivery model, what do you get? A computerized inefficient care delivery model. My goal would be to optimize as best I can care delivery and then build a computer based model that supports that optimized process.
The percentages are still low. The good news is that those pioneers are seeing significant benefits. Look at the VA system; they would describe significant benefits from CPOE. There are growing numbers of hospitals that have made the investment and are starting to see results. It's a long journey, two to four years or more, from the beginning of the process until we see patients getting better quicker. There are tremendous opportunities to deliver those benefits. You mentioned some studies with negative findings; there are also studies being published that point to the value of these systems. I think we're at a "tipping point" with CPOE. You will not be delivering quality care in the future without a CPOE system.
PSQH: Looking to the future, do you see developments in the technology of CPOE that will make a significant difference?
ML: I'm very excited about incremental improvements and potential for more revolutionary changes in the technology. Some of the incremental changes involve tools that make technology more user friendly, which other industries use and which are rapidly being incorporated in healthcare. Specifically, log-in tools, proximity cards, biometric identification. No longer will you have to remember a password that changes every 60 days. Touch a device with my index finger or show it my right eye, and, low and behold, it knows who you are! Very quickly, you're logged into the system at the level of being able to care for patients. I think that's one of the barriers that we're gaining on, but we're not there yet. It's going to take a little while. Some of the delay is because of the investment cost; all of these things take money.
Other incremental changes have to do with increased speed of networks, the ability to store burgeoning amounts of data, especially around images. It's very exciting because these advances mean more rapid response. More quickly getting everything needed to care for the patient in a single point of access.
Beyond that, one of the things that is talked about a great deal is voice recognition. Certainly I have organizations that are using it for a variety of applications. I don't assume that it's the panacea. It's not going to solve all of our interface problems. But, there will be a continued growth of voice recognition applications. In the same mode, there will be increased use of the smaller devices, whether it's a PDA or a mini-laptop in a wireless environment. None of these are magic wands, but in certain applications, they can improve the ease of use of the system. I expect that there will continue to be incremental changes on the hardware and software side.
On the technology itself, we are getting much better with sophisticated physician support. Matching more accurately what it is that really helps me be a better doctor and not annoy me with unnecessary alerts, creating what we call "alert fatigue." There are significant opportunities to tune these functions of warnings, alerts, and reminders more useful. I'm very excited about where the technology is going. We're still on the steep part of the value curve. We haven't reached the point at all where we've plateaued out.
PSQH: You're talking about CPOE, but it seems that your comments could apply to most of the technologies being adapted to clinical and safety-oriented functions.
ML: I don't look at CPOE as an isolated application. When organizations consider investing in CPOE, I hope they are looking at a whole suite of functions that allow busy doctors to view their computers as the primary source of information as well as activities associated with care delivery. I'm very interested in the one-stop experience for clinical systems.
---
References

Koppel, R., Metlay, J. P., Cohen, A., Abaluck, B., Localio, A. R., Kimmel, S. E., & Strom, B. L. (2005). Role of computerized physician order entry systems in facilitating medication errors. Journal of the American Medical Association 293(10), 1197'1203.
Nebeker, J. R., Hoffman, J. M., Weir, C. R., Bennett, C. L., & Hurdle, J. F. (2005). High rates of adverse drug events in a highly computerized hospital. Archives of Internal Medicine (165)10, 1111-1116.