May / June 2007
Improving Safety with Barcode-Enabled Medication Administration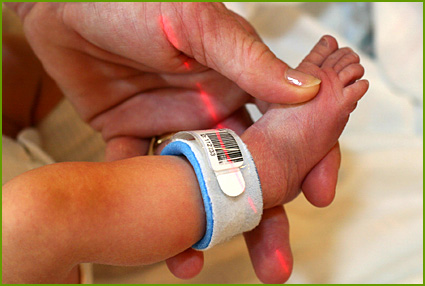 Photo Courtesy of HCA
In its landmark report, To Err Is Human (2000), The Institute of Medicine (IOM) estimated that between 44,000 and 98,000 patients die each year as a result of medical errors. In a more recent report, Preventing Medication Errors (2006), the IOM stated that at least 1.5 million preventable adverse drug events (ADEs) occur in hospitals nationally and that the additional costs of treating iatrogenic drug-related injuries conservatively amount to $3.5 billion per year. The resulting harm is greater and more costly than the original report estimates. These reports compel the healthcare community to action.
In February 2000, Hospital Corporation of America (HCA) decided to initiate the HCA Patient Safety Board as its first response to To Err Is Human. The Board's charge was to define a plan to create a culture of patient safety in the HCA organization. They set the following goals:
Establish a philosophy where patient safety is defined as a visible commitment to putting patients first.


Move from blaming people to improving processes.


Improve the use of technology to prevent and detect error.


Use data to identify and measure improvements.
The Patient Safety Board — composed of physicians, administrators, nurses, pharmacists, and corporate leadership — met from May through October 2001 to develop the first phase of the HCA Patient Safety Initiative, "Improving Medication Practices."
The electronic Medication Administration Record (eMAR) & Bar Coding system, HCA's point of care medication administration strategy was deployed to all HCA hospitals, more than 170 acute care facilities, to prevent medication errors from reaching patients. eMAR & Bar Coding — multimillion dollar patient safety technology — is a tangible execution of the third and fourth HCA patient safety goals: to improve the use of technology to prevent and detect error and to use data to identify and measure improvements.
eMAR & Bar Coding are tangible executions of the third and fourth HCA patient safety goals: to improve our use of technology to prevent and detect error and to use data to identify and measure improvements.
The concomitant implementation of an information technology solution (eMAR) paired with item-specific identification (Bar Coding) enables the user to administer medications with general confirmation of the Five Rights of medication administration: right patient, right dose, right route, right time, and right medication. The system utilization at the bedside provides more precise patient and medication information resulting in improved communication between the pharmacist managing the patient medication list and the caregiver administering medications. Hospital-wide installation of eMAR & Bar Coding yields a comprehensive record of the medications administered to patients and embeds a structure which, when monitored through a performance improvement (PI) plan, reduces medication errors that may potentially reach the patient at the bedside.
Today, the eMAR & Bar Coding System is live in all acute care HCA-affiliated facilities including preoperative and postoperative areas and radiology and emergency departments in approximately 60 of HCA's acute care facilities.
Early Stages
Recognizing that changing the culture of a corporation is paramount to changing its processes, along with integration of subject matter experts, the HCA Patient Safety Culture Awareness Campaign began within HCA in 2001. The campaign extended to 100,000 hospital staff members and 10,000 physicians, who were educated through the viewing of Anatomy of an Error (n.d.), Beyond Blame (1997), and First, Do No Harm (2000), educational videos that advocate creation of an organization-wide, transparent, blame-free culture as a step toward improving processes. Additional tools included a companywide educational strategy where hospital leadership (Chief Executive Officer, Chief Nursing Officer, Quality Director, Pharmacy Director and Physician Champion) met with colleagues in three regional locations. The regional meetings included education on the roll-out plan for "Improving Medication Practices," with a focus on disclosure, non-punitive reporting environments, and role-based training. The participants were also provided a reference notebook of literature and training materials as well as planning time. Later in the roll-out, executive leaders were provided a guide influenced by Kaiser Permanente's work for Patient Safety walk arounds. The executive guide was updated to include the following suggested questions related to eMAR & Bar Coding:
Do you believe there are programs in place that can prevent medication errors from occurring in our hospital?


Do believe eMAR & Bar Coding is a system that allows you to provide safe patient care?


What would improve the effectiveness of the eMAR & Bar Coding system?


Have you been given the opportunity to share feedback related to the eMAR & Bar Coding system?
Corporate guidance regarding policies on disclosure, and the inclusion of patients and family members in the care plan was also provided.
While the awareness campaign was conducted, software for the eMAR & Bar Coding system was co-developed with the source vendor, tested, and validated. After several revisions, the final product was launched at the first pilot site in January 2002. Immediately upon implementation, three things became apparent:
technology cannot overcome inefficient processes;


commitment at all levels, including senior leadership, is vital to the success of this project; and


integration of all subject matter experts is imperative.
The pilot continued for two months, and upon its success, additional facilities began implementing the eMAR & Bar Coding technology. Eight facilities went live in 2002. As additional facilities went live, new lessons were shared with existing sites and incorporated into the project plan for future sites.
Project Structure
All facilities participated in a guideline-driven, self-directed improvement schedule to accomplish the pre-work necessary to be ready for eMAR & Bar Coding implementation. The pre-work involved:
completing cultural awareness surveys and education;


ensuring that every patient receives an armband with a barcode;


installing pharmacy packaging and labeling equipment;


creating current process flow charts and conducting a gap analysis; and


modifying medication administration policies to incorporate technology.
The 6-month project timeline began with regional "kick-off" meetings. These meetings were held at division locations with the purpose of level-setting the facility project team, identifying opportunities, and setting timelines and expectations.
Each facility formed a multidisciplinary steering committee for interdisciplinary dialogue and decision-making to address needs across the continuum of care. The core team members included administration, nursing, pharmacy, respiratory, information systems, education, quality, and risk staff. Additional disciplines such as plant operations and dietary were included as needed. The first task of the multidisciplinary team was to determine the facility project lead and executive sponsor. An additional team member was assigned from the corporate office to serve as a project and subject matter expert support lead. Additionally, the corporate role served to assist in incorporating lessons learned and streamlining the implementation process.
The project plan outlined required deliverables for each activity. Key milestones in the project included pre-implementation measurement, project planning, on-site training visits, go-live support, post-go-live support, and post-implementation measurement. Each facility core team met at least weekly to identify issues and determine facility solutions. In an effort to spread the corporate learnings and stay accountable to the six-month timeline, conference calls were held every other week with the corporate team lead.
Staff training at each facility was conducted in a classroom setting, with 4 hours of training for "super users" and 2 hours for end users. Super-users were available at least during the first 24 hours of go-live to provide a caregiver administering medications one-on-one support during medication administration passes. Most facilities provided one super user per two nurses administering medications during the go-live. This strategy yielded expert users of the system that were able to move from care area to care area as the system roll-out continued. The majority of super-users were nurses, but several facilities utilized respiratory therapy, pharmacy, and information technology staff as well. Over time, anyone correctly and consistently using the eMAR & Bar Coding system could be identified as a super-user.
HCA Go-Live Lessons include:
Senior leadership support is imperative for driving change and implementing new technology.


Interdisciplinary communication is necessary for successful adoption of the new technology.


The eMAR & Bar Coding system provides the caregivers with seamless flow of patient information throughout the continuum of care.


Inefficient processes or decisions are immediately apparent upon implementation of the technology.


All medications should be barcoded individually with a viable barcode.


Encouragement, not the threat of punitive action, leads the way to successful adoption of a positive safety culture.
The implementation encompassed several improvement cycles and required constant review of "lessons learned," which were then incorporated into the project plan. The practice recommendations for medication system process improvement are outcomes of ongoing small cycles of change utilizing the Plan-Do-Study-Act (PDSA) process.
Today, hospital executives support using technology in the administration phase of the medication continuum, resulting in error reduction at the bedside. Support is demonstrated by embedding accountability and establishing process improvement through three leading strategies. First, each hospital administration designates an eMAR coordinator to serve as a single point of contact to facilitate improved multidisciplinary communication for shared learnings across the corporation. Second, hospital executives incorporate questions about barcode-enabled bedside medication administration in executive walk around scripts to allow staff to illuminate opportunity and strengths in the system process. Third, executives support an advisory committee composed of subject matter experts at the hospital, division, and corporate levels. Modes of communication used to share best practices and enhancements include yearly division meetings, monthly conference calls, and quarterly Web casts.
Practice Recommendations
Embedding the culture of safety requires ongoing evaluation of practice and recognition that there are generic liabilities of any system relying on the interface between humans and machines. The provision of absolute forcing functions is dependent on a comprehensive electronic process to meet needed safety checks. It is important to recognize eMAR & Bar Coding in itself does not address all safety concerns in the medication continuum; a pharmacy information system and computerized physician order entry assist in completing the technology circle.
One area of opportunity we have identified is the need for computerized physician order entry (CPOE). The initial roll-out of safety technology within HCA facilities employed a pilot strategy where concurrent project plans for CPOE and barcode-enabled bedside medication administration implementation were employed in separate HCA facilities. The barcode-enabled bedside medication administration implementation was completed on a more aggressive timeframe due to differences in project complexity. Today, HCA continues to support the original CPOE effort while organizing for implementation of CPOE across the continuum of care.
The timing of technology implementations for medication ordering and administration processes should include a risk-benefit analysis where paper enabled processes and electronic enabled processes are compared. While the ideal implementation includes the utilization of a pharmacy information system, a barcode-enabled bedside medication administration system (eMAR & Bar Coding), and CPOE, there are risks to waiting until concurrent implementation can be realized. The Institute for Safe Medication Practices (ISMP) has supported bedside medication preparation for years. Bedside preparation coupled with barcode-enabled bedside medication administration provides the caregiver concurrent decision support, ensuring the best outcome in the episode of care. Automation and computerization at the bedside provides the caregiver with information to consider before the medication is ingested, thereby presenting information that can signal a potential serious event. For example, more than one tablet of the same medication is often required to make a complete dose. Computerization at the bedside prompts the caregiver to verify each dose for accuracy. Additionally, bedside preparation and administration allows for decision support during the patient identification process, allowing the caregiver to verify the episode of care is indeed intended for the patient in question. Positive patient identification involves scanning the armband secured on the patient's wrist for validation. Finally, environmental distractions and interruptions are minimized, allowing the caregiver more opportunity to spend more time with the patient, communicating and educating.
Quality control for viability of the barcode by pharmacy embeds a trust in the system. Upon receipt of medications through distribution channels, a member of the pharmacy staff scans each medication to verify the barcode is viable and attached appropriately in the drug dictionary. This step is vital in supporting the reliability for the caregiver at the bedside.
The medication continuum paradigm shift to embed technology in the medication administration phase requires continuous monitoring to evaluate system utilization patterns and identify best practices. Currently, utilization performance indicators are monitored across the company. The next step in performance improvement involves a closer look at the system-generated warnings of wrong medication and wrong patient.
In 2006, approximately 136 million doses of medications were administered via the eMAR & Bar Coding system, providing approximately 2 million alerts to potential problems and 300,000 alerts of clinical significance. Increased communication between disciplines has resulted in decreased medication and treatment omissions. The optimization of eMAR & Bar Coding allows the creation of a uniform data set to address concerns in the medication continuum within HCA-affiliated hospitals, demonstrating HCA's commitment to safe, effective, efficient care.
---
Alicia Perry, is the assistant vice president of patient safety in the corporate quality department at HCA Hospital Corporation of America in Nashville, Tennessee. After receiving a doctor of pharmacy degree at the University of North Carolina at Chapel Hill, Perry completed a primary care residency at the VA Medical Center in Nashville, Tennessee. She is currently responsible for coordinating the development and implementation of safe medication guidelines for pharmacists, nurses, and physicians across the HCA organization. She facilitates technology adoption related to bedside scanning of bar coded medications (electronic Medication Administration Record and Bar Coding) within HCA facilities and participates in the development and adoption of electronic Provider Order Management (HCA's CPOE product). Perry serves as a resource for pharmacotherapy and medication safety needs and has provided training for continuous quality improvement as well as JCAHO preparation, and was a member of the first AHA/ Health Forum Patient Safety Fellow class.

Manisha Shah migrated from India to the United States in 1991. She began her healthcare career as a respiratory therapist in 1995. She has managed departments of more than 100 employees as well as worked in medical infomatics. In 2000, she joined the HCA Patient Safety team. She came from Sunrise Medical Center where she created an integrated respiratory therapy department focusing on enhancing, improving, and standardizing the RT practices. She developed and implemented an RT-specific information system leading to cost savings and effectiveness. Shah is currently responsible for progressive implementation of an Electronic Medication Administration Record, Respiratory Therapy tools and resources for patient safety technologies, phlebotomy, and blood transfusion process improvement projects, as well as the oversight of the utilization and optimization of eMAR & Bar Coding for all 190+ HCA facilities.

Jane Englebright, is vice president for patient safety at HCA. An expert in patient safety, Englebright has led HCA's numerous patient safety initiatives, including the company's perinatal safety, ED improvement, and medication safety programs. She has written numerous articles about medication safety and other topics related to patient safety, and she is frequently asked to speak on these subjects. In 2002, Englebright testified on proposed barcoding regulations before the Food and Drug Administration. At HCA, Englebright led the development and implementation of eMAR (Electronic Medication Administration Record) & Barcoding, the largest hospital-based barcode system to prevent medication errors. Englebright also oversees HCA's industry-leading Perinatal Safety Initiative, which improves safety for mothers-to-be and their babies. Englebright received her bachelor's degree from Western Kentucky University in 1979 and her master's and doctorate degrees in nursing from Texas Woman's University in 1984 and 1996. She serves as a member of the American Organization of Nurse Executives and the American College of Healthcare Executives.

References


Barker, K. N., Flynn, E. A., Pepper, G. A., Bates, D. W., & Mikeal, R. L. (2002). Medication errors observed in 36 health care facilities. Archives of Internal Medicine, 162.

Bridge Medical. (1997). Beyond blame: Solutions to America's other drug problem. Available from Institute for Safe Medication Practices (ISMP).

Bridge Medical. (n.d.). Anatomy of an Error.

Cohen, M. M., Eustis M. A., & Gribbins, R. E. (2003). Changing the culture of patient safetyŻ: Leadership's role in health care quality improvement. Joint Commission Journal on Quality and Patient Safety, 29(7).

Institute of Medicine. (2000). To err is human: Building a safer health system. L. T. Kohn, J. Corrigan, & M. S. Donaldson (Eds.). Washnighton, DC: National Academies Press.

Institute of Medicine. (2006). Preventing medication errors: Quality chasm series. P. Aspden, J. Wolcott, J. L. Bootman, & L. R. Cronenwett, (Eds.). Washinghton, DC: National Academies Press.

Johnson, C. L., Carlson, R. A, Tucker, C. L., & Willette, C. (2002). Using BCMA software to improve patient safety in veterans administration medical centers. Journal of Healthcare Information Management, 16 (1).

Leape, L. L. (1994). Error in medicine. Journal of the American Medical Association, 272 (23).

Partnership for Patient Safety. (2000). First, do no harm.

Patterson, E. S., Rogers, M. L., & Render, M. L. (2004). Fifteen best practice recommendations for bar-code medication administration in the veterans health administration. Joint Commission Journal on Quality and Patient Safety, 30(7).