Mercy, the seventh largest Catholic health care system, has selected patient safety and risk management software from Datix to give a comprehensive view of incidents, complaints and claims across the organization. After a thorough evaluation, Datix was selected as a result of its ability to aggregate patient safety data in real time. Datix's powerful dashboards and report writer will provide the Mercy leadership team and managers with the ability to access and drill down into data to allow faster decision making, further progressing the culture of patient safety throughout the organization.
Dr. Keith Starke, Mercy's chief quality officer, said, "Mercy is passionate about patient safety and technology. We were named as a 'Most Wired' health care organization last year by the American Hospital Association and were one of the first organizations in the US to have a comprehensive, integrated electronic health record to provide real-time, paperless access to patient information. The introduction of Datix will further enhance our ability to promote a culture of patient safety across the organization."
Mercy includes 45 acute care and specialty (heart, children's orthopedic and rehab) hospitals, more than 700 physician practices and outpatient facilities, 40,000 co-workers and more than 2,000 Mercy Clinic physicians in Arkansas, Kansas, Missouri and Oklahoma. The health care system receives around 10,000,000 inpatient and outpatient visits annually.
Dr. Peter Brawer, Mercy's vice president of quality, added, "Datix will make it much easier to record adverse and near miss events and incidents and enable analysis and meaningful reporting at all levels of the organization, including the leadership team. We will be able to look at trends, identify issues and risks, and rapidly address them to increase safety and prevent repetition. The highly configurable nature of Datix software gives Mercy a tool to accurately reflect its current and future patient safety culture and processes."
Datix brings transparency to patient safety data and its position as a leading global player includes large scale deployments in the US and Canada, 80% of the National Health Service in the United Kingdom and installations in other European countries, Australia and the Middle East.
John Scott, SVP Sales, Datix concluded, "We recognize the importance of data and analytics to Mercy as an organization. Datix is a proven patient safety and risk management solution with a long track record of helping healthcare managers make fast and effective decisions based on data and shared learning to help keep patients safe from harm."
DebMed® has announced the results of its 4th annual survey on the state of healthcare hand hygiene compliance. Results from more than 850 healthcare professionals throughout North America show that while improved methods for gathering reliable data with electronic hand hygiene compliance monitoring are known to contribute to increased hand hygiene compliance, competing healthcare priorities and budgets still hinder the widespread adoption of these technologies.
According to data gathered from more than 650 infection preventionists, nurses, and other healthcare leaders in the U.S., and more than 200 in Canada, the state of healthcare hand hygiene compliance and compliance reporting has remained consistent over the past year. Direct observation (DO) and secret shoppers still remain the primary methods used to measure and report hand hygiene compliance, while approximately 90% of respondents believe that the Hawthorne Effect over-inflates compliance rates.  Further contradictions reveal that more than 80% of respondents are not extremely satisfied with their data, yet only a very small percentage (1.6% in the U.S. and 4% in Canada) are using electronic monitoring for hand hygiene compliance. Taking that a step further, the contradictions are compounded by the fact that 76% of respondents in the U.S. and  67% in Canada believe electronic monitoring of hand hygiene compliance to be more accurate (Table 1).
Table 1.
| | | |
| --- | --- | --- |
| Respondents who: | U.S. | Canada |
| Use manual methods of direct observation or secret shoppers as the primary method to measure and report hand hygiene compliance at their facility. | 98% | 91% |
| Believe the Hawthorne Effect overinflates compliance rates | 88% | 91% |
| Are not extremely satisfied with the data they report | 79% | 89% |
| Use electronic monitoring as the primary method to measure and report hand hygiene compliance at their facility. | 1.6% | 4.4% |
| Believe electronic hand hygiene compliance monitoring to be a more accurate option than direct observation | 76% | 66% |
"Healthcare professionals working in infection prevention, nursing and patient safety are an informed and highly educated audience, looking to make positive change in a highly regulated, budget-intense healthcare environment," said Didier Bouton, president of DebMed. "Step one is awareness; knowledge of better options in hand hygiene to help healthcare facilities reduce costly and unnecessary hospital-acquired infections. And we believe we are on the brink of step two—a real movement for a significant shift in healthcare around hand hygiene measurement."
Change on the horizon
Looking ahead, feedback from the survey shows that change is underfoot. With reports citing that hospital-acquired infections cost healthcare $10 billion each year, hospital leadership is acknowledging a need for focus and change. Additionally, new penalties are in place in the U.S. and increasing through 2018; all four CMS programs include HAI-related measures. These factors likely contributed to the increase in C-suite awareness and action indicated by survey respondents (Table 2).
Table 2.
| | | |
| --- | --- | --- |
| Respondents who: | U.S. | Canada |
| Say their CEO would mention increased hand hygiene compliance as one of the top five priorities on which their organization is focused. | 60% | 82% |
| Have or are currently considering an electronic hand hygiene compliance monitoring system | 36% | 28% |
| Of those currently considering a purchase, have a budget—or are planning to include a budget—allocated to the purchase of an electronic hand hygiene monitoring system | 79% | 89% |
"Healthcare is a business focused on prevention and positive patient outcomes, and from a business perspective and a patient safety and wellness issue, a focus on improved hand hygiene compliance monitoring and reporting is a necessity," said Carrie L. Howard-Canning, associate vice president of patient care operations at Champlain Valley Physicians Hospital. "At CVPH, electronic hand hygiene compliance monitoring is a foundational element of our infection prevention program. Having real time, accurate, 24/7 data from the DebMed® GMS™ allows us to improve our quality of care. All of our leaders understand and support this philosophy."
Source: DebMed®
Spectra254, a provider of UVC light disinfection solutions, has released the Spectra 900 Series Overhead Cleaning System, a fixed decontamination system similar to a ceiling light fixture that kills MRSA, Clostridium difficile (C. difficile), and other pathogens.
Using three custom-built germicidal bulbs with protective FEP sleeves, the Spectra 900 Series Overhead Cleaning System is appropriate for laboratories, surgical suites, operating rooms, self-service kiosk medical stations, patient dressing rooms, patient exam rooms, and mobile medical stations used for telemedicine. The Spectra 900 Series is designed to kill pathogens in enclosed spaces with typical dimensions of 8 x 8 x 8 feet and is controlled remotely.
The overhead cleaning system employs motion detection sensors and an audio annunciator to ensure safe and proper operation for daily use. The software interface for the Spectra 900 Series features a countdown in minutes and seconds of the time remaining for treatments. It also features a digital monitor for the device's UVC bulbs that can indicate if one or more need to be replaced. The cleaning system sends error signals to the remote computer to notify operators of events such as a shutoff initiated by motion detectors.
Independent laboratory tests find that the Spectra 900 Series Overhead Cleaning System is 99.9% effective in killing C. difficile spores, MRSA, and an Ebola surrogate pathogen in as little as five minutes. The Spectra 900 Series is one part of Spectra254's decontamination solutions portfolio, which also includes disinfection systems for inpatient and outpatient care, emergency vehicles, and shared tools and devices.
Spectra254's systems are assembled by an ISO 9001:2008 + AS9100C certified company located in Connecticut. Full product line details are available at www.spectra254.com, or by calling 203-796-5315 or emailing This email address is being protected from spambots. You need JavaScript enabled to view it. .
A new study on use of UV light in the short C-wavelength (UVC) for disinfection was presented at IDWeek 2015. The study showed that Tru-D SmartUVC significantly reduced healthcare-associated infections (HAI) caused by common multidrug-resistant organisms (MDRO) in hospitals. Tru-D SmartUVC was the UVC device selected for this study and proved its ability to reduce environmental pathogens by measuring the required reflective dose to thoroughly disinfect a hospital room.
            Results of the study, Benefits of Enhanced Terminal Room Disinfection, indicated that three enhanced terminal room disinfection strategies decreased the cumulative incidence of MDROs by 10% to 30%, and the largest decreases were seen when a UVC-emitting device was added to the standard cleaning protocol. Such reduction rates, validated through a randomized clinical trial, differentiate Tru-D technology.
            The study's primary outcome showed the clinical incidence of an MDRO in the next patient to occupy the room for at least 24 hours after disinfection. Adding a cycle of measured-dose UVC light added approximately 10 minutes to the total room turnover time.
In honor of this landmark study and to further the company's mission of eradicating HAIs and making hospitals a safer place for patients and staff, Tru-D is donating one Tru-D robot to a hospital in the United States. Hospitals may register to win at Tru-D.com/TeamTruD. The drawing for the robot will be held December 7.  
Source: Tru-D
Scores improve in hospitalization, readmission and high-risk disease states
A new study shows that medication management educational tools can improve key Centers for Medicare & Medicaid Services (CMS) quality measures. Following a seven-month program developed by Prescriber's Letter drug advisory service, Quality Independent Physicians (QIP) successfully decreased patient hospitalization across all disease states by 26%. It also saw a 24% relative drop in discharges and a 7% relative decrease in 30-day hospital readmissions.
QIP, a 50-physician accountable care organization (ACO), conducted the study. The organization treats 12,000 Medicare patients annually across Kentucky and Indiana.  As a Medicare provider, QIP is required by CMS to report on a variety of strictly defined quality measures. Traditionally a fee-for-service industry, healthcare has shifted towards a quality-driven, pay-for-performance model as a result of the Affordable Care Act (ACA).
"As an ACO, our organization is addressing these new challenges and opportunities head on by participating in the Medicare Shared Savings Program (MSSP)," said QIP medical director Gregory A. Hood, MD, MACP. "Because key Medicare reimbursements are directly tied to quality metrics and related performance ratings, it is in everyone's best interest to focus on creating optimal patient outcomes across the entire continuum. As a result, better care as defined by CMS benefits both our patients' personal health and our practice's financial health."
Effective medication management is a major determinant of quality scores. QIP's partnership with Prescriber's Letter strengthened its quality metrics through an integrated program of current medication management recommendations delivered at the point of care. It accomplished this by leveraging tools to align medication management enterprise-wide and brought about changes in prescriber behavior, when needed, as well as supported patient education. 
"There was a strong belief that a focus on medication management would have the greatest impact on our ability to meet CMS metrics," said Dr. Hood. "By delivering the latest drug information to the point of care, we were able to align medication management practices and related process throughout the ACO."
The effort focused on high-risk disease states specifically targeted for CMS reporting or directly related to key quality measures. These included COPD, heart failure, bacterial pneumonia, hypertension, anticoagulation, diabetes and acute coronary syndrome.
Reaching across the continuum, Prescriber's Letter provided customized, actionable educational resources. These included coverage of target diseases, online searchable medication management recommendations, drug comparison charts, physician training materials, and patient education handouts. All materials were incorporated into QIP standard policies, procedures and organizational culture.
After seven months, metrics during the intervention were compared with a baseline prior to program implementation. "As we hoped, medication management, specifically the Prescriber's Letter solution, played a pivotal role in changing metrics and patient outcomes," said Dr. Hood. "We found a statistically significant improvement on all data reported to CMS on MSSP Utilization reports required for an ACO, which yields overall cost savings and higher reimbursements for the organization."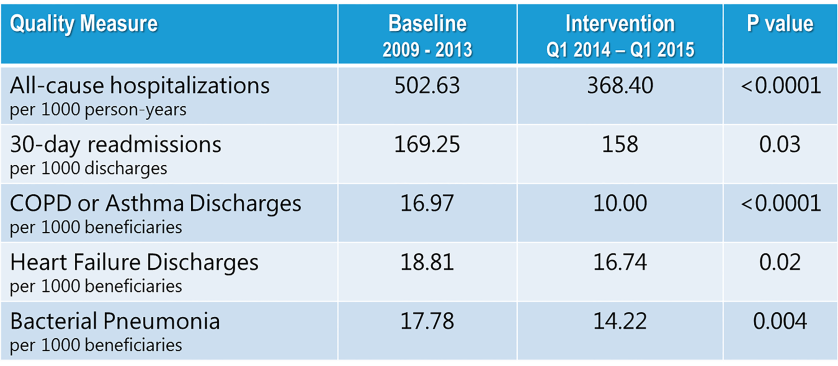 "The success of the QIP study and the role Prescriber's Letter in those results underlines our focus on providing unbiased evidence-based information to the healthcare community," said Wes Crews, chief executive officer of Therapeutic Research Center. "Straightforward, concise information enables health systems and physician groups to streamline distribution across the entire organization, blending our information into clinician workflow. This allows providers, like QIP, to see a change in performance and a change in outcomes."
Source: Therapeutic Research Center
To provide patients with a single destination for all of their medical records, Medfusion—a patient engagement platform dedicated to facilitating the relationship between doctors and patients—has developed a consumer mobile application called Medfusion Plus. 
For decades, if patients wanted access to their medical records, they had to request and pay for a paper copy, which could take several days if not weeks. With the advent of portals, patients gained electronic access to portions of their medical records created by individual providers.
Via a download on the App Store and Google Play, iOS and Android device users can now aggregate and access their healthcare records on their mobile devices. The information is pulled via Continuity of Care documents from patient portals and includes laboratory results, immunizations, medication lists, allergies, as well as appointments.
"Patients should have a complete view of the care provided to them across multiple provider settings—hospitals, physician practices, and from their wearables," said Chris Fierer, director of innovation and Medfusion Plus solution manager. "We believe patients should play a more significant role in their care, and the only way they can optimize the quality and efficiency of that care is to have a total, accurate view of their medical records."
"I regularly see patients who have recently been hospitalized who have seen multiple specialists who ran diagnostic tests on them and may have changed their medications without sending me notification or medical records pertaining to these encounters," said internist and pediatrician John Meier, MD, MBA. "As their primary care physician, I am void of critical information that would allow me to better manage and optimize their care, which is frustrating to both me and my patients.
"Until we get to full interoperability within and among EHRs," Meier added, "we need a solution like Medfusion Plus that allows my patients to show me their latest lab tests and current medications on their smartphones. This will enable me to create a much better care management plan based on higher quality, lower cost and most importantly better outcomes."
Medfusion Plus, which also provides an application programming interface and is available on the Apple Watch, will continue to evolve with a significant roadmap ahead for the developers. The app is available at no cost to consumers, and a branded version will be made available to provider organizations.
Source: Medfusion
A new, secure text messaging service called athenaText® is fully integrated with athenahealth's cloud-based electronic health record (EHR) platform and accessible through the standalone athenaText and Epocrates mobile apps.
AthenaText is available at no cost to more than one million healthcare professionals on the athenahealth network, including every athenaClincials® EHR and Epocrates user. Additionally, healthcare professionals in the U.S. can now join the athenahealth network by accessing athenaText for free via mobile.
"We designed athenaText so doctors and staff can communicate with each other wherever and whenever they need on a unified, easy-to-use platform," said Abbe Don, vice president of strategic design at athenahealth.
Earlier this year, Annapolis Internal Medicine in Maryland started using athenaText to improve communication. "For years, we played phone tag," said Dr. Kevin Groszkowski of Annapolis Internal Medicine. "Now our entire care team is communicating effectively and securely on one, fully-integrated system. For example, the front desk alerts medical assistants via text when patients arrive to pick up prescriptions, while the billing team keeps us docs on task with text reminders to fill out patient charges. But the biggest benefit is being able to respond immediately to clinical questions from our nurse practitioners—whether I'm in or out of the office. What I love is that the care isn't slowed down because I missed a call or email, and patients aren't kept waiting. AthenaText keeps the care cycle moving forward, saving us valuable time while improving patient care."
Whether using athenaText via web-based athenaClinicals, a mobile phone, or Apple Watch™, providers can leverage the power of athenahealth's new text messaging service. AthenaText is available in the Epocrates mobile app or from the Apple App Store(SM)or Google Play™ store.
The Beryl Institute has released a white paper that explores the focus on patient, resident, and family experience in various healthcare settings. A Dialogue on Improving Patient Experience throughout the Continuum of Care provides insight from healthcare leaders and reinforces the importance of patient experience.
The paper shares a community dialogue held at The Beryl Institute's Patient Experience Conference 2015, where a panel of respected healthcare professionals engaged in discussion on practice across the continuum, including the voice of patients and families and sharing practices and new ideas to improve experience at all touch points. The panel represented perspectives from physician practice, acute care, and long-term care settings.
Leaders contributing to the discussion included:
• Dr. Larry Brown, medical director, Alegent Creighton Clinic
• Audrey Weiner, president and CEO, Jewish Home Lifecare
• Dan Wolterman, president and CEO, Memorial Hermann Health System
Core themes focused on culture, people, and communication. Panelists reinforced the need for strong leadership and organizational catalysts, the recognition that engagement is important, stories are powerful tools, and the voices of patients and families must be listened to and acted upon.
The white paper is free to members of The Beryl Institute and $29.95 for non-members. To download the paper, visit http://www.theberylinstitute.org/?page=PUBLICATIONS.
Press Ganey has announced the launch of its Outpatient and Ambulatory Surgery Consumer Assessment of Healthcare Providers and Systems (OAS CAHPS) Early Adopter Program.
CareSage is a new predictive analytics engine from Royal Philips that enables health systems to better monitor and care for elderly patients by combining actionable insights with wearable devices and monitoring.
Hospitals across the country use nurse and leadership rounding to improve the quality of care and overall patient experience. To support their efforts, Skylight® Healthcare Systems, developer of a comprehensive patient engagement platform, has released Skylight Interactive Rounding.